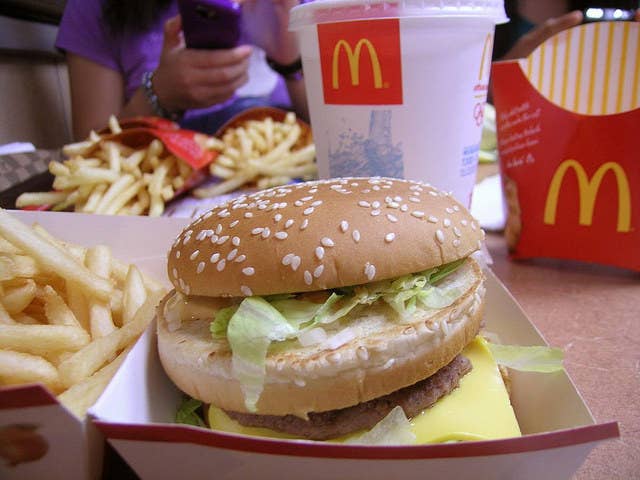 McDonald's is trying to be a better fast-food restaurant, and the path there, it publicly claims, is not cheap food. Chief Executive Steve Easterbrook told investors in clear terms on Tuesday that the company is "not obsessed about winning on value." Maybe so, but it's still reportedly planning a new lower-priced menu.
McDonald's leaders focused their comments to investors on flashier initiatives like delivery with UberEats, premium "Signature Crafted" burgers, store renovations, and fresh beef patties.
As for cheap eats, Easterbrook said, "We're not sure if that's the best place to be because we think we've got a lot more about our experience above and beyond value." Rather than "focus" on value, he further clarified, the company is merely aiming to "remain competitive on value."
The CEO's comments reinforced those made last month by McDonald's Chief Financial Officer Kevin Ozan, who said, "We're not necessarily looking to win on value because that's kind of a race to the bottom."
Yet as executives tout their upmarket plans to investors, McDonald's and its franchisees are also planning to reinstate a national value menu, according to an analyst report. This will be a reboot on the now-defunct "Dollar Menu & More" that was eliminated in January 2016 and replaced by regional "McPick" deals. There has not been a standardized, countrywide value menu since.
As it is, the Golden Arches are not scoring great with consumers for value. Research firm Technomic told BuzzFeed News that in a recent survey only 29% of McDonald's customers gave the chain high marks for value, compared to the the industry average of 40%.
While the company declined to confirm the report or provide details about the new value menu, Cowen and Company analyst Andrew Charles expects McDonald's to launch a national value platform launch in late 2017 or early 2018 that "will be focused on distinct $1, $2, and $3 price points," according to a recent report.

Cowens' analysts added in the report, "We continue to believe McDonald's should avoid premium efforts (i.e., sandwiches priced above $5) given the recent history of limited success." The chain ditched its high-end custom burgers, which cost $8 to $10, last year.

McDonald's may crave the business of consumers who are willing to spend more for better food, but actively courting back its core customer base who gave up the chain when it ditched the Dollar Menu has proven to be just as important.
"Certainly one of the big things in the US where we had lost transactions primarily was in the value-side, the value customer," Ozan said in June. "One of the reasons we lost was when we came off of Dollar Menu, which at some point we needed to come off of because we were on it for 10 years and you can only stay on $1 price point for so long, but we didn't have a good replacement for it." Fast-food competitors, meanwhile, were offering consistent and better deals.
Last year's McPick deals — which allowed customers to bundle items at a discounted price — helped the Golden Arches get some of those customers back, but "it didn't get us all the way," said Ozan. So McDonald's recently added $1 coffee and $1 soft drink deals, which have proven popular.
On Facebook, McDonald's posts promoting value and giveaways have grown to 17% of the chain's total posts, according to Cowen. The firm believes this is what's improving consumers' perception of value at the chain and, ultimately, boosting sales. McDonald's reported Tuesday that comparable store sales in the US increased by 3.9% from March to June.
"Our checks suggest value was the key sales driver in 2Q17, over the more premium-focused Signature Crafted, which did not meet expectations," according to a Cowen report last week.