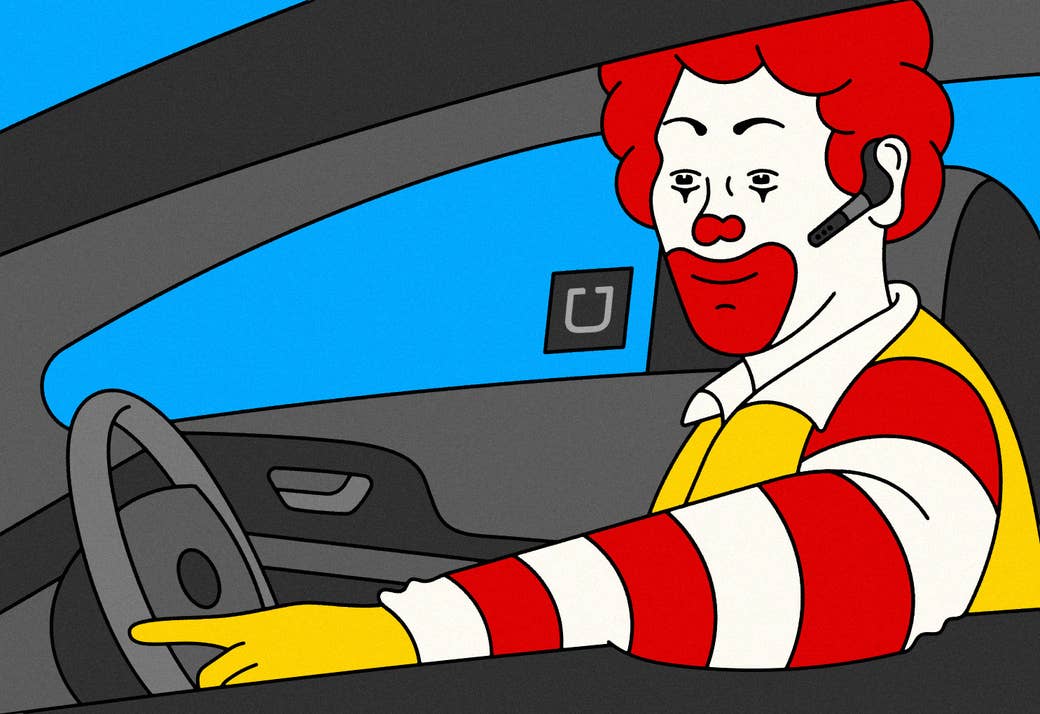 This is a story of unexpected love. Some couples seem fated to end up together. Then there are unions rooted in circumstance — the kind that first grows out of need but blossoms into a thing of beauty over time. McDonald's and Uber Eats could be the latter kind of partners.
The couple is on the heels of celebrating its first anniversary, having come together just over a year ago to offer McDelivery starting in a few Florida cities. Things went well, executives said, so they took their relationship to second base, and as of today, they've expanded to more than 5,000 McDonald's in the US (that's one-third of all McDonald's locations in the country), and to the chain's locations in other countries as well.
The Golden Arches' CEO has described Uber Eats' delivery as "an entirely new growth driver that societally wasn't present before." Uber Eats now delivers from nearly 7,000 McDonald's locations in 20 different countries.
Globally, Uber Eats delivers for 80,000 restaurants, which means McDonald's already represents nearly 9% of all outlets on the platform. And while Uber endured a turbulent year marked by legal troubles, the departure of its founder Travis Kalanick, and a series of public relations nightmares, Uber Eats, which launched in 2015, has had a successful start — it now accounts for 10% of Uber's business. At current rates, Uber Eats is on track to record at least $4 billion in sales this year, its CEO told investors.
The pair still appear very much to be in the honeymoon stage. "They are such a great fit for our brand," McDonald's Lucy Brady, senior vice president of corporate strategy and business development, said fondly of Uber Eats.
"To be totally candid, McDonald's is in a class of their own," said Uber's Liz Meyerdirk, head of business development at Uber Everything, glowingly of the burger chain. Ah, l'amour.
If their mutual devotion is sincere, McDonald's and Uber Eats will become profoundly dependent on each other for growth.
Delivery is "one of the most of the most disruptive forces in food services at the moment," restaurant consultant Aaron Allen told BuzzFeed News. Beyond McDonald's and Uber Eats' blossoming relationship, KFC and Taco Bell recently announced a deal with Grubhub to offer delivery. It's part of a larger trend that he calls "convenience engineering," in which technology is getting things to consumers more quickly and consistently. New services that allow people to order food from their smartphones, via text, and with voice-recognition devices like Amazon's Echo smartspeaker are modernizing traditional delivery.
"It's a bit of being lazy but also a bit of needing tools of productivity because we have more demands on our time," Allen said.
While it's still early in the partnership, McDonald's Brady went as far as to tell BuzzFeed News that delivery is "the next drive-thru" in terms of convenience, which is significant, considering the chain gets about 70% of US sales from the drive-thru. "Once we started getting in, even in the pilot planning phase, we realized, this wasn't just something we should go at in a small way," she said.

Back in 2016, it was McDonald's who reached out to Uber Eats first. The burger company had already flirted with delivery in the Middle East and Asia — delivery accounts for $1 billion in sales in those markets, including about 10% of overall sales in China — and it was seeking a delivery partner in the US.
Recalling the courtship, Meyerdirk said, "From start to pilot was just a short two months and three days. ... I remember hearing the passion, the vision, the excitement Lucy had for delivery and thinking, Gosh, this is kind of what we've been talking about at Uber Eats."
Their chemistry was undeniable.
"I think there is recognition that for us to build a global business on Eats, it's absolutely necessary to work with large restaurant businesses," said Meyerdirk. Uber Eats has also partnered with chains like Panda Express, Denny's, Five Guys, Jersey Mike's, and Qdoba. "We always want to work with the biggest and the best, so it's very much a part of our strategy."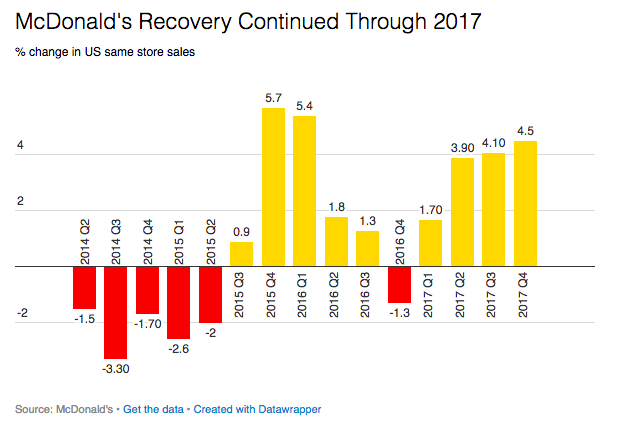 McDonald's, which struggled with declining sales from 2013 to 2015, has managed to turn things around with the launch of all-day breakfast, ingredients improvements, and investments in store renovations and digital ordering. CEO Steve Easterbrook called 2017 "strong," with the highest sales growth in six years; guest counts in US restaurants increased for the first time after falling for four years. In the US, he attributed this to delivery as well as successful value promotions and new buttermilk chicken tenders.

So far, McDonald's delivery customers have distinguished themselves from regular customers in two important ways: One, they tend to order during dinner hours, a welcome difference as McDonald's restaurants are typically slow then. Two, the average delivery check is 50% to 100% higher than the average $6 bill of someone who actually goes to the restaurant, according to the investment firm Cowen. This is likely because spending on dinnertime meals tends to be higher, users may order for larger parties, and the app offers options for add-ons during checkout for an upsell.
Investors are supportive. "We are believers in delivery's opportunity in the restaurant industry as operators broadly realize the need to broaden accessibility to drive sales," said Cowen analyst Andrew Charles in a report in December.
And Jefferies analyst Andy Barish wrote in a report that same month that McDonald's "sees a significant opportunity to expand that success [of McDelivery in other countries] to the US, where 75% of the population lives within three miles of a McDonald's restaurant." While Uber Eats doesn't service 75% of the US population yet, Jefferies estimates "delivery will reach ~70% of the US system by 2019."
Of course, McDonald's still has plenty to figure out, as some customers have complained about soggy fries and cold food. It's also an expensive way to get cheap eats, with a roughly $5 booking fee added to the total. And the popularity of delivery "widely varies across the domestic system, ranging from 'a few' orders per store per day to 100+, with our checks suggesting an average of 10 orders per store per day," according to Cowen.

It's part of the learning curve for McDonald's and Uber Eats' relationship, if Easterbrook is to accomplish what he described as building a "drive-thru to a drive-to business." ●