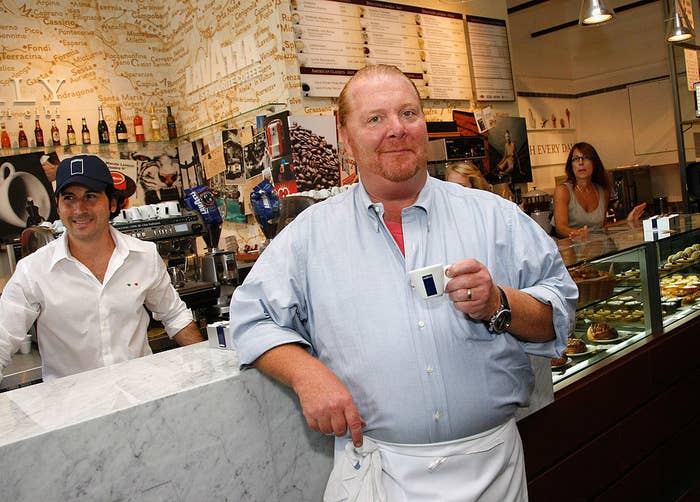 Chef Mario Batali is stepping away from the day-to-day operations of his numerous businesses for an unspecified period of time after Eater on Monday detailed accusations of inappropriate touching told by four women.
On Friday the chef was fired from ABC's The Chew, which he has cohosted since 2011.
"Upon completing its review into the allegations made against Mario Batali, ABC has terminated its relationship with him and he will no longer appear on The Chew," an ABC spokesperson told the Hollywood Reporter Friday. "While we remain unaware of any type of inappropriate behavior involving him and anyone affiliated with our show, ABC takes matters like this very seriously as we are committed to a safe work environment and his past behavior violates our standards of conduct."

Batali said in an emailed statement, "Although the identities of most of the individuals mentioned in these stories have not been revealed to me, much of the behavior described does, in fact, match up with ways I have acted." He called the behavior "wrong" and said he takes "full responsibility."

Batali is the latest high-profile chef to face public accusations of sexual misconduct. Chef John Besh stepped down in October following an investigation by NOLA.com and The Times-Picayune. Last month, former employees of pastry chef Johnny Iuzzini accused him of sexual harassment.
Chef Anthony Bourdain, who has been vocal on sexual harassment issues in the restaurant industry, said on Twitter today that he has been "sitting on stories that were not mine to tell. And feeling sick and guilty as fuck I hadn't heard them before."
Eater spoke with "three dozen current and former Batali employees." In a tweet, Eater said, "Excessive alcohol consumption was a recurring theme in instances of Batali's alleged misconduct."
One woman said after someone bumped her glass at a party for a wine auction, causing her to spill wine all over her chest and down her scooped-neck shirt, "Batali began rubbing her breasts with his bare hands while saying something like, 'Let me help you with that,' as he groped her chest," according to the report.

A former server at the now-closed restaurant Pó "alleges that on multiple occasions Batali grabbed her from behind 'like a linebacker, like a disgusting bear hug,' and pressed her body against his," Eater reported. "She described nearly two years of inappropriate behavior. The grabbing would often occur while they were alone in a cramped passageway between the dining room and the kitchen, she alleged. 'He would breathe on me — and sometimes take a deep inhale, like he was smelling me,' she recalled."

Another woman said he once blocked her way to the restroom and allegedly told her, with his legs propped up, "If you want to get up, you're going to have to climb over me," forcing her to straddle him to get by. She also said he once squeezed her butt.
Another remembers after approaching Batali while he appeared drunk on a balcony at a party, "he lifted his arms straight up and grabbed both of my breasts." When she pushed him away, she remembers him saying, "Oh, come on."
Sexual harassment is rampant in full service restaurants, which were the top source of sexual harassment complaints to the Equal Employment Opportunity Commission from 1995 to 2016, based on a new analysis by BuzzFeed News.
Top Chef's Tom Colicchio criticized the culture of harassment in a post on Medium last month, writing, "[I]s it any wonder that dick culture persists in professional kitchens when most of the women are gone from the back of the house by the time they hit their 30s?"
Amanda Cohen, chef and owner of Dirt Candy, told BuzzFeed News, "Small owner-operated restaurants often don't have the HR muscle you need to set up good policies, but we're all learning and there's a will to do better, and an awareness that doing better needs to happen now."
Batali's full statement is below. You can read Eater's investigation here.
I apologize to the people I have mistreated and hurt. Although the identities of most of the individuals mentioned in these stories have not been revealed to me, much of the behavior described does, in fact, match up with ways I have acted. That behavior was wrong and there are no excuses. I take full responsibility and am deeply sorry for any pain, humiliation or discomfort I have caused to my peers, employees, customers, friends and family.

I have work to do to try to regain the trust of those I have hurt and disappointed. For this reason, I am going to step away from day-to-day operations of my businesses. We built these restaurants so that our guests could have fun and indulge, but I took that too far in my own behavior. I won't make that mistake again. I want any place I am associated with to feel comfortable and safe for the people who work or dine there.


I know my actions have disappointed many people. The successes I have enjoyed are owned by everyone on my team. The failures are mine alone. To the people who have been at my side during this time – my family, my partners, my employees, my friends, my fans – I am grateful for your support and hopeful that I can regain your respect and trust. I will spend the next period of time trying to do that.

-- Mario Batali