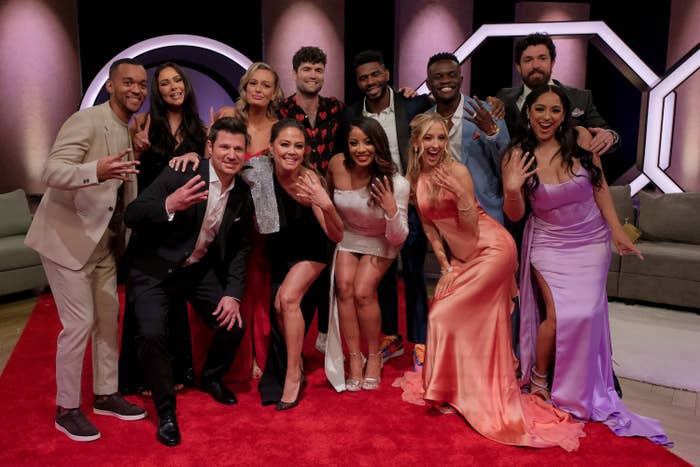 For more than an hour, starting at 8 p.m. ET on Sunday night, fans of Love Is Blind collectively wondered, What the fuck is happening? Long after the highly promoted, first-ever live reunion of Netflix's hit was supposed to start, I was still staring like a chump at an error message stating the obvious: Something was wrong, and the event was delayed. People were confused and angry as they waited for an update. Some people were finally able to watch it around 10 p.m. ET. The rest of us waited another 17 hours until the recorded show became available on Netflix.
The interest on Sunday night was high: Netflix told the New York Times last week that more than 30 million subscribers watched Season 1 during the first four weeks after its premiere back in 2020, and Season 4 topped previous seasons' opening weekends in terms of hours watched. People had planned their Sunday nights around this. They organized watch parties. They repeatedly tried to load the show as the wine ran low. More than an hour after it was supposed to start, there were still 122,000 people on Instagram Live looking for a signal that this was still on. But after sitting with a blank screen while Netflix worked out technical difficulties, and then sleeping on it, I got on with the rest of my life.
Audiences are fickle, and this was a massive fumble for Netflix. Many people couldn't shake the feeling that when a streaming service has the gall to increase its prices and crack down on password sharing, this shouldn't be happening. I already have a complicated relationship with the reality series, which I think is too willing to put its participants through a strange and potentially traumatizing experience for entertainment. The pause on the live reunion only gave me a chance to reflect on our voyeuristic desire to spectate as people process deep joy and pain on an often humiliating journey of publicly searching for love. At the reunion event, the hosts and cast members seemed frustrated by viewers' false conclusions about what really goes down on the show, with host Vanessa Lachey calling people on the internet "savage" for posting a video suggesting that Paul Peden intentionally touched a bridesmaid's butt during his wedding, and for calling Kwame Appiah's sister a paid actor. Marshall Glaze, who never made it to the altar with ex-fiancé Jackelina Bonds, sensibly said they "both deserve to move on from this," and that stirring up conflict at this point "is doing more damage than good."
The pause on the live reunion only gave me a chance to reflect on our voyeuristic desire to spectate as people process deep joy and pain on an often humiliating journey of publicly searching for love.
The internet may be vicious, but producers have made sure that those impulses are well fed with some provocative edits. (Although according to the New York Times, "top producers insist that what they see is (mostly) what you get.") Netflix has more seasons of this marriage show planned, and they presumably will be filled as much with toxic drama as with affection. Kwame and Chelsea Griffin said the portrayal of their relationship in the final cut didn't fully reflect their love story and provoked unwarranted criticism. He specifically mentioned a moment when he told Chelsea he considered going by his first name "Alex" (his full name is Alex Kwame Owusu-Ansah Appiah) while blind dating in the pods because he feared using "Kwame" would lead people to prejudge him. "The rest of that moment was … I am so proud of my name, but for some reason that's not in there," Kwame said.
By the end of the reunion episode, the cast seemed frustrated by the way things went down with one another during shooting, and with the reactions from judgmental viewers. "I think it was extremely reductive in the way that they [the episode] dismissed all nuance and complexity in why I said no" at the altar, Paul told ET after the event. Hosts Nick and Vanessa Lachey awkwardly tiptoed between interrogating cast members for bad behavior while also knowing they all were ultimately on the same team for capitalizing on it. Vanessa also puzzlingly asked sweethearts Tiffany Pennywell and Brett Brown whether they consummated their marriage at the wedding, which felt like a crossed line. Meanwhile, audiences were left wanting more accountability from Jackie and mean girls Irina Solomonova and Micah Lussier.
If you're still interested in the details of what happened on the reunion episode, here's the update: The married couples are all still together. Tiffany and Brett — this season's fan favorites — remain adorably positive. Chelsea and Kwame — whose relationship seemed complicated up to the moment they said yes — are seemingly happy together. Bliss Poureetezadi and Zack Goytowski — who got together after he called off his first engagement to Irina — are also going strong, and Zack seems to have gained favor with her father, who had not been supportive of her engagement.
As for the people who didn't get married: Paul and Micah dated briefly after the show wrapped up but ended things soon after. Micah stood by comments she previously made that while the officiant at the altar asked her first whether she would take Paul, she turned the question to him because she wanted to know that he was confident in his feelings for her and not just rolling with the momentum of her saying yes. Vanessa Lachey grilled Paul about his comment made after the wedding that he found it hard to envision Micah as a mother. Micah said this was incredibly hurtful, especially because he never brought that up to her during their relationship. Paul's response was that his comment was poorly phrased, but because there was something missing between them, he wasn't bringing out qualities in Micah that he had hoped to see in a partner.
Perhaps the most interesting thing to learn from the reunion was that Jackelina is still in a relationship with cast member Josh Demas after abrasively calling off her engagement to Marshall (Jackie and Josh did not appear at the live event but did a prerecorded segment with Vanessa Lachey). Marshall addressed leaked text messages about him and Jackie, and said it's been a year since filming wrapped, and asked Jackie for a truce. Irina, who betrayed the trust of her fiancé as well as the women on the show, did her best to apologize for her behavior overall and for treating Zack so poorly during their engagement. There was a cameo at the end from Season 3 cast member Bartise, who recently became a father with a woman who is not on reality TV, and his baby; he asked when the rest of the cast would be having babies, a question Lachey amplified with bewildering enthusiasm (many viewers are criticizing her hosting performance after viewing the episode).
It was ultimately a bizarre experience waiting for a livestream that never was, and then watching the recording the next day of updates that were, for the most part, not particularly exciting. That's fine. Good relationships often can be incredibly boring. But Love Is Blind will continue to drum up conflict for better and for worse. ●