Popular burrito chain Chipotle boldly announced in late April that it was "the first national restaurant company to use only non-GMO ingredients" as part of of its "commitment to serving food made from the very best ingredients." But a new lawsuit in California is challenging this claim.
Colleen Gallagher of Piedmont, Calif. alleges that Chipotle's non-GMO advertising is "false, misleading, deceptive, unfair and unconscionable," according to the complaint, filed in in the U.S. District Court for the Northern District of California.
Among the problems: the meat and dairy products Chipotle serves come from animals that consume genetically modified food, and it serves soft drinks that contain GMO ingredients.
"All of the ingredients we use to make our food are non-GMO," except for beverages, said Chipotle spokesman Chris Arnold in an email to BuzzFeed News. The company, he added, "will vigorously contest this meritless and unfair claim."
How can two parties come to completely opposite conclusions about the same products?
There's very little people agree on when it comes to genetically modified foods, which have been sold only since 1996. Most scientists believe GMOs are safe to eat, though more research is needed to determine the environmental effects of widespread GMO crops. Already, GMO-conscious consumers have spawned a sizable niche business.
For instance, sales of products certified by the Non-GMO Project, a nonprofit advocating a non-GMO food supply that also runs a verification program, tripled last year to more than $8.5 billion, according to the New York Times.
As demand for non-GMO food spreads, state and federal lawmakers continue to debate how GMO food should be identified. The lawsuit against Chipotle reflects just how muddled the issue remains, particularly for meat.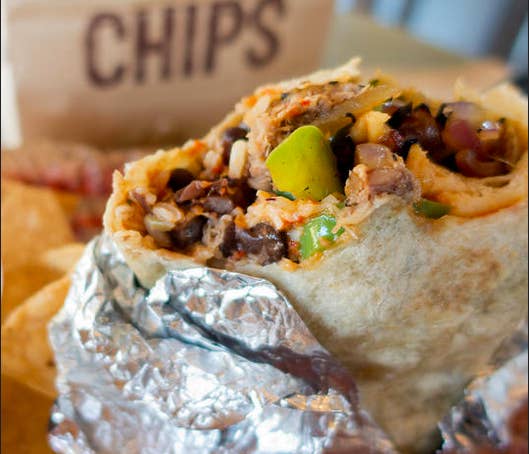 Here's what Chipotle claims about GMOs in its food.
In April, Chipotle said in press materials that most of the GMOs in its food were tied to its use of soybean oil in chips, taco shells, and recipes such as the adobo rub for grilled chicken and steak. Its corn and flour tortillas also included some GMO ingredients.
As Chipotle transitioned to non-GMO ingredients, suppliers planted non-GMO corn varieties for the tortillas, and the company replaced other ingredients in tortillas with non-GMO alternatives. It also swapped out soybean oil with non-GMO sunflower oil or rice bran oil, according to the company's press release.
In other words, Chipotle has switched to using plant ingredients made with non-GMO crops. But it's the chain's meat and beverages that are causing problems now.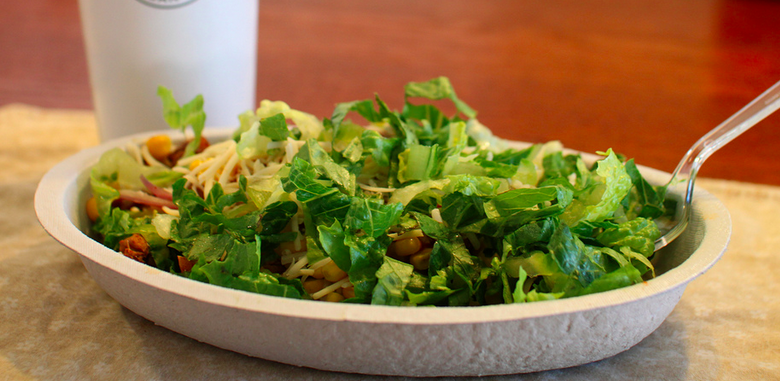 Anyone who read Chipotle's website would have seen that its growers continue to use GMO feed to raise the animals for the meat and dairy in its restaurants.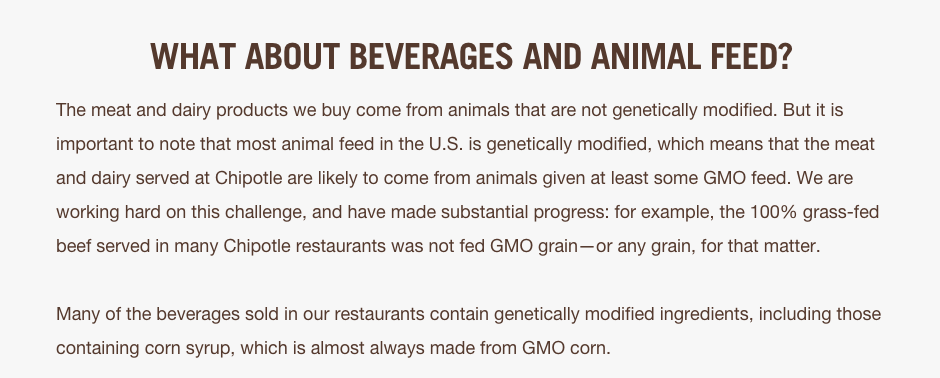 Chipotle clearly states on its site that the meat it serves likely comes from animals given GMO feed and that many of its beverages contain genetically modified ingredients, including the corn in corn syrup.
Yet the lawsuit argues that customers are highly unlikely to see this information. These consumers "pay premium prices" for food they believe is ethically grown, and Chipotle has "carefully tailored its public image" by marketing to health- and environmentally-conscious consumers.
Does giving an animal GMO feed mean that the meat it produces can't be called non-GMO?
Chipotle's Chris Arnold said just because the animals are given GMO feed, "that does not mean that our meat is GMO, any more than people would be genetically modified if they ate GMO foods."
It's a fair point: The animals themselves were not genetically modified. (There are many genetically engineered animals in development, according to the U.S. Food and Drug Administration, but so far none have been authorized for use in food.)
Still, according to one standard for non-GMO meat — developed by the Non-GMO Project — animals must eat a non-GMO diet to be labelled as such.
The Non-GMO Project label for meat and eggs was approved in 2013 by the Food Safety and Inspection Service, a branch of the U.S. Department of Agriculture. The Non-GMO Project maintains a list of wholesale meat ingredients that it has certified as non-GMO.
But "that is only one definition" of non-GMO meat, said Chipotle's Arnold. "This is an area of food labeling where there is no universal definition." In Vermont, for instance, where GMO foods must be labelled starting in July 2016, there will be an exemption for animals that were given genetically engineered feed.
Until these differences are sorted out, consumers can look to yet another standard — USDA certified organic meat — which means the animals were fed 100% organic (non-GMO) feed and forage.
It's possible Chipotle will eventually serve meat raised without GMO feed.
Currently, Chipotle's chicken, pork, and beef likely come from animals raised on GMO feed. Just some of the beef it sells is grass-fed, according to Arnold, which means it "was not fed GMO grain — or any grain, for that matter."
"We recognize that the feed given to the animals that produce our meat and dairy is an area for potential improvement," according to Chipotle's website. The major problem, though, is that there is not a big enough supply of meat and dairy raised according to Chipotle's strict animal welfare guidelines that also are given non-GMO feed.
"We are always looking at ways to improve the food we serve," Arnold said.