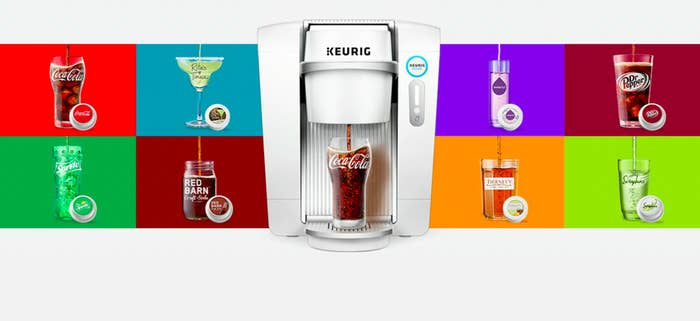 For more than a century, Coca-Cola has closely guarded its soda recipe and the production of it. The black fizzy drink has been something that came ready made from a soda fountain at a restaurant, or from bottles and cans at stores or vending machines. Chances were, it came from a bottling facility somewhere far far away.
But beginning tomorrow, Coca-Cola will offer its consumers the ability to do something they've never been able to before: to make a Coke at home. The option comes via a partnership between the drinks giant and K-Cup maker Keurig Green Mountain, which on Tuesday will launch its new Keurig Kold machine.
The Keurig Kold is a countertop pod appliance, much like Keurig's coffee machines, and launches for sale online on Tuesday. In retail outlets, there will be a limited launch in certain cities — including Atlanta, Boston, Chicago, Dallas, Los Angeles, and New York — ahead of the crucial holiday shopping season. Keurig Kold won't be available nationally until the 2016 holiday season.
The machine works with pods which will contain a syrup for a specific soda, say, Coca-Cola, Sprite, or Fanta (so you can't mix your own flavors), as well as a chamber with carbonated beads. Unlike the well-known SodaStream machines, the fizz comes from the pods, rather than a carbonator in the appliance.
Coke's brands won't be the only ones available for the new machine. Dr Pepper Snapple Group, the maker of Dr Pepper, 7 Up, and Canada Dry, is also making its brands available on Keurig Kold. Keurig will also offer pods for iced teas, flavored waters, and cocktail mixers.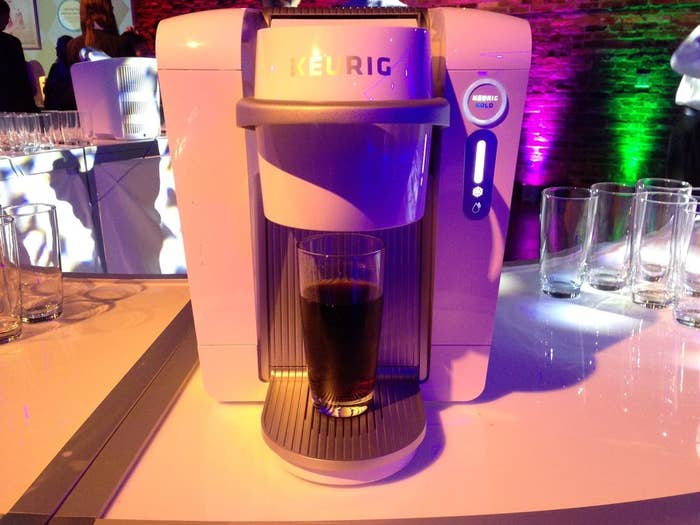 The Kold machine is a counterintuitive solution for two companies facing a number of unfavorable trends.
Soda consumption is declining. Sales of Keurig's mainstay product — the single-serve coffee maker, which is used in about 20 million U.S. households — are down. An established at-home soda maker, SodaStream, is battling declining U.S. sales. And lastly, consumers have voiced discontent about the amount of waste produced by plastic single-serve pods.
On top of that, the Keurig Kold machine isn't cheap: it costs from $299 to $369. Each pod, which will make one 8-ounce soda, will cost about $0.99 to $1.29, steep compared to what consumers are accustomed to paying for a soda at supermarkets.
Coca-Cola has enough confidence that people want a pod-powered soda machine that it now has a 16% stake in Keurig. Deryck van Rensburg, president of global ventures at Coca-Cola, told BuzzFeed News the product will be targeted at higher-income consumers at first, including those who want to entertain guests or who want to stock a variety of cold beverages at home.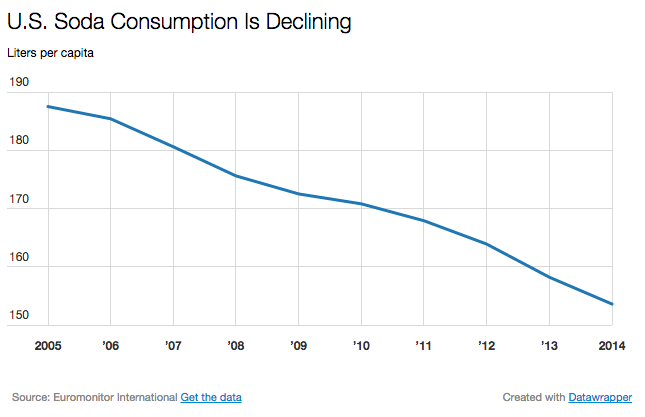 Here's the Keurig Kold in action, making a Coke at a launch event in New York on Monday.
Rumors about the machine have been floating around since 2013, when Keurig filed a trademark application for a soda maker.
In 2014, Keurig and Coca-Cola announced their partnership, which Coke said demonstrated its "ability to identify and stay at the forefront of consumer trends driving the industry" and "provides our consumers with a convenient way to enjoy the brands they love through in-home preparation," Coca-Cola CEO Muhtar Kent said in a statement announcing the deal.
Regular soda, as it is packaged in cans and bottles today, has "unique challenges with temperature and storage, problems of choice in the home, and issues with freshness, particularly after a traditional product has been opened and closed repeatedly," Tara Murphy, vice president and general manager of Keurig KOLD, told investors in May. In other words, it takes up space in the fridge and might go flat if you don't drink it fast enough. Keurig Kold was designed to address these shortcomings.
The obvious problem, however, is that each 8-ounce, homemade soda will cost about $1, way more than consumers are used to paying for a soda at home. You can think of the aluminum can as the original single-serve soda vessel. On Amazon.com, you can buy a 12-pack of cans for less than $5 (about $0.39 each). For those who are even more cost conscious, four 2-liter bottles of Coke can be purchased for about $6.
Goldman Sachs analysts wrote in a research note that they were "impressed by the product," and that the beverages tasted good, but believe adoption may be slow "given the higher-than-expected price point of the system and a more gradual national launch."
Is the ability to make a soda yourself enough to lure consumers to pay three times as much? There will be, no doubt, much marketing wizardry involved with the launch of Keurig Kold. After all, there was a time when paying a premium for single-serve coffee from a plastic pod was unfathomable too. Then again, the relative benefits of the Keurig coffee machine — the speed over to a traditional brewer, the diversity of flavors available via a pod compared to a going through a whole bag of ground coffee — aren't apparent in the Kold machine.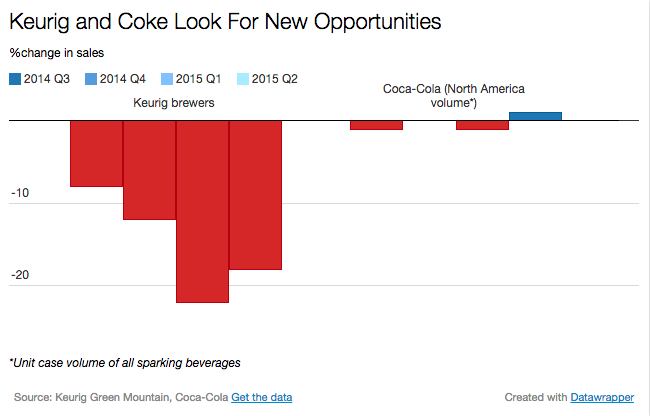 Consumers, in fact, have been able to make carbonated drinks at home for years now.
SodaStream machines, those compact gizmos at Bed Bath and Beyond that make sparkling water and come with optional syrups like generic cola and blackcurrant lime, have been in the U.S. for some time already. The machine fizzes up water in reusable 0.5 or 1 liter bottles, and it's cheaper than the Keurig Kold system, costing about $0.25 per liter of unflavored seltzer and $0.67 per liter if you add a syrup. SodaStream marketed it as a cheaper and more environmentally sound option to buying liters of soda that required lots of fuel to be shipped to the grocery store.
Just as Keurig's model relies on users buying K-Cups, SodaStream relies on them buying CO2 refills.
SodaStream sales grew for years — it even landed mega celebrity Scarlett Johansson in a Super Bowl ad in 2014 — but demand slowed. Consumers were no longer as compelled by the brand's marketing around value, sustainability, or making generic, at-home sodas. In 2014, revenue fell by 9%.
"We are not a cola brand, we are a water brand," SodaStream CEO Daniel Birnbaum told investors in May. SodaStream found that people who own sparkling water makers consume fewer full-sugar beverages, including sodas, juices, and energy drinks than those without one.
As SodaStream's generic colas were not popular, it teamed up with the next big name in soft drinks. As Keurig prepared to launch its competing at-home soda maker, SodaStream officially added Pepsi to its lineup this month. On SodaStream's site, each Pepsi pod in a four-pack costs about $0.87 and makes half a liter of soda (about two cups), making it cheaper than Keurig's Coca-Cola pods.
How Keurig Kold works.
The Kold machine itself is primarily a water cooler that chills liquid to roughly 39 degrees in about 60 seconds. It then pumps the cold water through a pod filled with syrup — which is provided by Coca-Cola — and what Keurig calls "carbonator beads."
"These beads are filled with pure beverage grade CO2 and when they come in contact with water, they release the CO2," Murphy explained to investors. "The beads and the small amount of water used to moisten them remain in this pod chamber, while the CO2 floats up, it travels to the cold chiller to mix with the beverage water. The water that moisten the beads never comes in contact with the beverage."
I tried a Keurig-made Coca-Cola at a launch event on Monday. I waited one full, suspenseful minute for the machine to whip up the drink. What it poured into my glass tasted to me exactly like a cold Coca-Cola.