Keurig Admits Its New Soda Machine Has Some Problems
The Keurig Kold will be improved over time, but the company says it will invest in it "only as the marketplace success dictates."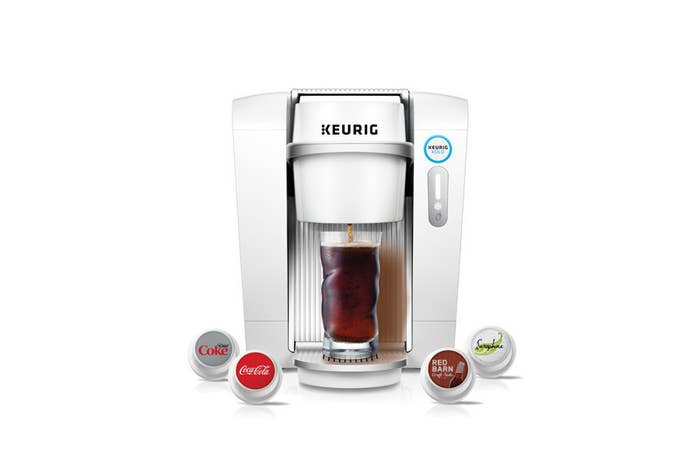 When Keurig Green Mountain launched an at-home soft drinl maker called the Keurig Kold in the U.S. earlier this fall, a few things stood out immediately.
It cost $369 — or $299 on promotion — which is steep for a small appliance (Best Buy just started offering it on sale at $200). It ran on plastic, single-serve pods that cost $0.99 to $1.29 each and made a single 8-ounce cup of soda — also pricey, relative to the cost of cans or bottles in the supermarket. And it took 60 to 90 seconds to prepare each drink, calling its ultimate convenience into question.
The company now acknowledges it must address some of these shortcomings. CEO Brian Kelley told investors on an earnings call last week that "consumers love the taste" and, most importantly, "we're delivering a terrific beverage." But Keurig is also "learning a lot about what needs to improve and what we can improve. And we know that the first product we put out in the new technology is never going to be perfect."
The Keurig Kold was launched with popular sodas from Coca-Cola and Dr Pepper Snapple as well as Keurig's own brands of iced teas, sports drinks, and flavored waters. Some looked at the machine as a potential comeback vehicle for Keurig following the bumpy launch of its Keurig 2.0 coffee brewer last year. Sales of the company's coffee maker have been in decline for the last year, and Kold would be its first steps in an entirely new market, driven until now by the SodaStream.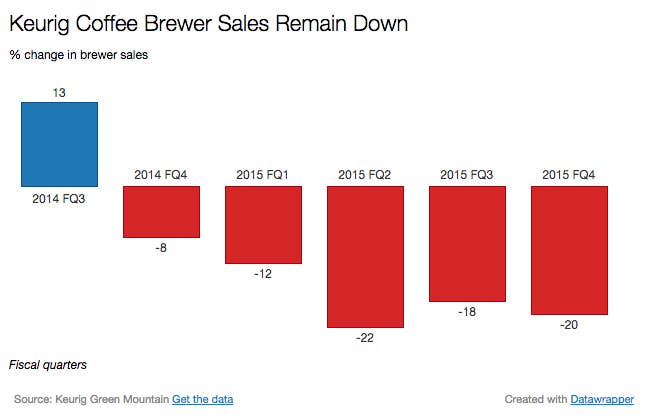 So far, consumers have been skeptical. The Kold has scored a 3.3 out of 5 rating on Amazon.com, putting it somewhere between "It's okay" and "I like it," — below what you'd expect from a much-hyped product the company lauded as a "disruptive countertop-size innovation." On Keurig's own site, Kold got a 3.6 out of 5 rating, which is better than "Ordinary" but not enough for "That's good stuff." The company launched Kold in Canada this week.
Based on current trends and due to the gradual rollout of the Kold machine, Keurig expects to sell 60,000 to 100,000 Kold machines during its first year in the market, still a drop in the bucket compared to the 9.2 million Keurig hot brewers sold in fiscal 2015.
CEO Kelley noted several improvements consumers so far have demanded on the investor call.

"Consumers want it to be smaller," said Kelley.
Keurig Kold is 12-inches wide and 19.25-inches deep (most kitchen countertops are about 25 inches deep). It weighs 23.7 pounds. "The first thing I noticed when I opened the box was, this machine is HUGE. It's pretty bulky and does not fit underneath my kitchen cabinets, so it takes up a lot of counter space," one Best Buy customer wrote in a review.
"They want it to be less expensive."
Consumers pay about $369 for the Kold machine, and some have complained that even at this price, it is "buggy." The appliance is more expensive than Keurig's coffee makers, and is also more than other carbonated water makers, such as SodaStream, which offers models for less than $100. On top of that, each Kold pod costs a lot more than a regular bottle or can at the supermarket. As another Best Buy reviewer put it: "Seriously....buy a 2 liter and use your icemaker. It tastes better and it's reliably cheap."
Keurig plans to gradually offer lower-priced pods, but as its Chief Innovation Officer Kevin Hartley told BuzzFeed News, "The bargain, really large 2-liter and above sizes at really promoted prices, I don't think that will be the Keurig market."

"They want to have more sizes of drinks available."
Especially because each drink takes more than a minute to prepare, it would be nice to be able to make more than an 8-ounce cup at a time, for example, if you are trying to serve guests.
Still, it's worth noting that one of Keurig's big selling points for the 2.0 coffee maker was that it could, unlike earlier models, make either a single cup or a carafe of coffee. That feature wasn't enough to make the 2.0 a hit.
"They want a broader selection of drinks," Kelley said.
On its hot brewers, Keurig offers 60 brands and more than 600 varieties, which has been a strength. "I think in the not too distant future we'll have something like that unbelievably beautiful array of beverages," including all kinds of cold drinks, not just sodas, Hartley said. He adds that the pods will be used as a platform for testing and developing new varieties that might otherwise have no place on retailers' shelves.
Having noted these areas for improvement, the company has not announced any details about when it might launch of the next generation KOLD drink maker.
"Each of these [points] is being addressed and will get addressed both from a machine standpoint and pod standpoint. But it doesn't happen on the very first machine, we're going to learn and we're going to improve," Kelley said on the call.
Of course, any future for Keurig Kold will depend on how consumers respond. "We're going to be very disciplined and pragmatic in our approach to investment levels over the long term and we're going to invest only as the marketplace success dictates," Kelley said.