Coffee drinkers' interest in Keurig machines continues to wane. Unit sales of the high-tech brewers fell 18% in the three months ending in June, marking the fourth consecutive quarter of declining coffee machine sales.
But what's perhaps even worse for the company is sales of its lucrative K-Cup pods fell for the first time. After years of soaring growth, revenue from pods declined 1% last quarter compared to a year ago. While the decline is small, it marks a turning point in demand for the company's core product — the pods account for roughly three-quarters of its revenue.
Overall, the company expects net sales to decline by a low- to mid-single-digit percent in the 2015 fiscal year.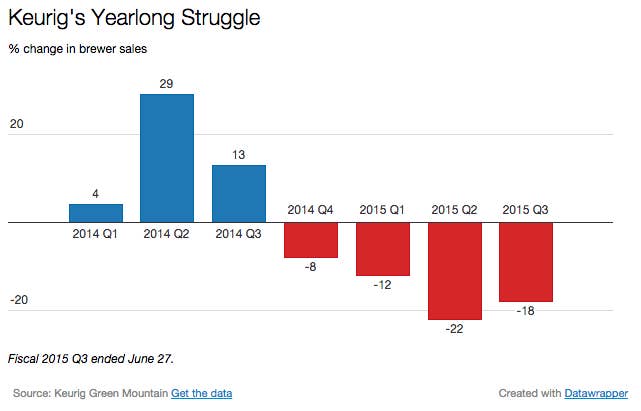 Keurig — which makes pods for its own Green Mountain brand as well as for partners like Starbucks — blamed competing manufacturers for the decline in K-Cup sales. Specifically, pods from other companies dented Keurig's sales in the away-from-home segment, such as offices. Volume sales of pods to away-from-home users declined by more than 20%.
In addition to heightened competition, the new Keurig 2.0 machines (which only accept Keurig-made pods) didn't perform as well as the company expected, and an unusually large number of customers returned these brewers. As a result, the company's base of users to sell K-Cups to didn't expand as it had hoped.
The company will implement a "productivity program" that is expected to cut costs by approximately $300 million over three years and remains optimistic in the long term.
"We continue to believe that our hot system has the potential to reach more than 50 million U.S. households over time --more than double its size today," said CEO Brian Kelley in a release.
In early fall, Keurig will release its highly-anticipated KOLD machines, which will make branded soft drinks such as Coca-Cola, Diet Coke, Coke Zero, Sprite, Fanta, Dr Pepper, and Canada Dry. "We are very excited to introduce this disruptive technology to consumers in a category that is five times the size of hot beverages in the U.S.," Kelley said.
The CEO told investors that Keurig's four priorities now are growing its base in hot coffee brewers, "reaccelerating" growth in pods, ensuring the successful launch of KOLD, and returning cash to shareholders while investing in the business.
Keurig's shares fell by more than 20% in late trading on Wednesday.