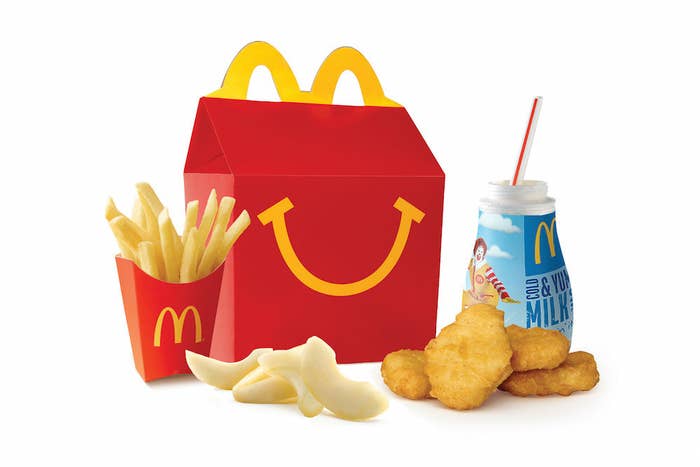 More children around the world are ordering milk, juice, and water with their Happy Meals, according to a report released Monday by McDonald's.
While this reflects some parents and even children turning away from soda and its sugar and calories, it also seems to be a result of McDonald's removing soda as an explicit option on the Happy Meal menu board, which it did in 2014.
In the US, the chain told BuzzFeed News, the percentage of Happy Meal customers selecting milk, water, and juice rose to 46.8% last year, which was 10 percentage points higher than in 2013, the last year soda was included on the kids' menu board.
The percentages were about the same in 12 global markets covered in the survey, McDonald's said. Internationally, the company said it served "951 million water, fruit, vegetable, juice, and low-fat dairy items across 13 participating markets in 2016" through Happy Meals.
"Our menu has evolved over the years, and so has our mindset around how we engage our customers on nutrition," wrote Julia Braun, a registered dietitian nutritionist at McDonald's, in a post on Medium in today. "Small steps have led to big changes and real progress."
"I think they're definitely making positive strides to be responsible as a fast food establishment to make healthier options available, and help families stay on track with healthy eating," said Jill Castle, a registered dietitian focusing on childhood nutrition. "I hope other establishments will follow suit."

While health experts commend this progress, they continue to see ways for the Golden Arches to improve. "It's getting healthi-er," but the sugar content in the meal options remains high, said registered dietitian Victoria Feltman, cofounder of the healthy eating site AppleToZucchini.com.
For instance, the chocolate milk and yogurt at McDonald's -- which are offered as healthier alternatives -- together pack 28 grams of total sugar (which includes naturally occurring and added sugar). The American Heart Association recommends that children eat less than 25 grams of added sugars daily.

Nutritional information for a Happy Meal with a hamburger, fries, apple slices, and 1% milk, which Feltman said are the best options: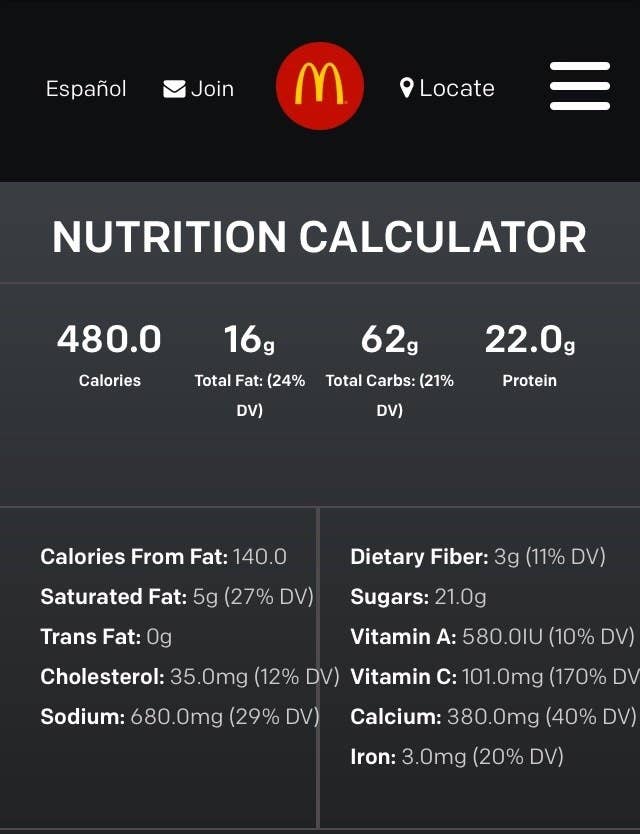 Other nutrition experts questioned the volume of food. "It's still a large meal for a child," said registered dietitian Albert Matheny. "Most of the combinations are between 400 and 550 calories" and many children also snack throughout the day.
In case you haven't ordered one in a while, a modern Happy Meal in the US by default comes with a side of small fries and a toy. Customers choose between a hamburger, cheeseburger, or chicken nuggets for the entree. Then, there's a choice of fruit or yogurt for the second side and a choice of milk or juice for a drink (although, as the report shows, many children still substitute with soda, even though it is not listed).
This new menu is the result of tweaks to the Happy Meal that rolled out over several years after the chain partnered with The Alliance for a Healthier Generation. Since 2013, McDonald's has been automatically offering a smaller kids-sized serving of french fries, apple slices, and the choice of a low-fat dairy beverage. In 2014, it removed soda from the menu board for kids and added yogurt as a side option. Starting this upcoming November, the juice option for Happy Meals will be a diluted organic apple juice from Honest Kids, made by Honest Tea, that will contain less sugar.
Nicole Silber, a registered dietitian and pediatric nutritionist, said, "Parents should be aware of the best choices to make. ... The best option for the sides is apples, and for drinks, skip the juice and chocolate milk and choose regular milk or water."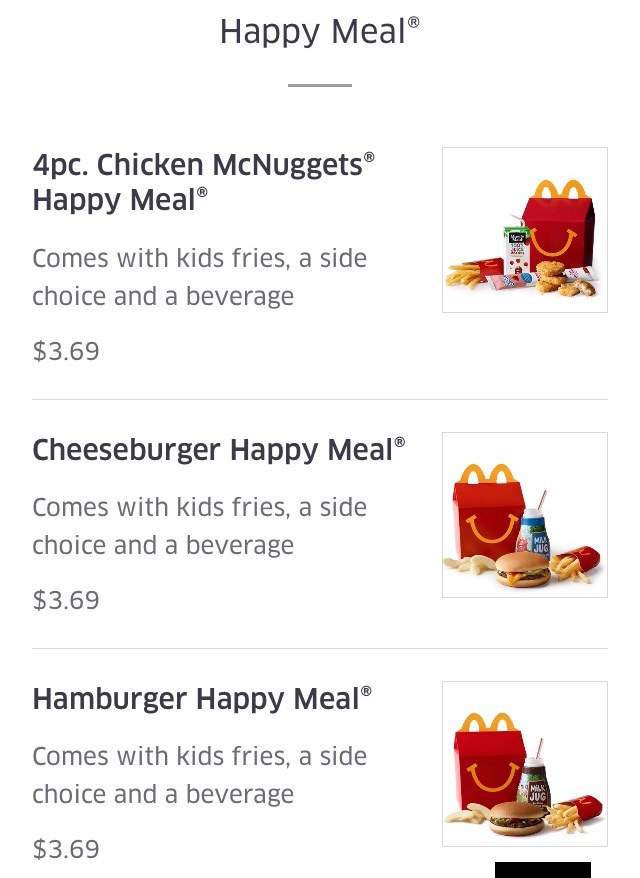 "I would like to see McDonald's move away from offering soda at all with kids' meals," Feltman said. "That's the broader trend. Why even introduce your kids to soda at all?"

The company did not comment on removing soda, but said it is making changes to address sugar content, such as reduced-sugar yogurts and Honest Kids juices.
While the dietitians who spoke with BuzzFeed News said there is nothing inherently wrong with the occasional burgers and fries, those choices have to be considered in the context of one's overall diet.

Castle said she actually orders Happy Meals to feed herself when she is on the road — she picks the cheeseburger, apple slices, and a water. "It's more in line with the calorie count I am looking for," she said. "I don't think McDonald's will convert itself to a health food restaurant, but I appreciate the effort to make it easier for families, because it's not easy in this country."