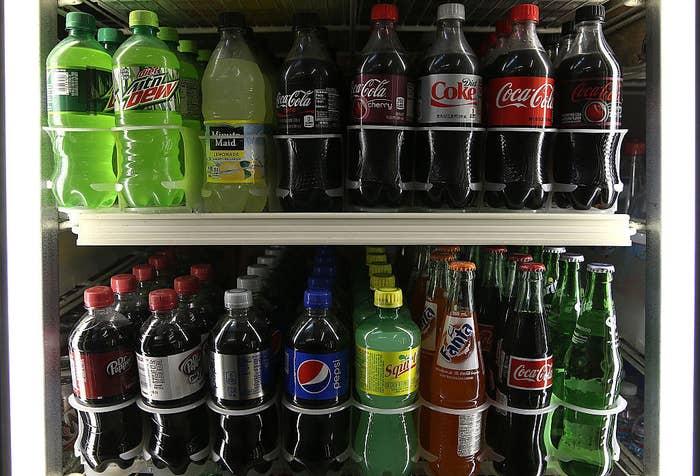 It's too soon to tell whether a so-called "soda tax" can improve public health. But early data shows it certainly seems to lead to people drinking less soda.
Consumption of sugary drinks has declined in three places that recently started taxing soda: two cities (Berkeley, CA and Philadelphia, PA) and a country (Mexico.)
Grocers and beverage distributors in Philadelphia, which implemented a 1.5-cents-per-ounce tax on soda on this year, recently told Bloomberg that in the first few weeks their sales have slid by as much as 50%. Results in Philadelphia, the country's fifth most populous city, could provide feedback on what impact these taxes would have on soda consumption in a major urban market.
In Berkeley, the first US city to adopt a soda tax, a 2016 survey by UC Berkeley found consumption of soda and other sugary beverages in low-income neighborhoods fell 21% after a 1-cent-per-ounce tax was rolled out in 2015.
Some people have complained about how expensive the tax has made drinks. This Philadelphia consumer paid a $7.20 sugary beverage tax on a $12.94 beverage purchase, increasing the price by more than 50%.
In Mexico, where a soda tax went into effect in 2014, purchases of taxed sugar-sweetened beverages beverages decreased by 5.5% in 2014 and 9.7% in 2015, according to a new study in Health Affairs that used Nielsen survey data.
More soda taxes are planned: three more Californian cities, San Francisco, Oakland and Albany; Boulder, Colorado; and Cook County, Illinois, home to more than 5 million people including residents of Chicago, the country's third-largest city.
A penny or so per ounce may not sound like a lot, but it adds up. Philadelphia raised $5.7 million in January from the tax. In Chicago, the price of a $10 pack of soda is estimated to rise to $15.76 when the tax kicks in this summer.
This Philly restaurant paid a sugary beverage tax of $58.95 on a $321 purchase, increasing its cost by 18%.
Health groups, like the American Heart Association, support the tax as a way to reduce sugar intake, but there's a catch: the soda tax in both Berkeley and Philadelphia is imposed on distributors, not as a sales tax to consumers. People begin drinking less soda once the tax is passed on in the form of higher prices in stores and on menus — but theres a risk that grocery stores and restaurants may choose to increase prices on other products instead.
CORRECTION
Albany, California is planning to introduce a soda tax. Due to an editing error, an earlier version of this article said a tax was being planned for Albany, New York.