Pizza Hut is still caught in a downward spiral. Sales at Pizza Hut locations in the US open at least a year fell by 3% year on year between April and June, the company said on Thursday during a quarterly earnings call. This marked the chain's fourth consecutive quarter of negative sales. Its struggles go back more than four years, even as delivery pizza competitors like Domino's have grown.

While Pizza Hut has long been the country's largest pizza chain, Nomura-Instinet analyst Mark Kalinowski said it could lose that title to Domino's as early as 2018.
To win back customers, the stuffed-crust king announced its first-ever rewards program this week. It also plans to hire 14,000 new drivers by year end who will use a new "delivery network algorithm" to "improve the accuracy and reliability" of deliveries.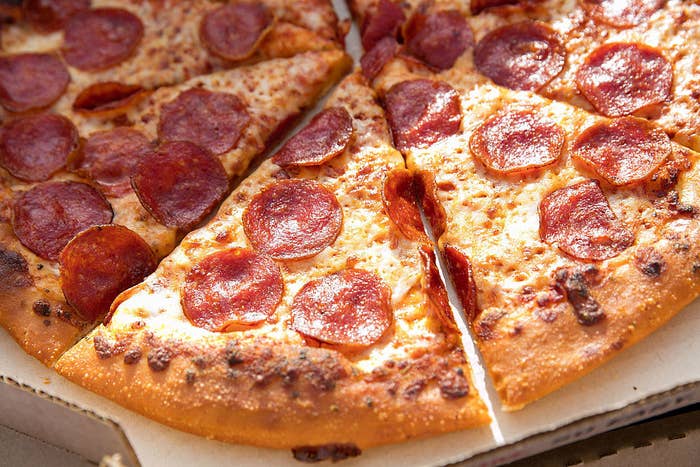 These are component parts of a bigger "transformation agreement" parent company Yum Brands reached with Pizza Hut restaurant owners in May to invest $130 million in upgrading restaurants, improving technology, and increase advertising.
Yum Brands reached a similar agreement in 2015 to invest $185 million in its other chain, KFC, which had also been struggling.
Yum CEO Greg Creed told investors on Thursday that these investments will produce improvements over time, but not overnight. It's a very similar message Creed delivered to them two years ago about Pizza Hut: "Turning around these results will not happen overnight, but through our focus on value, our assets, digital, and messaging, we're relentlessly working on realizing the full potential of our brand," he said in July 2015.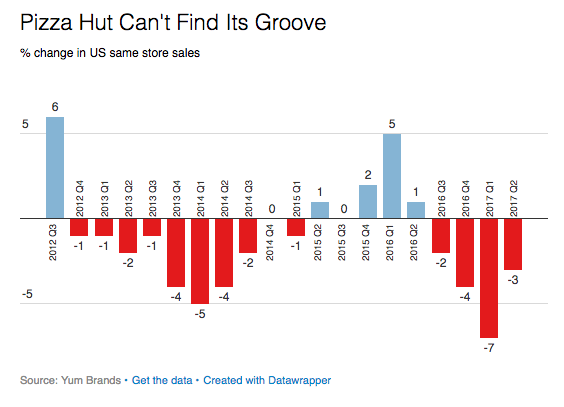 Pizza Hut had already tried a gourmet "Flavor of Now" menu revamp in 2014, which flopped. Last year, it promised sleeker store designs. Now, the chain is shifting its focus to its delivery business, rather than dine-in.
In May, Creed told investors while there's one battle between chains to serve a better pizza, there's a bigger "war on who can make it easier to get a better pizza, and that's where the fight's occurring." Some Pizza Hut franchisees still focused on selling $17 dine-in pizzas, but "that's not how customers want to buy it," he said. So the company had to get "the system aligned behind this digital delivery-centric model" and invest in better technology and advertising.

"The frequency that Domino's launches new ordering features and the chain's work in areas like voice-enabled ordering are key differentiators the chain," said Erik Thoresen, principal at restaurant researcher Technomic. "Pizza is one of the most competitive segments in the restaurant industry."
Domino's reported a 9.5% increase in domestic comparable sales last quarter. Comparable sales for Papa John's in North America were up 1.4% last quarter, the chain's 27th consecutive quarter of growth.

Meanwhile, emerging fast-casual pizza chains such as Blaze, Pieology, and MOD continue to expand.
Pizza Hut did not immediately respond to an emailed inquiry.