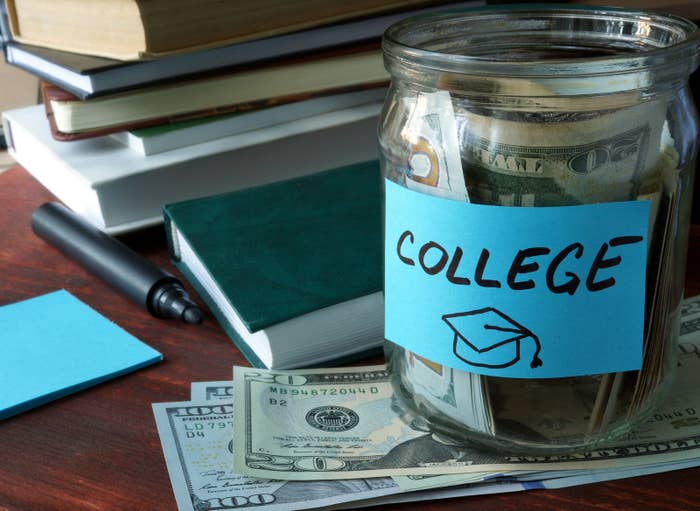 People worried about college affordability today can at least take this to heart: it could get much, much worse.
Tuition has been rising by about 6% annually, according to investment management company Vanguard. At this rate, when babies born today are turning 18, a year of higher education at a private school — including tuition, fees, and room and board — will cost more than $120,000, Vanguard said. Public colleges could average out to $54,000 a year.
That means without financial aid, the sticker price of a four-year college degree for children born today could reach half a million dollars at private schools, and a quarter million at public ones. That's for a family with one kid; those with more could be facing a bill that reaches seven figures.
How much will a year of college cost in the future?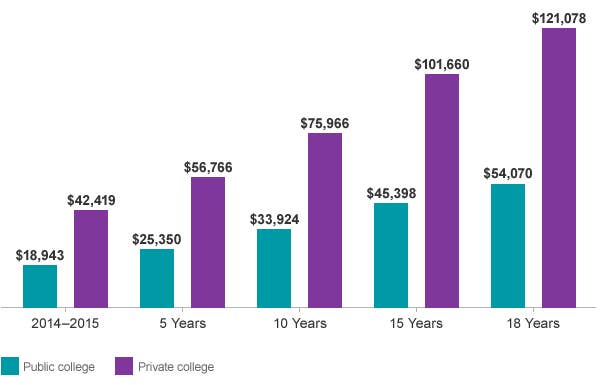 How much families realistically need save for their children to go to college is a very real question for new parents.
"When you look at these numbers and how college has increased from an inflation standpoint historically, it is staggering," said Maria Bruno, a senior investment strategist at Vanguard.
Many factors have been blamed over the years — a decline in state funding for public schools, along with administrative bloat, rising salaries and new construction at private colleges.
Incomes, meanwhile, have not kept up. In 2015 the median income for families with children rose by 4.3%, and in 2014 by 3%. If family income continues to grow at 4.3% each year, it will reach about $142,000 in 18 years.

Bruno estimates to save enough to cover 50% of tuition, families will need to put away (and invest) about $1,000 each month for the next 17 years if their child wants to attend a private school, $320 per month for a public school, and $147 per month for community college.

It's a serious burden for new parents, plenty of whom still have their own college debt to pay off, and who are also advised to put aside 10% to 15% of their income for retirement. Bruno said retirement should take priority over college funds, "because there's the possibility that other resources may be available" to help pay for education.

"With limited resources and multiple goals, it can be very overwhelming," she said.
The silver lining, according to Jennifer Ma, senior policy research scientist at the College Board, is about 70% of students get some grant or scholarship money and pay less than the so-called "sticker price." And while $121,000-per-year private college may seem like an option for only the wealthy, she added that private schools account for roughly 30% of undergrads anyhow; the majority go to public colleges.
Yet this free scholarship money is not enough, even at public schools. About 60% of undergrads borrow money. Of those at public colleges who took out loans, the average debt is $26,800, said Ma. At nonprofit private colleges, the average is $31,400.
Ma even had a note of relative optimism for new parents. In recent years college costs have increased at a slower rate than the 6% in Vanguard's model — something closer to 4%. "These days, colleges and universities have an enormous amount of pressure to minimize costs and control tuition increases, more so than in the past than 20 to 30 years," she said.
A couple of percentage points really add up. At a growth rate of 4%, four years of college will cost about $185,000 at a public school, and $363,000 at a private college, according to the College Board's college cost calculator. No sweat, right?