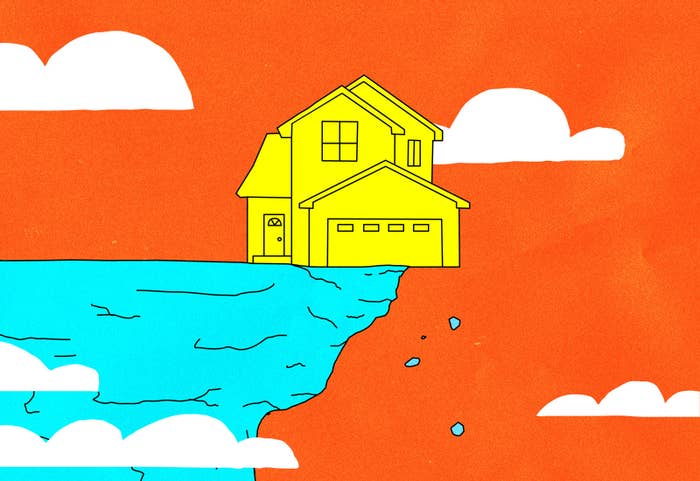 After years of growth, the US housing market is slowing. Home sales in September were down 4.1% from a year ago, according to data from the National Association of Realtors. It's an indicator that prices are starting to bump up against a new economic reality, and while it will increase pressure on sellers, it simply reflects that fewer people can buy a home now.
Oddly, what has felt so obvious to many Americans, especially young people looking to buy their first home — the feeling that housing is Too Fucking Expensive — has not actually been reflected in the housing market until recent months. Prices have been rising steadily for years around the country; in markets like San Francisco and Seattle, they've been reached unimaginable highs.

Yet in the red-hot San Francisco Bay Area, where the median price of homes sold in September reached $930,000, sales were down 16.4% from a year ago. One reason for this is that prospective buyers of high-cost homes are now looking at additional costs from tax code changes that reduced the mortgage interest deduction. And it comes on top of an already big bill.
According to David Blitzer, managing director and chair of the Index Committee at S&P Dow Jones Indices, on a national basis, prices of existing homes (the vast majority of the market compared to new builds) have climbed 6% over the last year, compared to 2.5% wage increases and 2% inflation.

The other factor is rising interest rates, which are near 5% for a 30-year mortgage from a historic low of 3.31% in November 2012.
"It's getting more expensive to buy a house," Blitzer said in an interview with BuzzFeed News. "It doesn't mean nobody will buy a house, I'm sure someone is buying one this afternoon. But the number will drift down."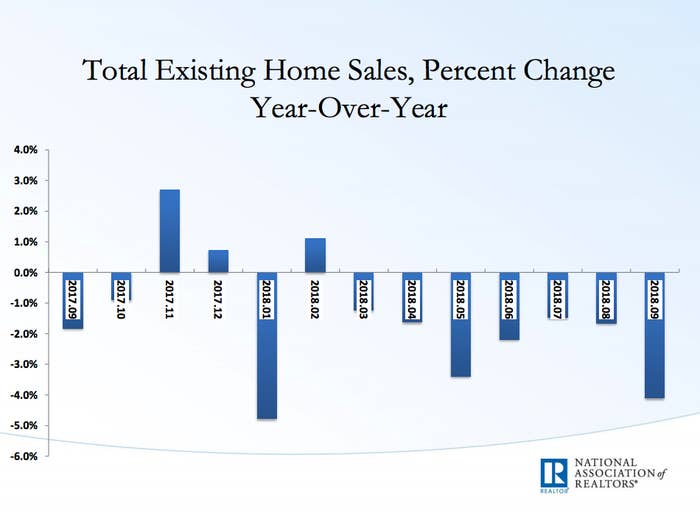 As prices rose in recent years, excluding more and more buyers, in general there has still been someone willing to pay, allowing prices to tick up and up as aspiring homeowners watched in shock and awe (and dismay). But that demand is cooling.
"It's not that there isn't demand for housing, but first-time buyers are having a hard time buying in," said Jenny Schuetz, an economist at Brookings Institution, told BuzzFeed News. "They just don't have the down payment or the income to pay the monthly mortgage."
Lawrence Yun, National Association of Realtors chief economist, said last month: "A decade's high mortgage rates are preventing consumers from making quick decisions on home purchases. All the while, affordable home listings remain low, continuing to spur underperforming sales activity across the country."

One of the biggest challenges: student loans.
The NAR said in a report, "Student loan debt stands out as a challenge keeping would-be buyers out of the market." In a survey, among those who said saving for a down payment was the most difficult part of buying, half said student loan debt inhibited their ability to save for a home. About one-third cited credit card debt and car loans, each. Among first-time buyers, 40% have student loans, with the median debt at $30,000.

It means saving for a down payment is getting harder. While the median age of first-time homebuyers in NAR's survey has held steady for many years, at around 32 years old, worsening affordability has squeezed many people out, reducing the presence of new buyers. "The share of first-time buyers has not rebounded since the Great Recession," said Jessica Lautz, NAR's director of demographics and behavioral insights. Historically, first-time buyers represented about 40% of sales, but "since the expiration of the first-time buyer tax credit in 2010, we have not seen the share close to that number." Today, it's closer to 33%.
Also, the profile of people entering the housing market is changing: Many first-time buyers have higher incomes now. They are also "more likely to receive family help to the enter the market, either through down payment assistance or living at home with friends and family to reduce their housing costs before buying," said Lautz.
"Even with a thriving economy and an abundance of job opportunities in many markets, monthly student loan payments coupled with sky-high rents and rising home prices make it exceedingly difficult for potential buyers to put aside savings for a down payment," said Yun in a statement.
It remains a sellers market, though less so than a year ago, and it's not clear how long the housing slowdown will continue. While financial markets have been volatile and whispers of a looming recession have to be considered, the future, as always, remains uncertain.
"I can assure you there will be another recession, I can assure you no one knows when it's coming," Blitzer said. ●