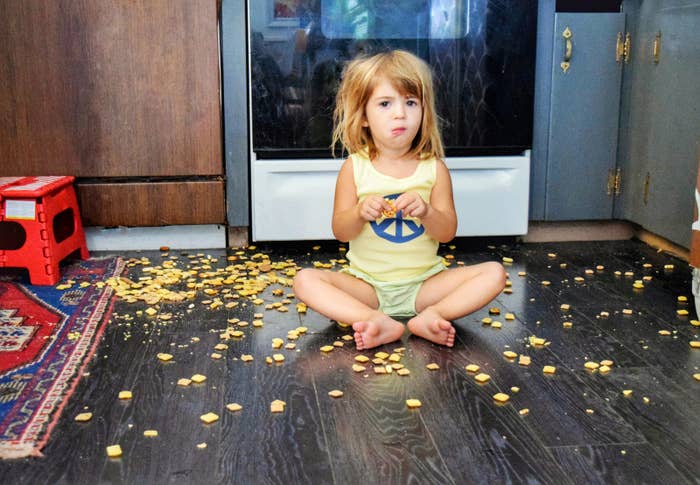 Today, research shows Americans are more worried about sugar than they are about calories and fat. Even though these worries have caused demand for drinks like soda and orange juice to collapse, children on average still eat way too much sugar, based on a new recommendation from the American Heart Association.
The group now suggests children aged 2 to18 consume no more than 25g of added sugar daily — less than a third of the estimated current average consumption of about 80g.
To put 25g of sugar in context, it's about equivalent to 100 calories worth, or six teaspoons of granulated sugar. It's about 60% of the 42g of sugar you'd get from a tall Mocha Frappuccino at Starbucks. The AHA's recommendation refers to sugar added to food, not sugar that occurs naturally — for example, in fruits.
Even well-intentioned parents, who feed their kids organic, all natural, non-GMO, preservative-free food, struggle to keep sugar levels down. Brands that splash healthy labels on products can still be loaded with sweeteners, and every little choice contributes to those 55g of excess sugar in the average child's daily diet.
Data in the AHA report shows that while roughly half of the 80g of added sugars consumed by children come from obvious sources — soda, sports drinks, syrups, and candy — the other half is hidden in grains and dairy products.
The Sugar Association responded to AHA recommendations in a statement saying, "the added sugars dialogue has lost its scientific integrity."
"When consumed appropriately, added sugars and a nutrient-rich diet are not mutually exclusive. Added sugars are actually a critical part of the nutrient delivery vehicle and essential in masking the bitterness of fiber and whole grains, allowing bread to rise, and offsetting sour in dairy among other functional and palate-friendly uses. Added sugars can help kids in particular, but also adults, consume nutrient-rich diets."
Here's a few less obvious sources of added sugar.
1. Similac organic baby formula
Similac's infant formula may be certified organic, but it still contains added organic sugar. While the FDA does not require manufacturers to list sugar on infant formula nutrition labels, NBC reported that this organic formula contains 3.5g of sugar, Many other infant formulas are sweetened with lactose, which is also found in breast milk, according to Consumer Reports. Lactose-sweetened Enfamil Premium and Parent's Choice premium infant formulas contain a whopping 13.5g and 12.4g of sugar per serving, respectively, according to NBC's report.
"Children have a strong preference for a sweet taste, and early introduction of added sugars in the diet of infants and toddlers may promote sweet taste preference," according to the American Heart Association's report, which recommends children younger than two consume zero added sugar.
Europe banned sucrose-sweetened formula in 2009.

2. Annie's organic yogurt
Annie's — owned by food giant General Mills — is one of the better known brands of organic and natural foods, including some with plenty of added sugar. Annie's vanilla yogurt, for example, contains 22g of sugar per cup, twice as much as the brand's plain yogurt, which contains just 11g of sugar and 40 fewer calories. A General Mills spokesperson said yogurt is packed with calcium and vitamin D, and "given yogurt's nutrient density and convenience, we still think it's a great choice."
3. Cheerios Protein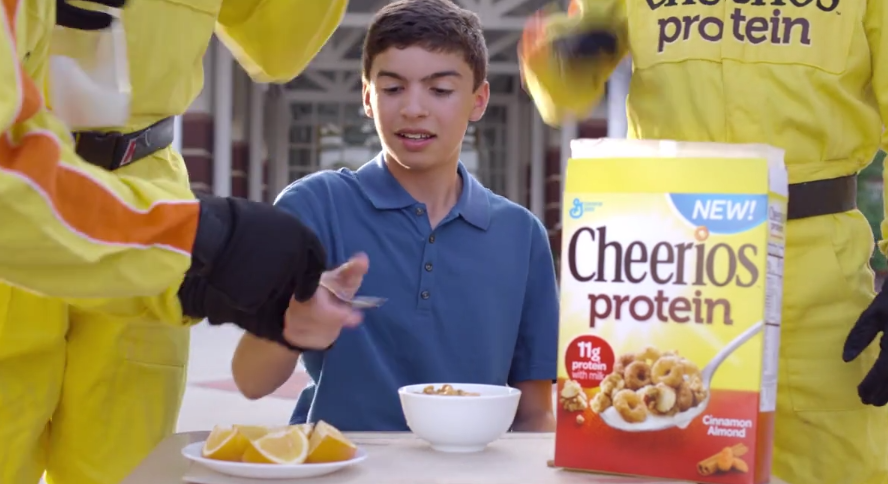 Even the health-oriented cereals can be sweeter than you'd expect. Cheerios Protein, for instance, contains 17g of sugar per serving. An equivalent amount of regular Cheerios would contain just 1.25g of sugar. A General Mills spokesperson said the product is not marketed to young children, but to teens and adults.

4. Del Monte fuit cups
A fruit cup may be a great lunchbox snack, as long as the "light syrup" the fruits are bathing in isn't too sweet. A 4-oz. cup of Del Monte peaches, for example contains 15g of sugar, compared to just 5g in the no sugar added variety.
5. Silk almond milk
Almond milk has skyrocketed in popularity in recent years, but beware the hidden sugars. One cup of non-GMO Silk almond milk, sweetened with cane sugar, has 7g of sugar; the unsweetened variety has 0g. Silk told BuzzFeed News in an email: "The sugar we add in our sweetened products allows us to improve the flavor profile while retaining wholesome quality and nutrition our consumers have come to expect."
6. Mott's applesauce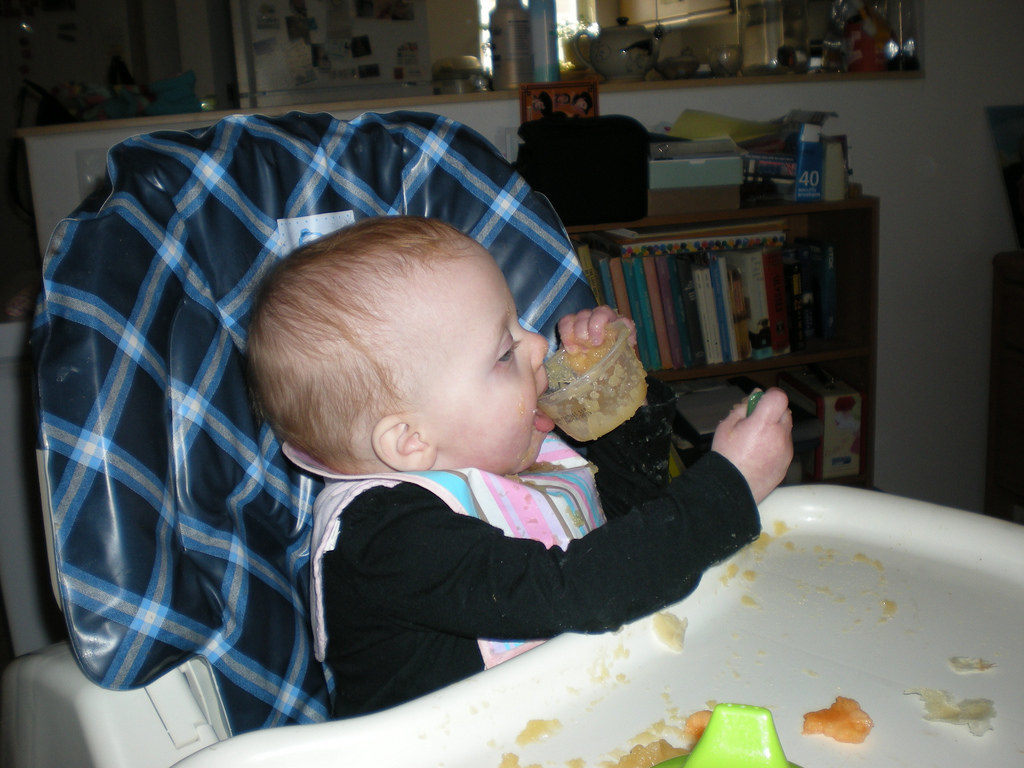 A pouch of Mott's Snack & Go applesauce contains 17g of sugar and 70 calories, about twice as much as the 8g and 40 calories in Mott's unsweetened Natural variety. A spokesman for the Dr Pepper Snapple Group, which own Mott's, said, "We are proud to have a wide range of options in the Mott's applesauce portfolio," and "we continue to explore opportunities through innovation to meet the evolving needs of our consumers, with a focus on reduced and no-calorie products."
7. Capri Sun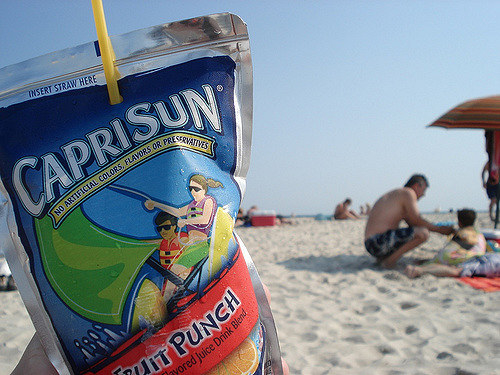 Labels on Capri Sun pouches point out that the beverage contains "no artificial colors, flavors or preservatives" and "no high fructose corn syrup," but sugar is still the second ingredient listed, after filtered water. One pouch of fruit punch contains 13g of sugar. The AHA recommends children and adolescents to limit their intake of sugar-sweetened drinks to one or fewer 8-oz beverages per week.
Actual fruit juice may be free of added sugars, although they are no less sweet. Shockingly the 13g of sugar in regular Capri Sun is still less than the 20g in the brand's 100% juice variety, which is abundantly sweet from the juice concentrates used.
8. Welch's fruit snacks
Obviously a fruit snack is still a candy, even if it's "fat free," "made with real fruit," "gluten free," and marketed like a vitamin supplement. If you must, at least opt for the reduced sugar variety, which contains 7g of sugar versus the 11g in the regular snacks.