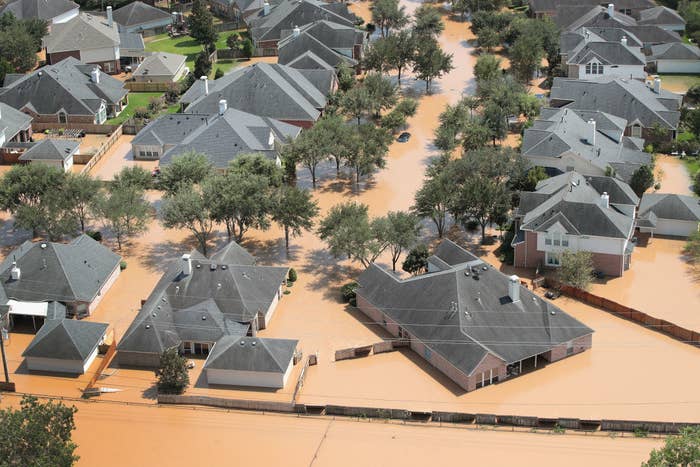 Moody's Analytics on Friday increased its estimate of damages from Harvey to between $86 billion and $108 billion after the storm's second landfall battered Jefferson County, Texas. The new estimate makes the storm the second-worst in recent history, the company said in a release.
Moody's Analytics said the biggest hit was inflicted upon the area's homes, which suffered $45 billion to $55 billion in damages. The property analytics company CoreLogic said in a release on residential damage in Texas and Louisiana on Thursday night, "an estimated 70% of flood damage from Hurricane Harvey is not covered by any insurance."
"The damage and disruption faced by Southeast Texas is clearly worse than most believed earlier this week," the report by Moody's Analytics said. "Although the full extent of the damage in Houston remains uncertain, it is clear that flooding damage is widespread, leaving a sizable trail of destroyed homes, buildings and cars in its wake."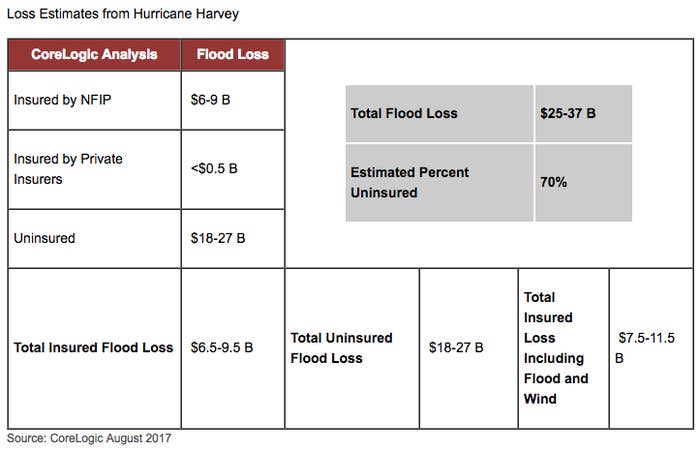 The company estimated damage to commercial land, including property like the Arkema chemical plant that caught fire, increased to $16 billion to $20 billion, and damage to vehicles and infrastructure was at about $20 million.
It put the value of lost economic output at $8 billion to $11 billion. A report by Moody's Analytics on Thursday said, "Much of the economic activity disrupted by Harvey will be made up in subsequent months."

UPDATE
Texas governor Greg Abbott raised the estimate cost of damages to $150 to $180 billion on Sunday, speaking to Fox News. That number would exceed damage costs from both Hurricane Katrina and Superstorm Sandy.