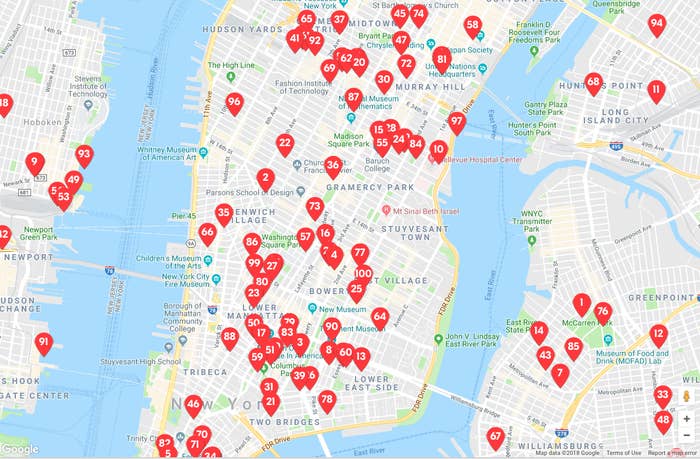 Grubhub is responding to ongoing debates about gender equality by making it slightly easier to support women-run restaurants. The food-ordering company launched a separate website called RestaurantHER this week that features a crowdsourced map of 20,000 women-led restaurants around the country, many of which link out to a Grubhub page to place an order. Grubhub defines women-led restaurants as those "owned or co-owned by a woman or a kitchen led by a woman head or executive chef."
"It's been a dramatic year for gender issues," said Grubhub CEO Matt Maloney in an interview with BuzzFeed News. "There's not a lot we can do to modify the national conversation, but we do have a lot of scale in restaurants, and restaurant delivery specifically. When we recognized similar patterns of inequality in the segment of restaurants we work in, we thought, 'what can we do to help these women out and try to promote more women coming out of the industry?' The map is about giving them additional exposure."
It's been about a year and a half since Maloney's social commentary following the 2016 election led to threats of a boycott and a dip in Grubhub's share price. In an email to employees in November 2016, he wrote that he rejects "the nationalist, anti-immigrant and hateful politics of Donald Trump" and told employees that if they didn't support an inclusive and supportive culture "please reply to this email with your resignation because you have no place here."
Unlike that incident, however, "I don't think gender equality is a political issue now," he said. "For us, this is an attempt to improve the industry we're in in a way that's beneficial for our diners and our restaurants." Grubhub, which owns Seamless, Eat24, Allmenus, and MenuPages, works with 80,000 restaurants around the country.
Women represent just 19% of chefs and 7% of head chefs and earn 28% less in base pay than male chefs, according to the initiative's website, a discrepancy Maloney said was brought to his attention nearly a year ago.
The restaurant industry, like many others, also has been plagued by reports that it can be a hotbed of workplace harassment. Chef John Besh stepped down from his company following allegations of sexual harassment from more than two dozen women, and Mario Batali stepped away from his businesses following reports of misconduct. Celebrity chef Tom Colicchio, like some other high-profile chefs, in November called out the "dick culture" in the restaurant world.
Still, Grubhub's new site is an imperfect first step. The map has not been integrated into Grubhub's apps, so consumers who want to support women-led restaurants must know to go to restauranther.com to find a restaurant near them that may or may not link out to a Grubhub page to order, a process that isn't exactly frictionless.
Map on RestaurantHer.com
Until the end of March, Grubhub will also donate $1 for every pledge (which you can make by clicking a button on restauranther.com) to order from a woman-led restaurant, up to $1 million (the pledge alone is enough for the company to donate). The first $100,000 will go to a group called Women Chefs & Restaurateurs to support its scholarship program and to develop online resources to help restaurant operators address gender issues in restaurant culture. Grubhub said it would spend money pledged in excess of the first $100,000 to "drive beneficial change," but it has not yet determined specific uses.