Earlier this year, the rainbow bagel went viral in a massive way — and everyone lost their minds.
The rainbow bagel — which has been sold by the Bagel Store in Brooklyn since the 1990s — is a visual marvel that looks like magic and tastes like a plain bagel. Reactions on Instagram range from, "Oh my lord Jesus Christ my mouth is watering," to "They look like a unicorn had diarrhea."
But there are signs now that the rainbow bagel has peaked. According to a new food trends report by Google, search interest in rainbow bagels has plummeted.
It was good business while it lasted. Epic lines formed outside the Bagel Store, which was forced to shut down an outlet for 10 days in February to prepare for the spike in demand. Customers were redirected to another Brooklyn location. Meanwhile multicolored copycats emerged everywhere.
There's even rainbow coffee now.
"It reached its peak really fast as a social media phenomenon that created lots of buzz and lines around the block, but search interest is showing that its popularity is already starting to wane," Google spokeswoman Evan Barbour told BuzzFeed News. "People are looking for the next big rainbow thing, or something else entirely."

Search interest in the U.S. for "rainbow bagels" has declined sharply in recent months, according to Google Trends.

BuzzFeed News has reached out to the Bagel Store for comment.

Every food craze eventually peters out, but at this rate, rainbow bagels may never outdo the king of all food fads: the Cronut, chef Dominique Ansel's famous croissant-doughnut hybrid that spawned historic lines when it launched in 2013.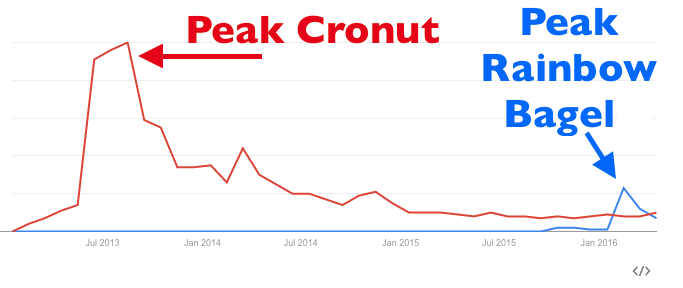 Interestingly, Google said people are increasing interested in funfetti — which happens to be a cream cheese flavor at the Bagel Store. Or perhaps, as Google suggests, the next big thing will be vegan donuts (HA!).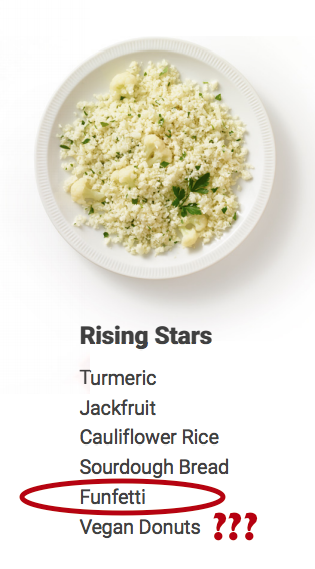 Don't worry rainbow bagels, we love you just the way you are. Don't ever change.