If you visit the website of Silicon Valley vegan food maker Hampton Creek, you'll notice a couple of things have changed at the company, which has been hit by a series of corporate controversies in the last year.
Firstly, there is no longer a hamptoncreek.com. Anybody heading there is redirected to eatjust.com. And once you land at the new site, the words "Hampton Creek" are basically nowhere to be seen.
The company's name doesn't appear anywhere on its homepage, which now takes the form of an egg-yolk-yellow backdrop with hyper-minimal text. "Just. Discover."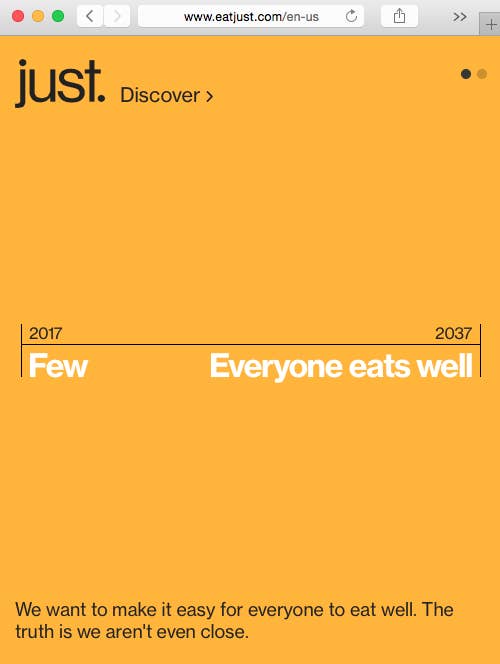 "The website is a work in progress," said a spokesman for the company, who also pointed out that the words "Hampton Creek" are still mentioned on the site — in its Terms of Service, and its Privacy Notice.
A look at the company's redesigned packaging shows something similar. "Hampton Creek" is no longer mentioned on the front of the labels, appearing only in small print on the back, near the nutritional facts. "Just." is now front and center.
While the company is still officially called Hampton Creek, it now emphasizes "Just." across its products and communications, pushing items like Just. Ranch dressing, Just. Chocolate Chip cookies, and Just. Birthday Cake cookie dough.

(Yes, there's a period after "Just.")
The rebrand — also a work in progress based on customer feedback, the spokesman said — launched last month, and follows a series of controversies for Hampton Creek, which according to CB Insights has raised $239.6 million from investors on the promise of revolutionizing the food industry. It was the subject of inquiries by the Securities and Exchange Commission and the Justice Department over a program that potentially inflated sales numbers in its early days; those inquiries were later dropped.
It was sued by Unilever, the food giant that makes Hellmann's mayonnaise, over its use of the word "mayo" — a food product that technically has to contain eggs. Unilever eventually withdrew its suit and launched its own egg-free Hellmann's product; in a deal with regulators, Hampton Creek agreed to change Just Mayo's label to make it clear that it contained no egg. It now says, "Just. is for everyone. Non-GMO. Egg-free."
If that wasn't enough, a number of Hampton Creek executives were dismissed in recent months in an ongoing corporate drama. Things escalated this week when its chief technology officer, its research and development chief, and its vice-president of business development were all fired after the company uncovered what it described as an "unsuccessful attempt to derail our mission."
Two words not mentioned anywhere in the corporate statement announcing those firings: Hampton Creek.
The company says its customers never really knew what Hampton Creek was, and that the controversies had nothing to do with the rebrand. CEO Josh Tetrick told BuzzFeed News the decision came down to the fact that Just Mayo was a much stronger brand.

The five-year-old company is expanding beyond making prepared foods for retailers and foodservice companies, and is now supplying ingredients to big packaged food manufacturers including Cheerios maker General Mills. "When we first started, I thought we would be an ingredient company back in the day," Tetrick said, describing the company as one that "thinks of food, and the formulation ingredients, from digital perspectives."
Eventually, Tetrick sees roughly 40% of Hampton Creek's business coming from supplying plant-based ingredients to large manufacturers, or licensing its process for making these ingredients. The remaining 60% will continue to come from retail and foodservice. By then, perhaps only consumers who've studied the terms of service on Eatjust.com will know what Hampton Creek is.