Guinness Is Making An IPA
The brand famous for its creamy, black stout is going hoppy to compete with America's craft brewers.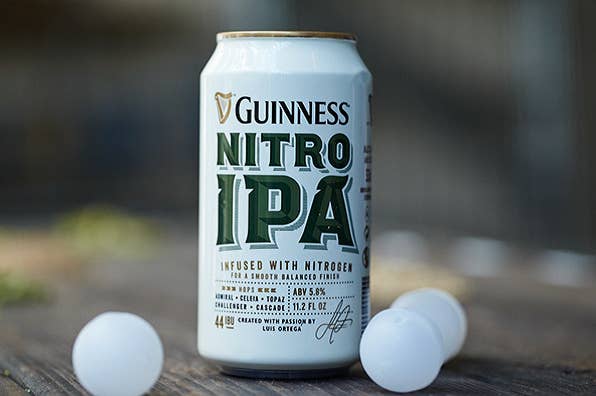 Guinness may be synonymous with the creamy, black stout from Ireland, but the struggling brand has been branching into new territory in the U.S. After introducing Blonde American Lager last year, the brewer is now launching an India pale ale to compete with the country's growing craft brewers.
The new Nitro IPA, a "hop-forward" beer brewed with five kinds of hops in Dublin, is canned with the same little nitrogen-filled ball (which they call a "widget," pictured above) found in regular Guinness that the company says helps to create a thick, creamy head. It will be launching in the U.S. this month.
Here's what the new IPA looks like next to regular Guinness.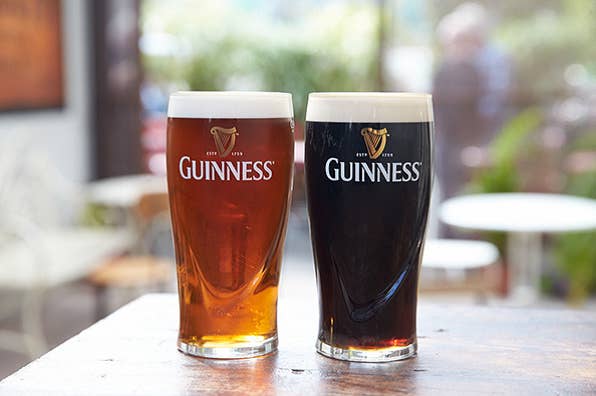 The IPA is a product of the Brewers Project, a group of Guinness brewers "charged with exploring, inventing and perfecting new beers." So far, they have released Dublin Porter, West Indies Porter, and a lager called Hop House 13.
This group of experimenters represents Guinness' efforts to look beyond its classic products for new avenues of growth. Ad Age reported this summer that Guinness will support Brewers Project beers in the U.S. with television and digital ads.
American consumers seem interested in trying new varieties of Guinness. According to Diageo, the London-based beverage company that owns the brand, Guinness sales globally were flat, but in the U.S. sales increased 3% in the fiscal year ending June 30 — due to strong sales of the new Blonde American Lager. It was a turning point for the brand, which had suffered negative sales in North America the two years before that.
Yet sales of regular Guinness Draught in the U.S. remained weak in the last year due to competition from craft beers. The decline is not something Diageo could ignore — the U.S. represents about 16% of Guinness' global sales by volume, reported the WSJ.
Guinness is clearly pursuing the craft beer drinker with its new IPA. Already, IPA is the most popular style of craft beer, accounting for for 21% of volume sales of craft beer last year in 2014 after growing 47%, according to data from the Brewers Association.
Here's Guinness' main U.S. lineup now.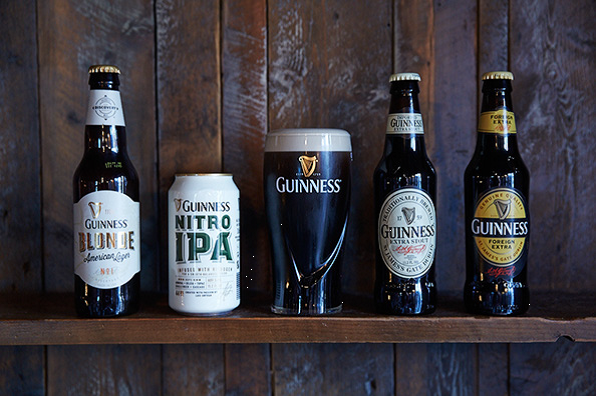 The full U.S. portfolio is Guinness Draught, Extra Stout, Foreign Extra Stout, Blonde American Lager, the new Nitro IPA, Black Lager, and the 1759 (a luxury beer).