For every sandwich that's ordered at a Dunkin' Donuts, "a dance" is conducted behind the counter, as Dunkin' Brands CEO Nigel Travis describes it.
"It's all steps and time," Travis told BuzzFeed News.
One step here to retrieve the sandwich fillings, a step there to warm it in the oven; one step over to grab the bread another step to toast it; arms flurrying to put it all together before it gets bagged and handed over to the customer.
More steps mean more time spent on each order, and the less convenient the visit becomes for customers. The longer the line gets, the greater the risk people eventually decide it's just not worth the wait.
It's a risk Dunkin' has been thinking about as its breakfast sandwich sales grow and the chain plans to make food a bigger part of its afternoon business, including lunch fare like grilled cheese and chicken salad sandwiches. The company currently has 21 sandwiches on its core menu. Sandwich sales have doubled since 2007, and the chain expects them to continue expanding.
The "dance," as Travis described it, needs to get easier. Even now, "There was pressure on throughput so we needed to increase capacity," Travis said. "We completely redesigned the kitchen."
Here's what Dunkin' came up with.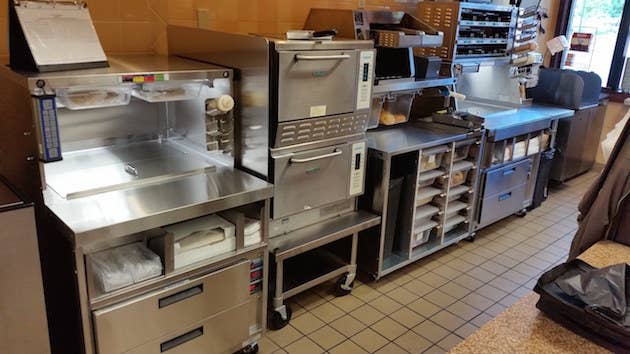 Superficially, it looks pretty similar to any other fast food kitchen, but the company says the setup will churn out food faster and make things easier on staff.
In the esoteric world of restaurant operations, innovation takes a mundane form: the "game changer" in the new sandwich station design is a new, faster toaster with two belts that can simultaneously heat up breads with different timing requirements, like croissants (less time) and bagels (more time).
There's twice the space to hold cooked foods like eggs and hash browns. And there are two refrigerators now — one at the start of the assembly line that stores foods to be cooked, and one at the end for spreads and cheese that only go on when the sandwich is being put together — so that the cook and the sandwich builder don't collide trying to access a single fridge.
"The workflow is much better for crew," said Stephen England, vice president of Dunkin' Donuts operating systems.
What all these minuscule tweaks translates to is a 20- to 30-second reduction in production time per sandwich, or about 20% faster.
To the average person, these may all sound like a pretty small changes, but producing fast food at scale is all about these kind optimizations — small improvements to an endless array of tiny motions and flow. Saving a few seconds here and there quickly add up when you could have hundreds of orders pouring in during peak hours, which are currently 7 a.m. to 9 a.m.
England hopes the increased speed boosts customer satisfaction among sandwich buyers, who the company sees as a key factor to growing sales.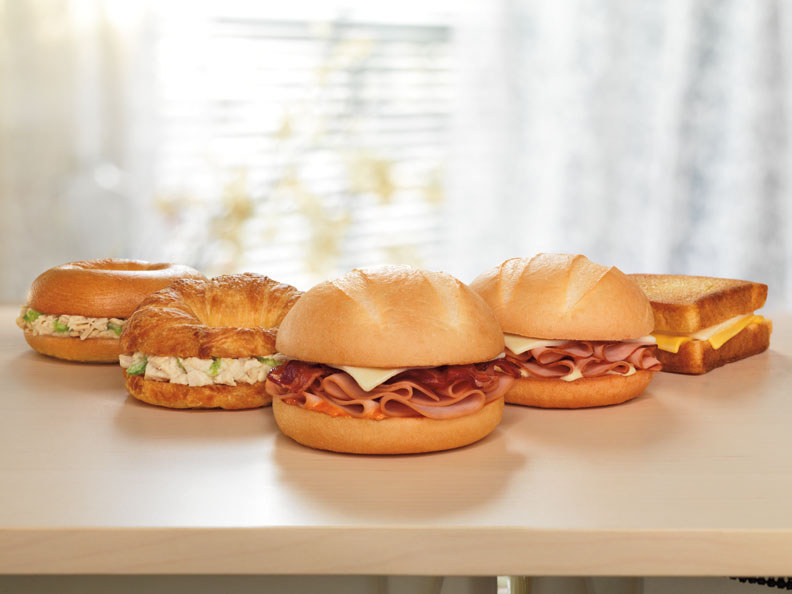 With each second off a sandwich's build-time hopefully contributing to the growth of Dunkin's food business, there is indeed a science to the sandwich station.
But "there's no real rocket science," said England. "What we looked at was less about the equipment and more about what should the role of employees be," he said. In simple terms, they designed it to minimize the amount of walking around required of workers, and collisions along the line.
Depending on the size of the restaurants, some will have just one station—which can make up to 151 sandwiches per hour, a 27% improvement, based on tests so far.
For its busiest stores, Dunkin' is now offering a double-sided configuration, with sandwich-making equipment on both sides of an aisle, to handle more than 300 orders per hour. Because the dual station still requires just one cook (there's just an additional sandwich assembler on the second side), "You can double capacity without having to double employees," maximizing labor efficiency, said England.
Sandwiches have only managed to grow to 10% of Dunkin's sales, which may not sound like much, but consider that the chain made more than $7.17 billion in sales in the U.S. in 2014, according to data from restaurant researcher Technomic. One-tenth of that would be $717 million. For context, that is more than Krispy Kreme stores made overall in the U.S. last year, based on Technomic data.
"We're delighted with the progress there. It's the second highest margin category for our franchisees," Travis said about the chain's sandwich sales.
The new stations, which will cost roughly $27,000 — some more and some less depending on the format — will be built into all new and remodeled stores, and is optional for all existing stores. Dunkin' Donuts expects it to be in a majority of U.S. stores within the next five to 10 years.