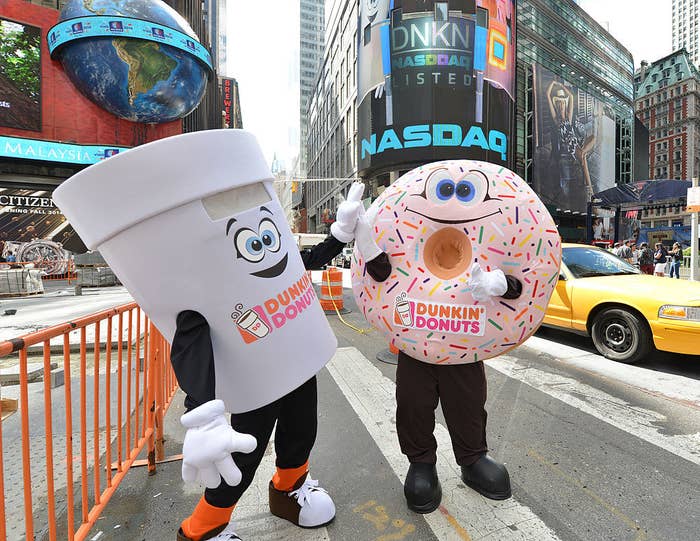 Dunkin' Donuts may have made some friendly gestures toward recent coffee trends — it added cold brew, dark roast and macchiato to its menu — but when it comes to roastery-cafés and pour-over coffee, America's leading Dunkaccino vendor says it wants nothing to do with it.
The Massachusetts-based company, which also owns Baskin-Robbins, is the country's biggest seller of flavored coffees. But has been battling declining traffic to its US in the last year, and is pushing to expand beyond its Northeastern stronghold. With all that going on, chasing so-called third wave coffee trends, characterized by things like single-origin beans and fussy brew methods, will not be part of its plans.
"We've got enough to do," Dunkin' Brands CEO Nigel Travis to BuzzFeed News. "We can double the size of Dunkin' Donuts in the US. We think Baskin-Robbins still has room to grow. International is still an opportunity. We've got CPG [consumer packaged goods]. We don't lack for things to do."
Dunkin's plans stand in stark contrast to those voiced by executives at Starbucks, which is aggressively expanding its higher-end, higher-priced Reserve brand, both in existing Starbucks stores and in new Reserve cafés. Former Starbucks CEO Howard Schultz now leads the company's Reserve brand, and calls it the "foundation for our next wave of profitable, global growth."
At Dunkin', on the other hand, "I can say categorically, you won't be seeing a high-end roastery coming from us," said Travis.
Dunkin' says it is focusing instead on value for money as it tries to kickstart growth in its nearly 9,000 US stores. The chain is currently promoting a $1.99 frozen coffee deal.

"Most things in a business get down to execution, and most execution fails because people aren't focused and they get deflected," Travis said. "I don't want our people to be deflected by worrying about the beans of the roastery, the pricing. I hear some of the prices in Starbucks' roastery are very high. That would be a complete deflection for us, so I have been very clear that we're not doing it."
Dunkin's current priority: the summer launch of s'mores-flavored coffees and vanilla cake batter donuts.