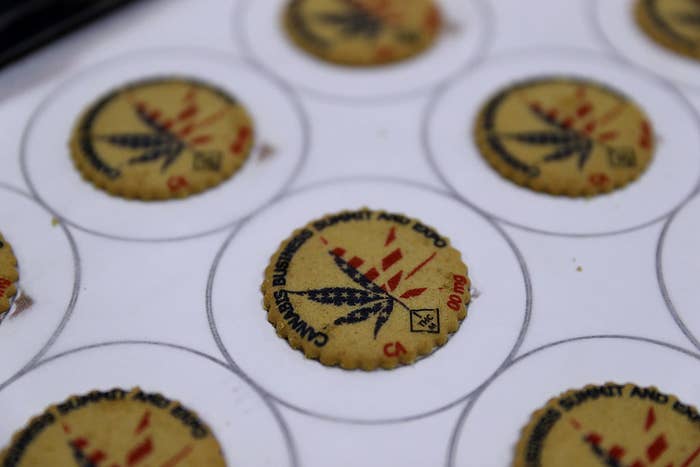 Voters in three states approved new medical marijuana initiatives on election day, and the majority of Americans now live in states where pot has been legalized in some form. But despite the growing public acceptance of medical marijuana laws, one group remains notably skeptical: doctors.
In all three states where medical marijuana initiatives were passed — North Dakota, Florida, and Arkansas — the state medical associations opposed the proposals. "There is nothing medical about this proposal," Florida Medical Association CEO Tim Stapleton said in a statement, citing "the lack of scientific evidence that pot is helpful in treating medical conditions."
In opposing the medical marijuana initiatives, doctors' groups generally avoid broader debates about the benefits of drug legalization, instead focusing on a more specific dispute: that pot should be considered a form of medicine, rather than a recreational drug. There needs to be more research, they argue.
"If the country wants recreational marijuana, and wants to treat marijuana like alcohol and cigarettes, and say above some age, people can make an informed decision and we can deal with the side effects and what will naturally come because we want people to have this freedom, that's a rational argument," Arkansas Surgeon General Dr. Gregory Bledsoe — son of conservative Arkansas State Senator Cecile Bledsoe — told BuzzFeed News.
"What concerns a lot of us in the medical community is that in the zeal to legalize or decriminalize marijuana, a lot of marketing dollars have been spent to convince the public that it's safe and natural and has no side effects, and we have to hand out the plant to gain medicinal value from the compounds — and it's just not true," said Bledsoe, who is a vocal opponent of marijuana legalization.
Others say a tactical move by many drug legalization campaigners — to advocate for medical marijuana as a stepping stone to full legalization — has left medical professionals trapped in the middle.
"The medical community has been completely co-opted by this debate," said Dr. Mike Miller, an addiction psychiatrist and medical director of the Herrington Recovery Center at Rogers Memorial Hospital in Wisconsin, in an interview with BuzzFeed News. While legalization has largely focused on medical use, in reality, it "is a broad societal argument."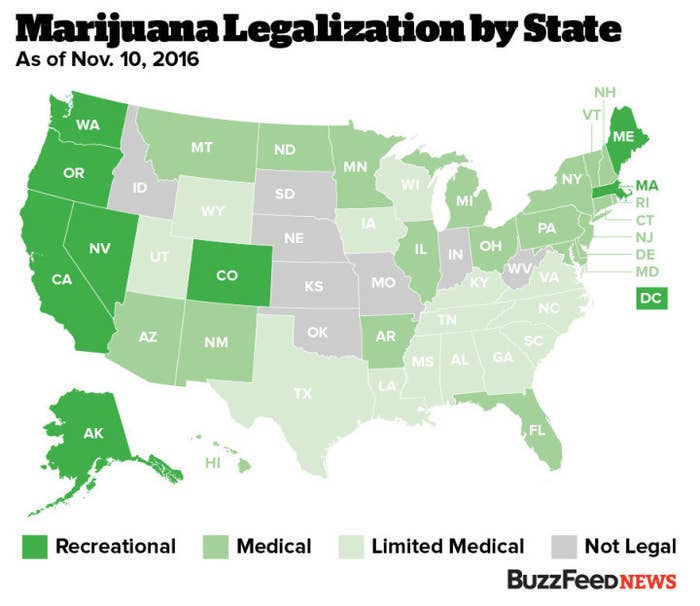 Typically, new medicines are approved by the US Food and Drug Administration, and synthetic versions of compounds found in the marijuana plant already have been FDA approved as medicine or are in the approval process.
It's the marijuana plant itself that is up for debate. It still considered by the FDA and Drug Enforcement Administration to be a "Schedule I" drug with no accepted medical use and a high potential for abuse. While major medical groups support further research into the plant and its uses, rules surrounding Schedule 1 drugs have made this difficult — only the University of Mississippi can currently grow marijuana for research (in August, the DEA said it would allow other entities to apply to produce the plant).
While marijuana remains illegal federally, some states have voted to legalize it and make it available without FDA approval, and with no dosing or other prescription requirements.
Legally, doctors do not give their patients a prescription for medical marijuana. Instead, they provide a recommendation letter, suggesting the patient use it for any of the conditions their state laws say can be treated with marijuana. According to the nonprofit Marijuana Policy Project:
A 'prescription' for the medical use of cannabis is illegal under federal law and carries significant penalties for doctors. Similarly, requiring physicians to specify dosage likely crosses the line into aiding and abetting, and thereby puts physicians at risk. By contrast, a 'recommendation' or 'certification' that a patient has a qualifying condition and could benefit from medical cannabis is permissible and forms the basis of every workable medical cannabis program in the United States.
For Paul Armentano, deputy director of the National Organization for the Reform of Marijuana Laws (NORML), a prominent advocate of marijuana reform, the lack of FDA approval is not itself a cause for concern.
"Cannabis is arguably far more studied than most, if not all FDA-approved medicines," he said in an email to BuzzFeed News. In addition to "extensive history of human use dating back thousands of years," he said researchers have cited "well over 100 controlled clinical trials. By comparison, conventional pharmaceuticals are typically approved on the basis of only two pivotal clinical trials."

In November, the US Surgeon General said that as pot legalization continues, "it is critical to strengthen understanding of the effects and consequences for individual users and for public health and safety." Because there is a growing body of research suggesting chemicals in marijuana can help treat health conditions, "it is necessary to continue to explore ways of easing existing barriers to research," the report said.
The American Medical Association, an influential lobbying group and the country's largest association of physicians and medical students, encourages reclassification of marijuana to facilitate research and development of new medicines, but also says "this should not be viewed as an endorsement of state-based medical cannabis programs, the legalization of marijuana, or that scientific evidence on the therapeutic use of cannabis meets the current standards for a prescription drug product."
The AMA's most recent policy on cannabis from 2013 says it "is a dangerous drug and as such is a public health concern" and does not support state or federal legalization. The group doesn't even recognize the term "medical marijuana," and instead says "cannabis for medicinal use."
Even the California Medical Association, which has has endorsed legalizing recreational marijuana so it can be monitored, researched, and regulated, believed in 2011 — 15 years after the state legalized medical pot (a proposition CMA opposed) — "There simply isn't the scientific evidence to understand the benefits and risks of medical cannabis," according to a statement by the association's then-board chair Paul Phinney.
The CMA did not respond to requests for comment.
Complicating the debate among medical professionals is the spending power of the businesses with a vested interest in the debate — both the virtually unlimited pockets of the pharmaceutical industry, and the growing capital accumulated in the marijuana industry.
Research by the ArcView Group, which invests in marijuana businesses, predicts the legal weed industry will grow to $23 billion in annual sales by 2020 from $5.7 billion in 2015. "It's a big, big business," said Bledsoe, the Arkansas surgeon-general.

It's big enough to worry the pharmaceutical industry, which stands to lose business to this alternative drug — one study showed that prescriptions for painkillers and other drugs fell in states with medical marijuana.
As drug and device makers give doctors billions annually in the form of meals, research grants, and charitable contributions, some have questioned whether this has influenced medical associations' opposition to medical marijuana. But Georgetown professor Adriane Fugh-Berman, a prominent researcher and critic of the relationship between physicians and the pharmaceutical industry, said while drug companies do use medical organizations as mouthpieces for industry-friendly messaging, in the case of medical marijuana skepticism, "this doesn't sound like Big Pharma to me."
The position taken by medical associations supports conducting more medical research on marijuana, which Fugh-Berman said is a good thing. "I thought there would be more research [on medical marijuana] than there was."
On the other side is the growing number of marijuana-based businesses — including many backed by biotechnology companies. Efforts in the three states that just legalized medical marijuana were supported by the Marijuana Policy Project, whose sponsors include Arcview, cannabis oil company Palmetto Harmony, and cannabis software and consulting business MJ Freeway. The MPP also received funding from tech entrepreneur Sean Parker and venture capitalist Nicholas Pritzker (whose brother is on MPP's board) to support recreational marijuana in California.
An MPP spokesperson said only 10% of the combined budget from MPP and MPP Foundation comes from people and companies in the marijuana industry; the group gets most of it money from philanthropists and individual supporters. The spokesperson was not aware of "regular donations from any medical associations or organizations" but pointed to a list it compiled of groups that support medical marijuana, including the American Nurses Association.
Pro-legalization group NORML is sponsored by companies including Canadian online dispensary Cannabis Care, Vaporizer Vendor, and Weedmaps.com. A spokesperson said these sponsorships are not primary source of NORML funding, which mostly come from members' donations.
The recent state ballots were supported by a variety of interests. In Arkansas, the group supporting legalization, Arkansans United for Medical Marijuana, outraised opponents six-to-one, according to ballotpedia.org. The group received funding from an investment firm in Ohio called Broadleaf PSG (which is financially backed by payday lending executive Cheney Pruett, who had invested in a marijuana farm), and Bevans Family Trust, an opaque entity tied to a retail liquor business in Maumelle.
In Florida, personal injury attorney John Morgan, who recently said he is considering a run for governor, said he has donated about $8 million to support legalization over the years. The amendment was also endorsed by labor unions.
In North Dakota, the petition was spearheaded by financial advisor Rilie Ray Morgan and received help from MPP with outreach.
Following November's vote, Bledsoe said many physicians in Arkansas are reluctantly preparing for the change, including patients who will likely request access to the drug. "Healthcare providers are complying, because it's the law now, but are doing so with a lot of concern about the health impacts and how to handle this, and where they go to for information. There's a lot of misinformation out there so they're worried about the legal risk too" if patients are harmed by use.
In addition to medical use, this past election, California, Massachusetts, Nevada, and Maine approved recreational marijuana initiatives, joining Washington, Oregon, and Colorado. Only voters in Arizona rejected a proposition to legalize recreational marijuana.