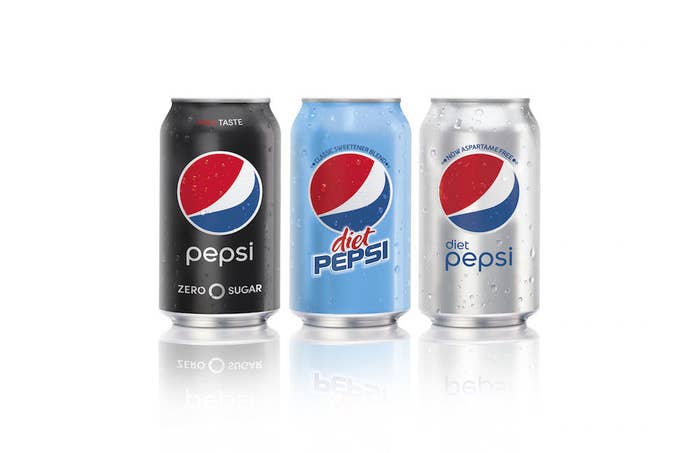 There will now be three different kinds of diet Pepsi.
In a move celebrated by many long-time Diet Pepsi drinkers, the company is bringing back the old formula of Diet Pepsi sweetened with aspartame, which was discontinued last year. It will be known by the catchy title of "Diet Pepsi Classic Sweetener" (more simply, The One In The Blue Can).
But Pepsi is also keeping the reformulated "Diet Pepsi" that it introduced in 2015, sweetened with sucralose and acesulfame K — it's still going to be called Diet Pepsi, and is staying in a silver can. As part of the change, Pepsi Max will be rebranded as "Pepsi Zero Sugar" (it's keeping the black can).

"Consumers want choice in diet colas, so we're refreshing our U.S. lineup to provide three options that meet differing needs and taste preferences," PepsiCo said in an emailed statement. The change was first reported in Beverage Digest.

A growing range of Diet Pepsi would make sense if consumers really wanted to drink diet soda. But that is far from the case.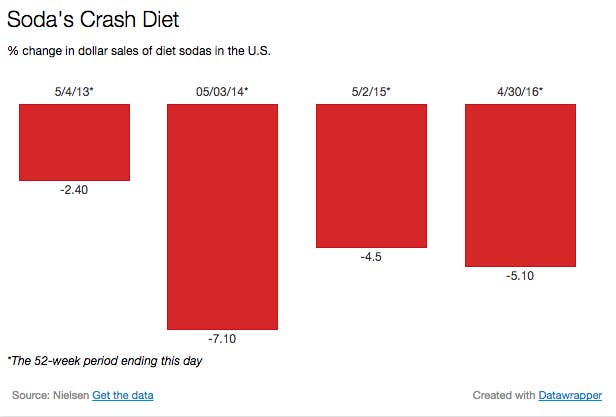 Sales of diet soda have falling for years, including a 5.1% decline in the year ending in April, according to data from Nielsen. In fact, Diet Pepsi was reformulated last year in response to slow demand for the "classic" version, due in part to some consumers expression an aversion to aspartame.
But the new recipe did nothing to reverse the decline. According to Beverage Digest, volume sales of Diet Pepsi fell 10.6% in the first quarter, almost double Diet Coke's 5.7% decline during the period.
Pepsi says while classic aspartame-sweetened Diet Pepsi will return in September, the new "Diet Pepsi" with sucralose and acesulfame K will remain the primary diet cola offering.
While the return of the aspartame Pepsi will satisfy some consumers, bringing back a failing line of diet soda suggests the company is struggling to figure out how to revive interest in its diet colas.
Part of the problem: the health-conscious consumers who used to drink zero-calorie sodas are switching to other options without artificial sweeteners, such as sparkling water, said Jordan Rost, vice president of consumer Insights at Nielsen.