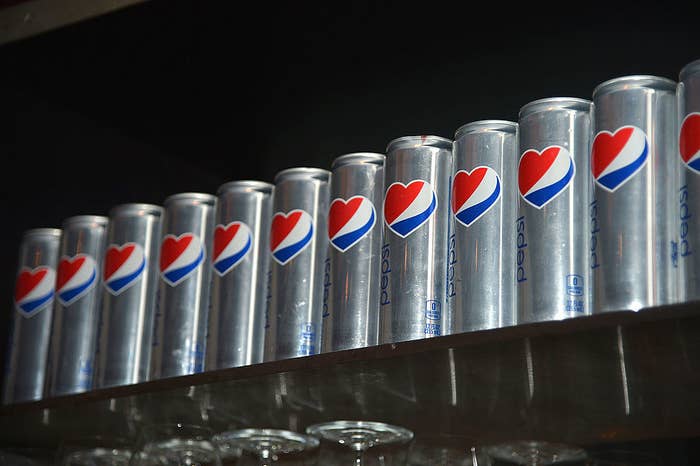 Diet Pepsi sales fell by 7.2% in 2016, dropping at a much faster rate than sales of full-strength Pepsi and Diet Coke.
Because the soda business is no longer about the volume of soda we drink — people have been cutting their soda habit for a decade now — companies focus on the dollar value of their soda sales. The industry has been increasing prices and launching smaller bottles — they help calorie-conscious drinkers have a small treat, marketers say, and are also more profitable.
"Consumers have been willing to pay more for such innovation," according to a new Beverage Digest report. But even in this paradigm of smaller bottles and boosting revenues, not gallons, some are losing out.
Dollar sales of Pepsi-Cola fell by 0.4% in the US in 2016, while sales of Coca-Cola increased by 2.5%. That's due, in part, to the fact that Coca-Cola "generally prices its drinks at a premium to PepsiCo," according to the report.
Sales of the diet versions of both colas were down, but Diet Pepsi fared far worse, with a decline of 7.2% versus Diet Coke's 1.9% drop. A reformulation of Diet Pepsi in 2015 that did away with aspartame — a stigmatized artificial sweetener — was greeted with serious backlash from consumers, and immediately resulted in a sharp decline in purchases. The company brought back the classic aspartame-sweetened diet formula in mid-2016, but it wasn't enough to revive sales.
PepsiCo did not immediately respond to a request for comment.

It's possible that reversing the fading prominence of diet cola is not a priority for beverage makers. PepsiCo has recently focused on other products like water and Gatorade, and the industry at large is paying more attention to other kinds of bottled drink.
Duane Stanford, executive editor of Beverage Digest, told BuzzFeed News, "PepsiCo's decision to promote Lifewtr and Pepsi Zero Sugar during this year's Super Bowl is a strong clue as to where the company sees opportunity."