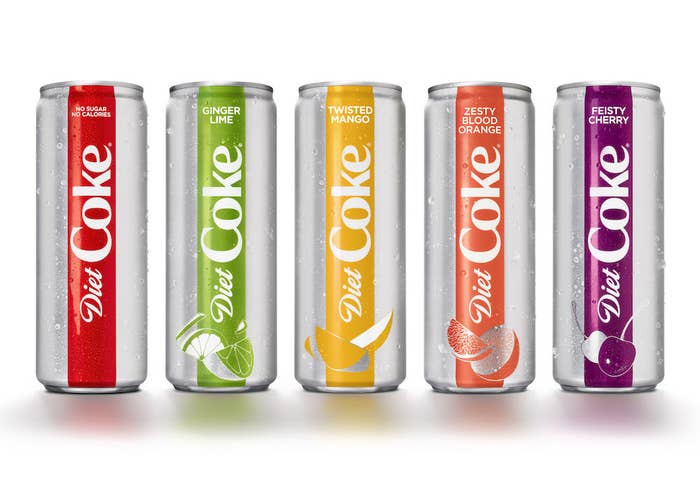 Diet Coke is in a rut. Sales have been falling and people are trading in their diet sodas for other zero-calorie beverages like LaCroix and waters both bubbly and still. So Coca-Cola is giving its 36-year-old brand a massive facelift, and it's launching four new millennial-oriented Diet Coke flavors. "Twisted mango," "zesty blood orange," "feisty cherry" and "ginger lime" Diet Coke, as well as the classic Diet Coke flavor, will come in slim, candy-colored cans rather than the classic silver cylinder that's been a marker of the brand for years.
The new products will be available in the US later this month and in Canada in February. The old-fashioned Diet Coke with lime and Diet Coke Cherry that are currently available will only be sold on Amazon hereafter.
"We love the essence of Diet Coke and we don't want to throw it away — just modernize it so we can re-express it for a new generation of fans," said Rafael Acevedo, Coca-Cola North America's group director for Diet Coke, in an interview with BuzzFeed News. He compared it to how the James Bond franchise, which "had a winning formula," needed an update and came up with a "rougher, more personable" Bond with Daniel Craig.
Sales of diet colas fell 3.5% last year; Acevedo said Diet Coke declined about that much as well. Still, annual sales of Diet Coke in the US exceed $2.1 billion and thousands of cans of Diet Coke are consumed every minute, he said — so despite some very real troubles, the brand still has a lot of fans.
David Henkes, senior principal at the food industry consultancy Technomic, said on Twitter, "Interesting facelift for an iconic brand. Still, soft drink sales are losing out to other types of beverages and getting young consumers back will be a challenge."
Diet Coke's primary challenge: millennials, of course. The product's main customer base is made up of boomers — white boomers, to be exact.

"Eighty percent of Diet Coke consumption is Anglo," said Acevedo. "We believe that to recruit a new generation, we have to appeal to them, and millennials are 40% multicultural." Beverage marketers have taken note that young people — and Latinos — love flavors. So here we are, with mango- and zesty blood orange–flavored Diet Coke. The "feisty cherry," Acevedo said, is a little spicier than the old cherry flavor.
The new slimmed-down cans have the same shape and silver color as Coca-Cola's Dasani Sparkling, giving the revamped Diet Coke an appearance more similar to the zero-calorie sparking water than to the other Cokes and sodas. And fear not: The rebrand didn't change the basic Diet Coke recipe, while the new design conveys a subtle cue to consumers who have increasingly switched to sparkling waters over caloric sodas and artificially sweetened diet beverages.
That, and Coca-Cola "wanted to make sure packages are Insta-ready," said Acevedo.
Keenan Beasley, co-founder and managing partner at marketing agency BLKBOX, said any impact of the rebrand may be short-lived. "Millennials for years have rejected the idea of soda due to health concerns. This is the bigger issue for Diet Coke and the Coke franchise. They still have to face this issue head on."
Diet Coke's rebrand is the result of two years of work deciding among 30 original options based on feedback from 10,000 consumers. It will include a "significant investment" to promote the product, according to Coca-Cola, including advertising during the Winter Olympics, billboard ads, and free samples.
Coca-Cola in 2016 announced a "One Brand" approach to unite the marketing of its various Cokes. The company introduced a new look for Diet Coke in Mexico that did away with the iconic silver can, but at the time, it said that it would consider "how it will integrate Diet Coke into the 'One Brand' strategy" in the US. It looks now like Diet Coke is going its own way.
CORRECTION
Keenan Beasley's name was misspelled in a previous version of this story.