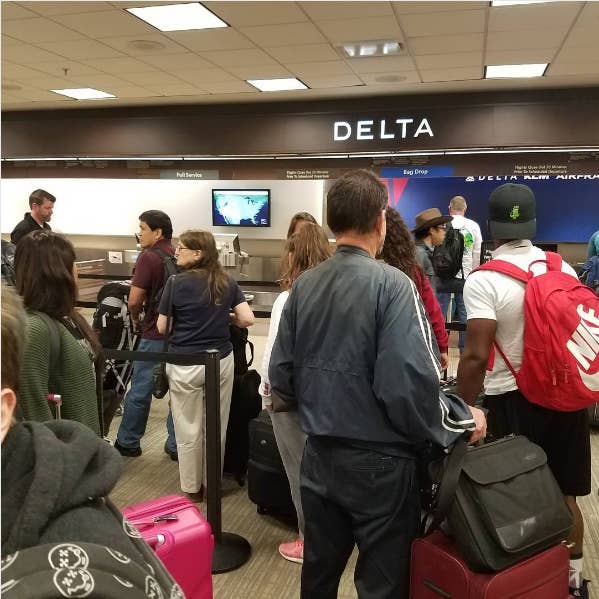 Days after severe weather in Atlanta grounded planes, setting off a travel nightmare for passengers around the country as Delta canceled thousands of flights, the airline had failed to recover normal operations by Saturday.
"Approximately 275 flights have been canceled Saturday morning, with some additional cancellations possible," the company wrote in a blog post Saturday morning. "Delta's operation continues to recover as airline teams work around the clock to return flights to normal following the disruption from severe storms in the Southeastern US and East Coast this week."
Passengers wrote to BuzzFeed News about hours-long waits trying to get speak with customer service in efforts to get rebooked. Some had been stranded for days.
On Saturday morning, Bill Verhelle, a passenger in Fort Myers, Florida, told BuzzFeed News, "I met people who are here at the gate for the FOURTH CONSECUTIVE DAY!"
"I slept on the airport floor with no pillow or blanket all night Thursday night. Friday, every flight I was on was canceled," said another passenger in LA, who said she had become ill during the ordeal and booked a hotel to rest and recover. "They say they can get me out Sunday night."
Meanwhile, Delta crew also reported being stranded in airport lounges around the country far from their home cities as the airline worked through an enormous backlog of flight cancellations and delays. Delta's inability to fly crew to airports with flights that needed them has exacerbated the problem.
"When Delta doesn't fly aircraft, not only do customers not get to their destination, but flight crews don't get to where they are scheduled to be. When this happens, unfortunately, further delays and cancellations result. And flight crews can only be on duty for a limited time before rest periods are required by law," Delta's Chief Operating Officer Gil West wrote in a statement on Thursday.
Delta did not immediately respond to an inquiry for more details.
Were you impacted by this week's chaos? To contact the reporter on this story, email venessa.wong@buzzfeed.com, or go to tips.buzzfeed.com to learn how send your tip securely.