As masses of Delta fliers were left stranded at airports across the country last week, a separate drama was unfolding behind the scenes.
With thousands of flights delayed and cancelled during the five-day crisis, crew members said the airline's computer system lost track of them amidst the chaos. That failure poured gas on the fire, delaying more flights as the airline scrambled to get crew and pilots to the airports where they were needed. It helped turn a storm in Delta's Atlanta hub on Wednesday into a multi-day fiasco that played out across the country.
The disruption was worse than the one Delta experienced last August when it suffered from a power outage that knocked out systems and grounded hundreds of flights. Delta said on Wednesday in its earnings release that it estimates the fiasco will reduce its quarterly pre-tax income by $125 million.
This time around, "pilots and flight attendants proactively attempted multiple contacts with Crew Scheduling, went days without receiving Crew Scheduling or Tracking contact, were placed on hold (in some cases for over six hours), and were camped out in crew lounges and airports resembling refugee camps," the chairman of Delta's pilot union said in a letter to pilots on Tuesday.

The problem was acknowledged by Delta CEO Ed Bastian in an internal memo to sent to employees on Monday.
"Our recovery was hampered by a lack of available seats to accommodate customers as well as a failure of crew tracking systems to adequately position our people to do their jobs," he wrote in the memo, which was reviewed by BuzzFeed News.
On an earnings call on Wednesday, Bastian said while Delta's IT worked "as designed," it was "overwhelmed by the volume of broken rotations and cancellations and diversions, all of which needed to be put together on the fly at an unprecedented level of volume."
By Monday morning, Delta said its operations were mostly recovered, and it expected to operate more than 99% of its scheduled flights.
But at the height of the crisis, staff said the company's systems were struggling to cope with a massive disruption. "The problem compounds over and over again, as more crews become stranded, a Delta employee told BuzzFeed News on Friday. "Right now, as we speak, there are hundreds of flights in our internal system that will not leave because we just don't have the staff to cover them."
According to private social media posts seen by BuzzFeed News, some crew members said they were unable to sign into Delta's scheduling system, or faced hours-long waits (and sometimes disconnections) trying to get through to scheduling by phone.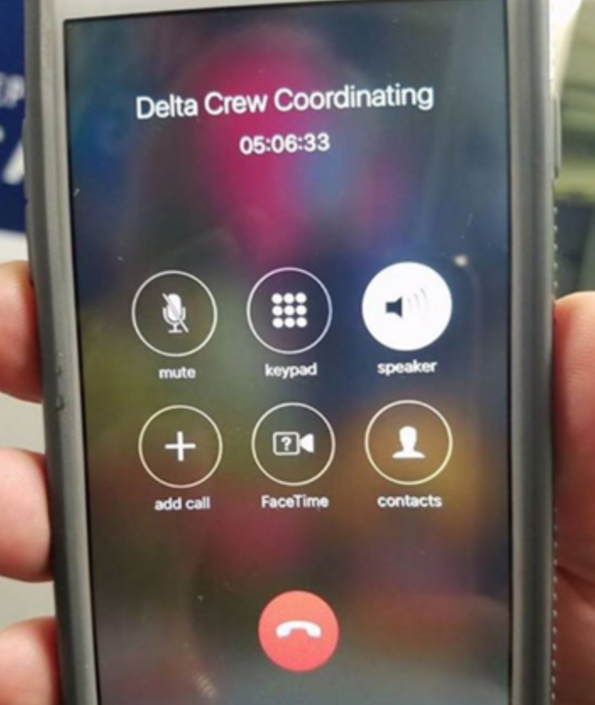 "Many couldn't log in," another Delta employee said. "Phone lines are useless. There is definitely an issue regarding wait times."
Other crew members said they were not accurately tracked by Delta, which scheduled them for a flight in one airport when they were in fact in another city. Some said they were not receiving updates about their flights.
"I feel like we are lost in the system," an employee wrote.
Many flight attendants were stranded in airport lounges far from their home cities, said one staffer who asked not to be named. Like Delta's passengers, some were unable to stay in hotels and slept in the airport.
"The average wait time for crews to even get ahold of scheduling was five hours. As of [Friday], our phone line to contact scheduling and crew tracking no longer work. Crews literally have no where to turn," said an employee.
The pilots union letter said the main problem was about connecting crew to planes, and called on the company to improve its systems. "Answers will include corporate information technology (IT) investments in crew tracking and operational control, and likely enhanced staffing in those areas. We encourage the Company to expand the technology investments they have already accelerated since the recent IT 'disruption'," the letter said.
Delta did not immediately respond to a request for more details. Bastian said in his memo that Delta continues to make investments in replacing and upgrading technology, including "significant enhancements to our crew tracking system," and has a new data center scheduled to go on line this summer.
Last August, Delta suffered a similar widespread debacle when a power outage in Atlanta disrupted hundreds of flights.
"Since the technology outage in August, it has been my top priority to make sure Delta people don't have to endure this type of situation again," Bastian said. "We have made progress but clearly must redouble our efforts."