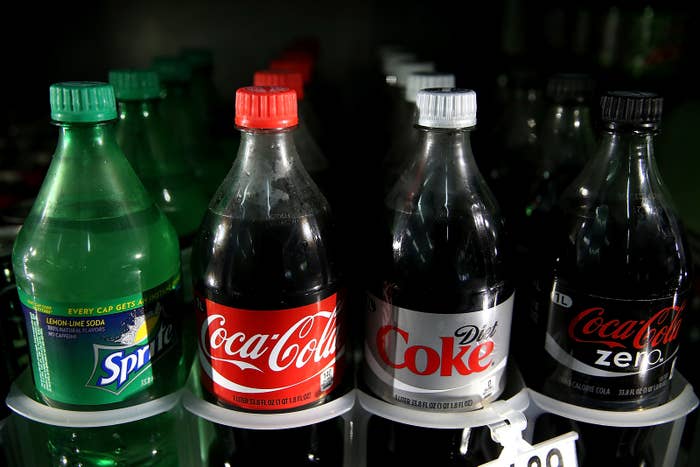 Americans are avoiding sugar, but that doesn't mean they have to avoid soda — at least that's what Coca-Cola is hoping, as it reformulates more than 500 products this year to have less of the sweetener.

The healthfulness of artificial sweeteners may be up for debate, but the beverage maker sees kicking the sugar habit as a necessary strategy to retain consumers who associate sugary beverages with health problems. US soda consumption fell to a 31-year low in 2016. The company had previously shifted to smaller serving sizes — to help people control calorie intake — at higher prices, which it described as "a core part of our strategy."

CEO James Quincey told investors Wednesday. "While we see various opportunities and challenges in each of our markets, one thing is consistent across all of our businesses: the consumer landscape is changing."
He added, "We see an increasing number of small and fast competitors; consumers' desires revolving, whether they're seeking low or no sugar options, drinks with functional benefits or simply more variety. In order to thrive in this kind of environment, we need to be more entrepreneurial in our job, to take intelligent risks and build a broader consumer-centric portfolio."
To this end, the company this month acquired the Mexican sparkling mineral water brand Topo Chico, giving Coca-Cola another presence in the expanding sparking water market that includes San Pellegrino, Perrier, and LaCroix.
Quincey also went on to discuss the early success of Coke Zero Sugar, the reformulated Coke Zero that was available in many countries before launching in the US this summer. The beverage — which the company bills as "more delicious" than its predecessor — is "lifting the whole franchise," he said.
Coca-Cola's new philosophy on sugar is articulated clearly on the company's website, which recently changed the language in the footer to state: "At Coca-Cola, we're serious about making positive contributions to the world. That starts with reducing sugar in our drinks and continuing to introduce new ones with added benefits."


Coke isn't the only company that's made this a priority, with PepsiCo also shying away from sugar. "Our beverage transformation initiatives over the longer term have been very successful in shifting our mix to faster-growing subcategories and providing more low and zero-sugar options," said CEO Indra Nooyi earlier this month.
PepsiCo's former CEO John Sculley recently told TheStreet.com that he "would be amazed" if children were still drinking full-sugar beverages a decade or so from now.
"I think of it now, and I was selling sugar water to kids and today they are getting obese," he said. "I was launching the first two-liter plastic bottle, and now it has issues about what we do about our landscape," he said.