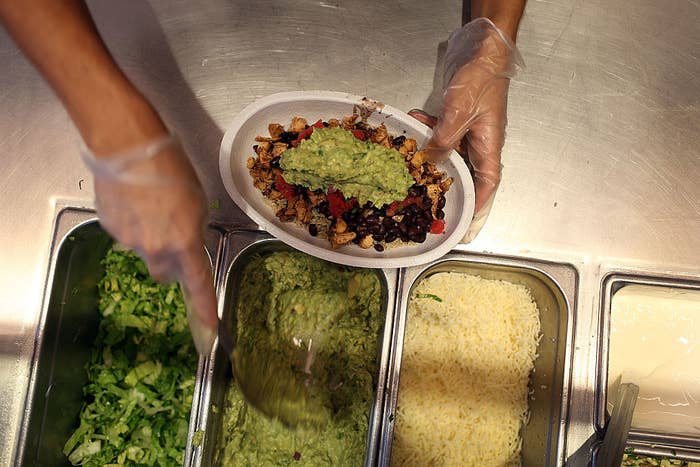 Chipotle had a garbage year, and it wants everyone to know it: "2016 has been the most challenging year in our history," CEO and founder Steve Ells said last week. More than a year after the food safety scare that plunged the chain into crisis, customers still haven't returned.
The numbers are grim: In Chipotle's most recent quarter, sales were $200 million lower than they were a year ago, even though the company now has 240 more restaurants than it did back then. On a same-store basis, measuring only stores open more than a year, sales are down about 18%.
Chipotle expects sales to continue to fall through the rest of 2016, followed by some improvement — although not a full rebound — in 2017.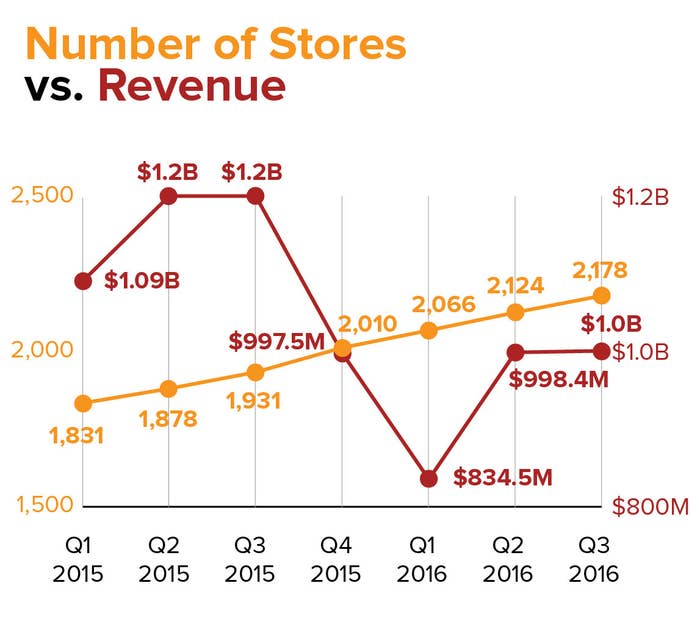 As part of ongoing efforts to turn things around, the company announced Monday that co-CEO Monty Moran — who was in charge of restaurant management and developing a positive "people culture" at Chipotle's thousands of stores — was resigning immediately.
The company does not plan to bring in a replacement for this role, meaning Ells will become the sole CEO. Shares rose following the announcement. (The chain's chief creative and development officer, Mark Crumpacker, who was placed on leave following reports he was been indicted for cocaine possession, has kept his job.)
In addition to lingering trust issues related to the food safety crisis, executives say customers are having a subpar experience when they visit Chipotle restaurants, and this is keeping sales down. About half of all outlets earned a "C" grade or lower on the company's own grading system that evaluates factors like food quality, service, cleanliness, and speed. Customers complain about slow lines, restaurants running out of food, and cleanliness.
Ells — a classically trained chef — reiterated the company's mission to elevate the fast-food experience with better food, and told investors last week that he isn't satisfied with how the restaurants were being run.
Despite these problems, Chipotle still plans to open another 200 restaurants in 2017, which has some investors worried.
"You can't add stores when you have a brand image problem and operations problems," said Howard Penney, managing director at research firm Hedgeye Risk Management. "You need to fix the stores before you have the right to open more."
Company spokesman Chris Arnold said the chain is not planning to shake up the restaurant experience, but rather to "focus a lot of attention in improving" it. He said "unnecessary complication" has crept into areas such as restaurant hiring, training, and becoming a high-level manager (or "restauranteur" in Chipotle-speak).
"Steve [Ells] believes that by eliminating these unnecessary distractions and focusing our attention on things that make a great guest experience, we can further advance our recovery," Arnold said in an email.