It's the end of an era.
Twenty-four years after founding Chipotle and growing the original Denver store into a national chain, popularizing the fast-casual segment of fast food in the US, Steve Ells is stepping down as CEO, the company announced on Wednesday. He will stay on as executive chairman and a committee has been formed to look for his replacement.
Ells, a graduate of the Culinary Institute of America, believed that "fresh, high-quality raw ingredients, prepared using classic cooking methods" could be used in a fast food setting. This philosophy, as well as the assembly-line, build-your-own menu at Chipotle, has since been adopted by other chains from pizza to Greek food.
After a steady rise (boosted early on by an investment from McDonald's), Chipotle has struggled over the last two years as incidents of food-borne illness linked to the chain continued to arise. Revenue has failed to recover to 2015 levels, despite having hundreds of additional restaurants, according to its latest financial report. Executives called 2016 "the most challenging year in our history."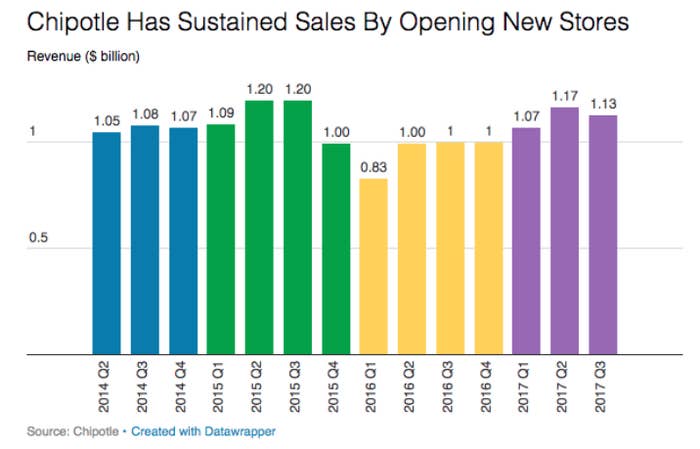 "I am incredibly proud of Chipotle and our people – and grateful to our loyal customers – and while we are continuing to make progress, it is clear that we need to move faster to make improvements," said Ells in a statement. "Simply put, we need to execute better to ensure our future success."

The company has overhauled its leadership, with former co-CEO Monty Moran stepping down last year.
Ells called bringing in a new CEO "the right thing to do for all our stakeholders" and said it would allow him to "focus on my strengths, which include bringing innovation to the way we source and prepare our food."
Looking ahead, he said, "As we work hard to restore our brand, I believe we can capitalize on opportunities, including in areas such as the digital experience, menu innovation, delivery, catering, and domestic and international expansion, to deliver significant growth."