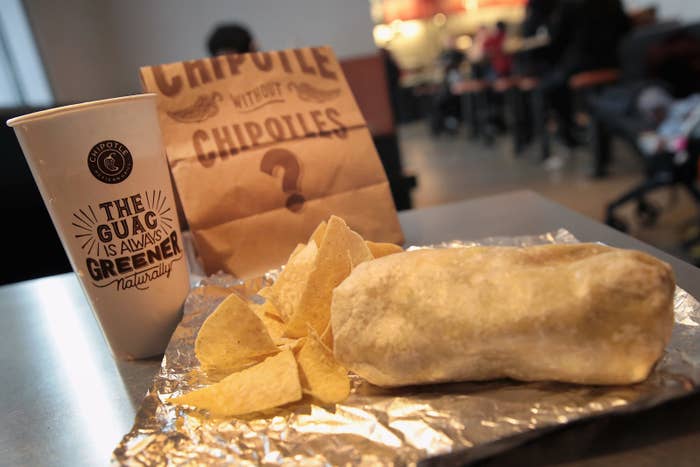 Chipotle — the burrito chain that has drawn unwelcome attention over the last two years for food safety issues and for declining popularity with customers — is trying to get back to its "food with integrity" roots that once helped endear the company to customers looking for an alternative to conventional fast food.
Chipotle announced today that it will launch a seven-month accelerator program in partnership with the Denver-based nonprofit Uncharted for up to eight ventures "in the areas of alternative farming and growing systems, farming and agriculture technology, food waste and recovery and plant and alternative products."
Mentors, including entrepreneur Kimbal Musk and Top Chef's Richard Blais, will work with the ventures in the Chipotle Aluminaries Project. Members of venture teams will get free monthly Chipotle catering for their office (free guac!), and Chipotle "celebrity cards" that get cardholders a free burrito per day.
Caitlin Leibert, director of sustainability at Chipotle, told BuzzFeed News the company contributed about $200,000 to Uncharted to support the program and will also provide marketing and communication support to the ventures.
While not an explicit goal for Chipotle to invest in or acquire any of the ventures, "It's certainly a possibility that we would consider the companies as future suppliers, if it's the right fit," a spokesperson told BuzzFeed News.
Chipotle is retraining all restaurant employees nationwide on food safety after a single restaurant in Ohio was recently linked to a foodborne illness that sickened more than 600 people. Asked if Chipotle is looking for ideas related to food safety, Leibert said while it is not specifically a category it is looking to fill, "We anticipate that we could see some food safety ventures, no doubt."
The accelerator group will spend five days in Newport Beach, California, learning from Uncharted and the program mentors about building a plan for scale. The theme of the boot camp will be: What is the future of food with integrity? Over the next seven months, they will follow an online curriculum developed by Uncharted.

"Chipotle has been committed to the future of food with integrity since opening our first restaurant 25 years ago," said Chipotle CEO Brian Niccol in a release. "Since then, we've changed how customers and the industry think about food, and as part of our mission to cultivate a better world, we're looking for the next generation of entrepreneurs who are disrupting the food landscape."

Chipotle is not the first food company to launch an accelerator program: Greek yogurt maker Chobani also has one.