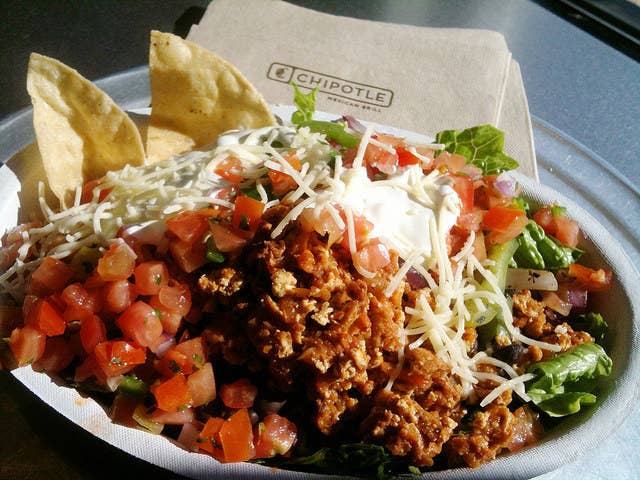 Chipotle's sales have taken a serious tumble as the company grapples with an E. coli outbreak that has infected 52 people across the country, and the company says it could end the October-December quarter with sales down up to 11%.
The Centers for Disease Control and Prevention still doesn't know what caused the month-long E. coli outbreak in Chipotle restaurants, but the agency reported seven more cases on Friday morning, hours before the restaurant chain disclosed its falling sales.

"For the full month of November, comparable restaurant sales were -16%," the company said. "If these sales trends continue, we believe comparable restaurant sales could be in a range of -8% to -11% for the three month period ending December 31, 2015."
It also withdrew its outlook for 2016. "Future sales trends may be significantly influenced by further developments, including potential additional announcements from federal and state health authorities," the company said.
On Friday morning, in a separate announcement, Chipotle said it was committed to becoming "an industry leader in food safety," but acknowledged that "additional cases [of E. coli] may be reported as states get data to federal agencies."

Of the 52 people reported ill, 90% ate at a Chipotle restaurant in the week before their illness started. The new cases also extends the period during which people reported getting sick from — it is now Oct. 19 to Nov. 13, a few days longer than in the last update, which ranged to Nov. 8.
The seven new cases were in California, Illinois, Maryland, Ohio (2 people), Pennsylvania, and Washington, The CDC said two of these illnesses started in October, and five started in November. "The investigation is still ongoing to identify common meal items or ingredients causing illness," according to the CDC update.
"Reporting on these cases can take time, and what we are seeing now is that reporting lag," Chipotle spokesman Chris Arnold told BuzzFeed News. "That kind of reporting lag is not uncommon for incidents like this."

According to the CDC, this kind of E. coli "live in the guts of ruminant animals" and infections start when you swallow the bacteria — "in other words, when you get tiny (usually invisible) amounts of human or animal feces in your mouth." Most people start feeling sick three to four days after exposure. Since antibiotics should not be used to treat this kind of E. coli infection, the only recommended treatment is to stay hydrated.
As Chipotle tightens its food safety standards, the chain — which typically sources local ingredients — is now "not sure that all of the current local suppliers will be able to meet those elevated protocols," Arnold told Bloomberg News earlier this week.