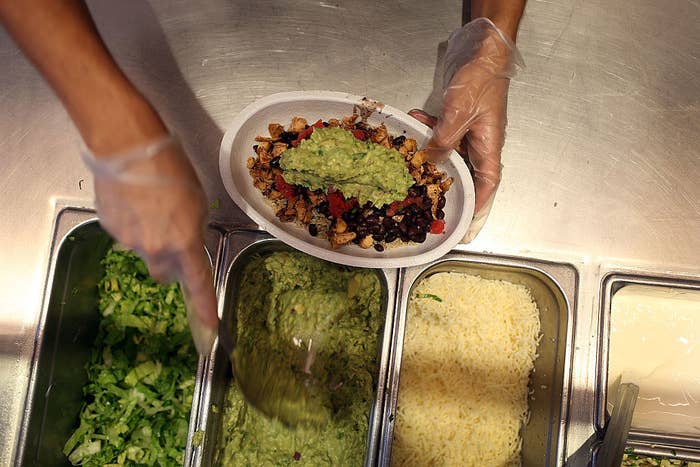 Health officials in Ohio have identified a culprit in the foodborne illness outbreak originating at a Chipotle restaurant in Powell, Ohio: Clostridium perfringens, one of the most common foodborne illnesses in the US, according to the Centers for Disease Control and Prevention. It often occurs when food is left at unsafe temperatures.
Between July 26 and July 30, 647 people reported getting sick after eating at that Chipotle location.
In an update released Thursday, the Delaware General Health District said while the food from the Chipotle restaurant tested negative for the bacteria, "stool samples tested positive for the toxin that C. perfringens forms in the gastrointestinal tract." No specific food has yet been identified as the source of illness, and ongoing testing is being conducted by the CDC.
Clostridium perfringens is commonly found on raw meat and poultry. "Infection often occurs when foods are prepared in large quantities and kept warm for a long time before serving. Outbreaks often happen in institutions, such as hospitals, school cafeterias, prisons, and nursing homes, or at events with catered food," according to the CDC.
Chipotle's new CEO, Brian Niccol, said in a statement provided in the update that all employees will be retrained on safety and wellness protocols starting next week. All stores will remain open during this process. In an email to BuzzFeed News, a Chipotle representative said:
Chipotle has a zero-tolerance policy for any violations of our stringent food safety standards and we are committed to doing all we can to ensure it does not happen again. Once we identified this incident, we acted quickly to close the Powell restaurant and implemented our food safety response protocols that include total replacement of all food inventory and complete cleaning and sanitization of the restaurant. While this incident impacted only one restaurant, Chipotle Field Leadership will be retraining all restaurant employees nationwide beginning next week on food safety and wellness protocols. To ensure consistent food safety execution, we will be adding to our daily food safety routines a recurring employee knowledge assessment of our rigorous food safety standards.

Additionally, the health department did not identify the food source.

And for training, we are retraining all employees next week during their shifts on our top food safety priorities. We are not closing the restaurants. Then to ensure ongoing execution and compliance, we are adding to our food safety routines a recurring online employee knowledge assessment of our food safety standards.
Shares of Chipotle, which has struggled with food safety issues for years now, were down by roughly 4.5% as of publication time.