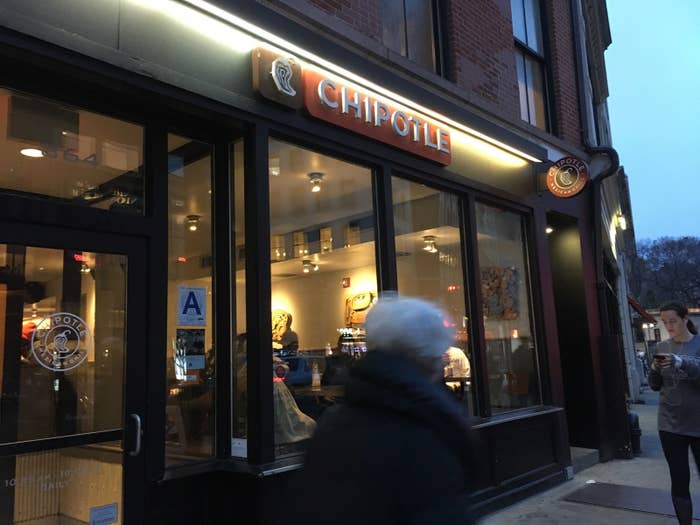 Two of more than 100 Chipotle customers who reported getting sick at a location in Virginia last week have tested positive for high contagious norovirus, which is often spread by infected workers, health officials announced.
News of the illnesses at a Chipotle restaurant in Sterling, Virginia, came just as the company was starting to pull out of a long sales slump that began in 2015, when it was linked to a series of foodborne illness outbreaks.
The Loudoun County Health Department on Monday said it has identified more than 135 people who reported becoming ill after visiting the restaurant at 21031 Tripleseven Road between July 13 and 16. Two patrons have tested positive for the same strain of norovirus, though the specific source has not yet been identified.

Health officials also said they were not aware of any additional customers becoming ill since the reopening of the facility on July 19.

Norovirus is the leading cause of illness and outbreaks from contaminated food, according to the Centers for Disease Control and Prevention.
"My son and I both had burrito bowls and became violently ill within hours of each other. He was visiting from college. Chipotle was the only food item we both ate that day. Violent stomach cramps, diarrhea, vomiting. Violently ill. Same exact symptoms. Burrito bowl. Steak, rice, green peppers and onions, guacamole, cheese. Violently ill," one report to the crowdsourced food-safety website iwaspoisoned.com stated.
News of the outbreak had sent Chipotle's stock down nearly 7% by midday Tuesday.
Following a huge decline in 2016, Chipotle saw comparable sales increase by 17.8% in the first three months of the year, and was expecting the recovery to continue through 2017 in tandem with increased marketing.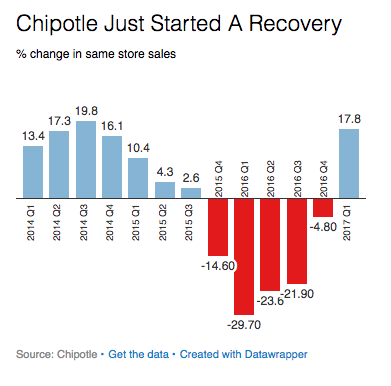 "The recent news of food-borne illness comes at a time when comps have already broadly lagged investor expectations over the last year and a half," according to a note from investment firm Cowen and Company on Tuesday afternoon.

Chipotle's executive director of food safety, Jim Marsden, also issued a statement:
We are aware of a small number of reported illnesses isolated to a single restaurant in Sterling, Virginia on Tripleseven Road, and have notified local health department officials. We are working with health authorities to understand what the cause may be and to resolve the situation as quickly as possible. The reported symptoms are consistent with norovirus. Norovirus does not come from our food supply, and it is safe to eat at Chipotle. We plan to reopen the restaurant today.

We take every report of illness seriously. In accordance with our established protocols, our team is working to ensure the safety of our customers and employees, including voluntarily closing the restaurant yesterday to conduct a complete sanitization.

According to the Centers for Disease Control and Prevention, norovirus is a "highly contagious virus" and "can spread quickly in closed places like daycare centers, nursing homes, schools, and cruise ships."