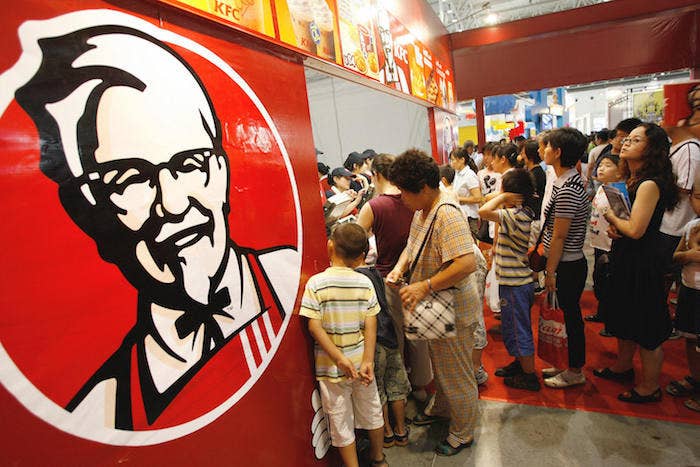 "The Yum! growth story is clearly about China and a whole lot more." So declared the owner of KFC, Pizza Hut, and Taco Bell with great confidence in 2012. Across the Pacific, in the world's most populous country, Yum! Brands was on a tear.
Just three years later, China's role in the Yum's future is being downsized. This week, the Louisville, Kentucky company made the dramatic decision to shift China from the center of its strategy into a quarantine of sorts, reflecting the real challenges of focusing a global business on a fast-developing but volatile market.
Until recently, China and its 1.3 billion people seemed like a dream market. The economy was growing fast and it's people were hungry — literally — for a taste life in the global middle class, including fast food. They took a particular liking to KFC, which now has more restaurants in China than any other Western chain, including McDonald's.
But business for Yum's 6,900 restaurants in China took a sharp downward turn in recent years. Food safety scandals took their toll, as did increased competition both from Western chains and fast growing local ones. And the Chinese economy, while still in boom mode relative to any other big economies, is no longer growing as fast as it once was. Sales at Yum's restaurants have been declining for the last three years.
The company's response came last week, when it announced it would split off its Chinese business into an independent, publicly-traded company. The Yum growth story may be about China, but once the spin-off is complete, the market will be kept at an arms-length distance from business.

"Yum is looking to compartmentalize their risk."
As you would expect, Yum's explanation for the spin off was upbeat. The new company can "intensify focus on its distinct commercial priorities, allocate its own resources to meet the needs of its business, and pursue distinct capital structures and capital allocation strategies," said CEO Greg Creed in a statement.

But for onlookers familiar with the company's development over the past decade, the move looks more like a way to contain a potentially troubled unit. "I'm not totally surprised they are doing it," restaurant consultant Aaron Allen told BuzzFeed News. "Yum is looking to compartmentalize their risk. Of the major U.S. [fast food companies] operating with such global footprints, Yum is the most exposed in China."

The newly spun off company will operate as the franchisee of Yum! Brands in China, and will also be the company's largest franchisee globally. The split is expected to be completed in about a year, and Yum said it hasn't yet decided on a company name, the royalty rate it will pay to the corporation as a franchisee, or what stock exchange it will trade on.

Yum said it remains bullish on China and is simply trying to offer investors more options — they will be able to invest in a China-focused business, or the global parent, or both. But the restructuring is a large strategic shift for a restaurant company that has consistently described China "the best restaurant growth opportunity of the 21st century."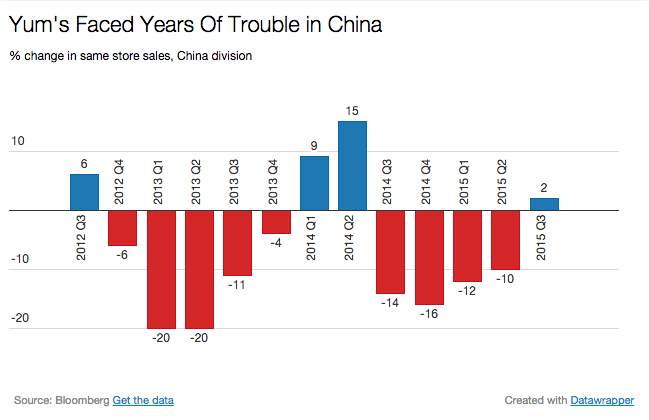 Not too long ago, Yum's restaurants — namely KFC and Pizza Hut — seemed nearly invincible in China.
Unlike in the U.S., Yum directly owns most of its restaurants in China. In 2011, there were 3,701 KFCs in China, and 626 dine-in Pizza Huts. While KFC is a fading chain back home in the U.S., it was the first foreign fast food chain to enter China, back in 1987, and has grown into a king in China's growing restaurant industry.
"KFC is the clear leader in Western [fast food brands]" in China, Yum's then-CEO David Novak told investors in 2012. "Pizza Hut is far and away the Western casual dining leader." Sales at Yum's restaurants open at least one year in China grew by 19% in 2011.
While Yum was noting slowed economic growth in China as early as 2012, this did not impact the company's long-term outlook on the market.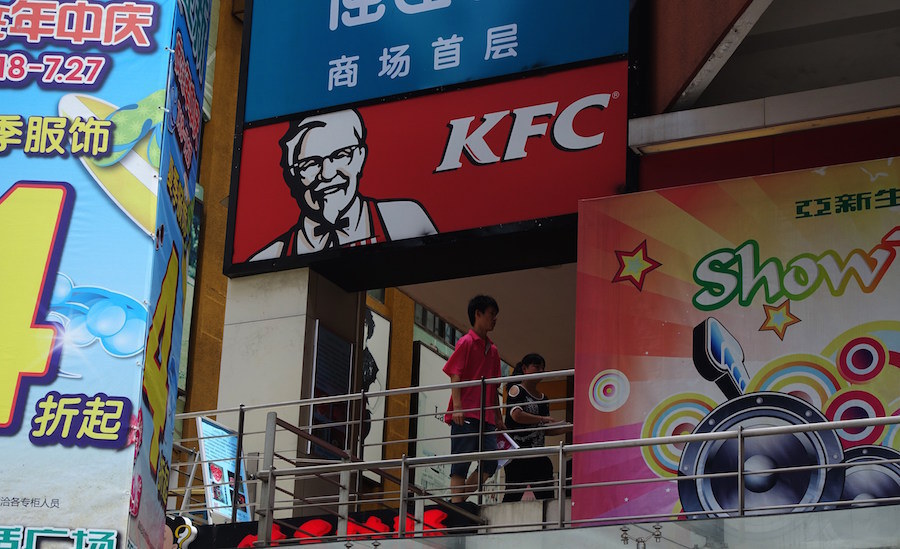 Then, trouble hit swiftly in late 2012.
An investigation in December 2012 revealed that farms supplying KFC's poultry suppliers were using excessive levels of antibiotics in their chicken. KFC's legions of dedicated Chinese customers abandoned the chain, causing Yum's same-store sales to decline 6% that quarter, which was just the start of its troubles.

Just a few months later, as Yum was working out supply chain issues to reassure consumers that its chicken was safe to eat, a bird flu outbreak hit China in March 2013. "Our sales recovery has been adversely affected by the recent news of Avian flu," Novak told investors.
Yum's same store sales in China declined by 29% in April and were unable to recover from the negative perception. For the year, comparable sales fell 13% in China.
Just as things were starting to pick up in 2014, a third food safety scare pummeled KFC.
Another news investigation found that a supplier, a subsidiary of the U.S. company OSI, was selling expired meat. "Even though OSI was a minor supplier, sales at KFC and Pizza Hut were disproportionately impacted given our category-leading positions," the company explained to investors at the time.
Yum's comparable sales in China plummeted again in the second half of the year, continuing through early 2015. In July, Yum Brands' newly appointed CEO, Greg Creed, said things would get better by late 2015 as Chinese consumers' perception of Yum's restaurants slowly improved.
But it was already too late.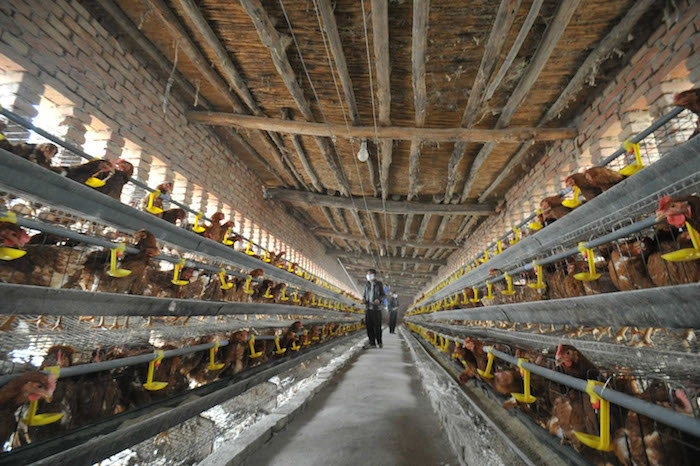 Activist investors began calling on Yum to to separate its China business earlier this year.
In May, Corvex Management founder Keith Meister, told CNBC that while Yum was in the process of fixing its issues in China, it was significantly exposed to volatility in that market because its business model.
Yum still owns most of its restaurants in China, where franchising remains a relatively new concept. KFC didn't open a franchise location there until 1993. As a comparison, about 33% of McDonald's China stores are franchised, with another 17% that are licensed (the licensee owns all assets).
Operating stores is much more capital intensive than franchising because it means Yum! Brands is responsible for maintaining the stores, paying workers, and all other aspects of running the business. As a franchisor — as Yum is in markets outside of China — it licenses the brand to local business owners who handle all those aspects and pay Yum royalties and other fees.
By splitting off the China business into one that would franchise from the corporation, Meister said "they get the best of both worlds" with a "more Chinese business" that could focus on the Chinese market that also has the support of an experienced management team. It also protects Yum from some of the volatility in China while still collecting royalties from franchisees there.
In August, Yum! Restaurants China got a new CEO, Micky Pant, and in October, Meister joined Yum's board.
Yum's problems reflect the risk of chasing fast growth in China.
Over the summer, China's stock market plummeted as individual investors worried about a devalued yuan, a string of weak economic data, and lending rates. A few days before Yum announced the separation of its China business, China reported that GDP growth slowed to 6.9% during the third quarter, the lowest rate since 2009.
Yum's chief financial officer Pat Grismer told investors earlier this month that "extraordinary volatility in financial markets, the surprise currency devaluation and overall softer economic conditions" in China are denting its Pizza Hut business. Online ordering competitors were offering delivery from competing "mom and pop" restaurants, and Pizza Hut's marketing promotions didn't meet expectations.

"In today's volatile environment with the recent macro and competitive pressures we mentioned, it continues to be difficult to forecast sales in China for both brands," Grismer said.
Separating itself from its China division to become a franchisor will offer Yum some protection from problems there. Still, the company has restaurants in 126 countries, including other risky markets like Russia. The global company will likely find that it remains exposed to problems on several fronts, even if it doesn't own those restaurants.