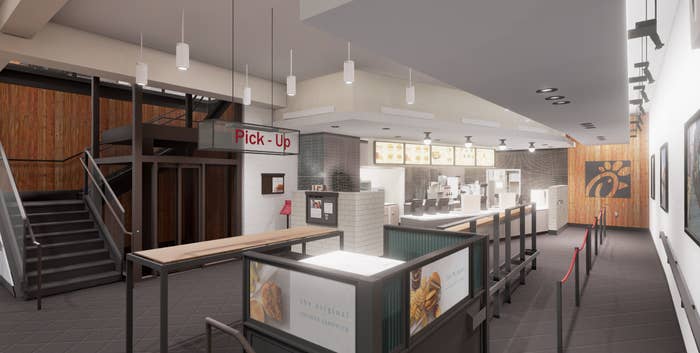 Chick-fil-A will open its third Manhattan restaurant on March 1, the company announced Wednesday. The store — expected to be the busiest Chick-fil-A in the country — will be located across from Grand Central Station at the corner of East 42nd Street and Madison Avenue. (There are other Chick-Fil-As throughout the New York City area, including ones in Queens and Long Island.)
Chick-fil-A has been opening about 100 new stores a year, and sales have grown at an impressive pace. The Atlanta-based company now has about 2,200 restaurants that brought in $9 billion in sales last year. The average outlet made $4.4 million in 2016, according to data from QSR magazine. As it grows, the chain has also attracted customers who have stopped eating at Chipotle, BuzzFeed News recently reported.
As in Chick-fil-A's other New York stores, workers will take guests' orders on tablets as soon as they walk through the doors to shorten the wait. The restaurant, which has two stories, will be about 6,200 square feet and will be able to seat 100 people on its upper level.

The new restaurant will employ about 200 people. According to job postings, some of the manager positions will pay $50,000 to $70,000.
Chick-fil-A, which first entered New York via an outpost in NYU's food court, opened its first stand-alone Manhattan store in 2015 and its second the following year. In 2016, it came to Queens. The chain will soon open a five-story restaurant with a rooftop terrace in Manhattan's Financial District, next to Fulton Center Subway Station, which will be its largest.