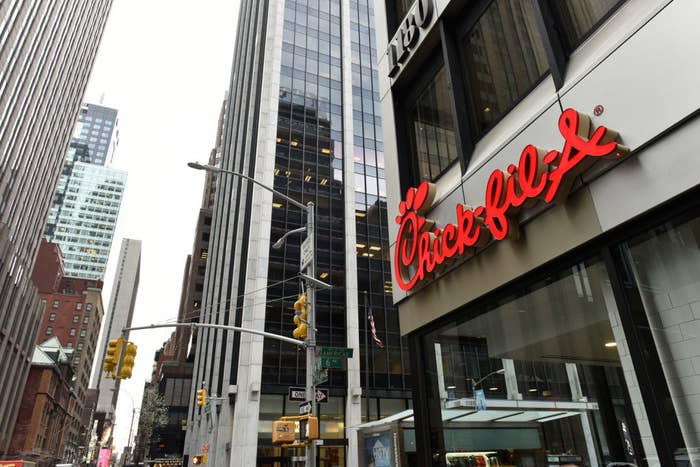 Chick-fil-A opened its second Manhattan restaurant near Rockefeller Center on April 2, the latest step in its New York expansion.
The company confirmed to BuzzFeed News that in 2016 it will open a total of three to four additional locations in the greater New York City area — a market that also includes Long Island and parts of Northern New Jersey and Connecticut — and another 10 to 12 restaurants in 2017.
Chick-fil-A currently has 17 total restaurants in the area, not including licensed locations, such as on college campuses.
The local news site tribecacitizen.com reported in September that the chicken sandwich chain plans to open a restaurant with rooftop seating in Manhattan's Financial District near Fulton Center, a retail and transit center. The chain also is eyeing locations in Manhattan's Upper East Side as well as Long Island's Hicksville, Commack, and Westbury, BuzzFeed News revealed last year. A company spokesperson declined to offer more details about where the new stores will open over the next two years.
"For the remainder of 2016 and 2017, our real estate investments are projected to be greatest in the NYC and L.A. markets," a spokesperson said in an email. "We are also focusing heavily on the Pacific Northwest with several openings in the Portland area and in Washington State, and will enter Nevada in 2017."
Demand for Chick-fil-A in Manhattan appears strong. The line at the second Manhattan store extended down the street last week.
Last October, Chick-fil-A opened its first Manhattan restaurant near Herald Square, the chain's largest location and one the company said is "trending to remain one of the busiest." It also opened its first Long Island location in Port Jefferson Station.
While New York represents a large new market for the chain, which has been concentrated in the Southeast so far, it is only part of the overall plan. This year, Chick-fil-A plans to add about 100 new restaurants total, with a strategy to enter more densely populated, urban locations. The chain now has more than 2,000 restaurants in 43 states and Washington, D.C.
These are the states where the chain is looking to expand.