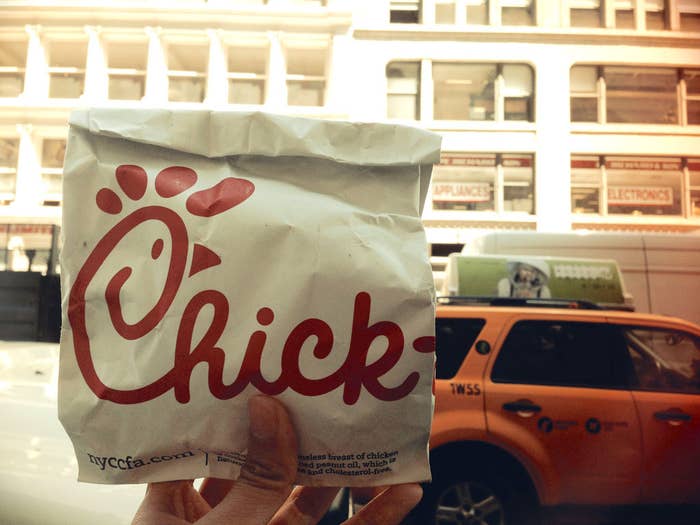 NEW YORK — Over the last two years, the chicken sandwich chain Chick-fil-A has started expanding beyond its usual suburban environs to urban markets, and on Oct. 3, it will open the doors to its largest restaurant yet in the country's largest city, New York.
It will be Chick-fil-A's first location in Manhattan (aside from the NYU cafeteria), which means that even in this city of roughly 8.5 million people, there are plenty yet who have no clue what Chick-fil-A is, despite the fact that the Atlanta-based chain is arguably one of the most successful companies in fast food at the moment.
Chick-fil-A is betting large on the giant, new restaurant, which will be three stories, have 10 registers, and two kitchens. It will have roughly twice the capacity of a typical Chick-fil-A, said Ryan Holmes, a Chick-fil-A urban strategy consultant. In other words, it's expecting tons of business. "Our urban strategy is a lot about New York," he said.
Chick-fil-A is already planning a second store in Manhattan, and there's room for 15 to 20 locations in the borough, said Holmes, with additional room in the city's outer boroughs like Brooklyn.
To drum up interest in what remains unchartered territory for the brand, on Tuesday and Wednesday, the company handed out roughly 6,500 free chicken sandwiches outside of Madison Square Garden, which is blocks away from the upcoming store. By 10:45 a.m. on Wednesday, roughly 70 people had lined up ahead of the truck's opening, and they continued to pour in.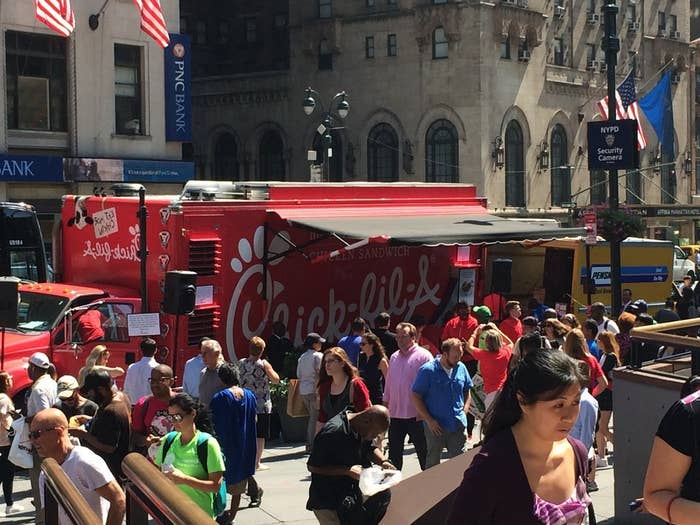 Chick-fil-A aggressively promoted the giveaway. It hired eight people to spread the word by bike, and five pedicabs to chauffeur people to the truck, which was blasting dance music for passersby.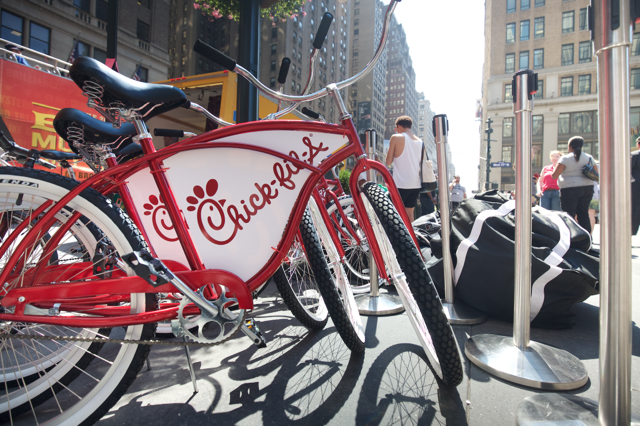 The truck event drew a lot of interest. Yet with no shortage of food options in New York City, it's unclear whether the new store will replicate Chick-fil-A's success in less dense markets.
Here's one way to look at Chick-fil-A's performance in its mostly Southern, mostly suburban store base. The chain has roughly only 1,900 locations, concentrated heavily in the Southeast, but each store is extremely busy. According to QSR magazine, the average Chick-fil-A store made more than $3 million in 2014, which is more than the average McDonald's or Chipotle.
The chain's urban model is notably different, too. For example, it will have no drive-thrus, which normally make up 60% of sales, and will have to attract walk-in traffic.
There's also the question of whether Chick-fil-A's conservative values will affect its business in more socially liberal markets.
In new markets where it has yet to add restaurants, Chick-fil-A faces the challenge of building up its brand — particularly as many people in these areas know the conservative Christian chain only from controversial remarks its CEO Dan Cathy made about same-sex marriage several years ago. When he was chief operating officer, Cathy had said in an interview that efforts to legalize same-sex marriage were "inviting God's judgment on our nation."
Chick-fil-A has since tried to separate itself from Cathy's personal views and has remained silent about political issues. Holmes reiterated that sentiment to BuzzFeed News on Wednesday. "We're a restaurant business and we're not a political organization. That's not what we do," he said.
Yet even as company tries to move on, the incident continues to cause some headache. Last week, Denver City Council members held off on approving a Chick-fil-A opening in the Denver airport for another two weeks due to lingering concerns about Cathy's politics.
At the New York event, BuzzFeed News asked some people for their thoughts while they stood in line.
"New Yorkers are pretty forgiving," said Donald Wehmann, a New Jersey native who now works in Manhattan. "A lot of people are probably not going to pay attention to it and just go to something new."
It's also likely the upcoming restaurant will benefit from the area's heavy tourist traffic, which will bring in customers who already have an affinity for the brand, as well as New York's large population of residents who grew up near a Chick-fil-A.
"It's one of the best chicken sandwiches I've ever had... Anything that's good, quick, and fast and easy should always work out," a local resident originally from Texas named Ray told BuzzFeed News. "A lot of people might not believe in the values, but if it's a good sandwich it's a good sandwich."
"It's such a progressive place," Colman Freeland, a visitor from Ireland, said. "Having strong personal values that are homophobic are a little controversial, but my friends [in Chicago] who told me about it are gay and they go there all the time."
Demand for Chick-fil-A sandwiches in New York will become clearer soon. In the meantime, the streets continued to bustle on Wednesday as the promo event boomed on.
There were three Chick-fil-A cow mascots encouraging everyone to eat chicken (not beef, of course).