On Friday evening, as Hurricane Joaquin slowly approached the northeast and weather forecasters predicted a night of blustering winds and heavy rain, hundreds of people gathered in Manhattan's already rain-drenched Garment District, preparing to camp out for the night. Those who made it to the morning would be rewarded with a year of fried chicken sandwiches.
The would-be campers huddled together outside the giant new flagship restaurant of Chick-fil-A, a chain beloved in the South but almost unheard of in vast swaths of America, including New York. In rainproof coats and beneath a canopy of soaked umbrellas, they had their eyes on the prize: a free Chick-fil-A meal every week for the next year. With such a tempting lure on the horizon, few seemed concerned about the Category 4 storm whipping its way up north.
These were people on a mission. That their target was Chick-fil-A is appropriate, as there are few mission statements in corporate America that can hold a candle to the Atlanta-based chain's: "To glorify God by being a faithful steward of all that is entrusted to us," begins the declaration. "To have a positive influence on all who come in contact with Chick-fil-A."
In areas where the chain has thrived, those who come into contact with Chick-fil-A tend to come back for more. The company now has more restaurants than Chipotle and higher annual sales than KFC, with the average outlet pulling in $3 million last year, more than any other major fast food chain including McDonald's. If you exclude mall locations, the average Chick-fil-A makes about $4.2 million, overtaking even the non-Mahnattan locations of upscale burger chain Shake Shack.
These numbers are set to get more impressive as the company launches its assault on the Northeast, headlined by a flagship Manhattan store that is set to become the chain's busiest when it opens Oct. 3. And they're doubly impressive because every single Chick-fil-A outlet in America is shuttered every Sunday, something unheard of in the industry but firmly in line with the company's managerial approach, which is guided by a power higher than consumer demand or returns on investment.
"I had given Chick-fil-A to God," the company's late founder S. Truett Cathy wrote in his biography, Eat Mor Chikin: Inspire More People. "I operate it and take care of it along with our staff and Operators, but it's His business."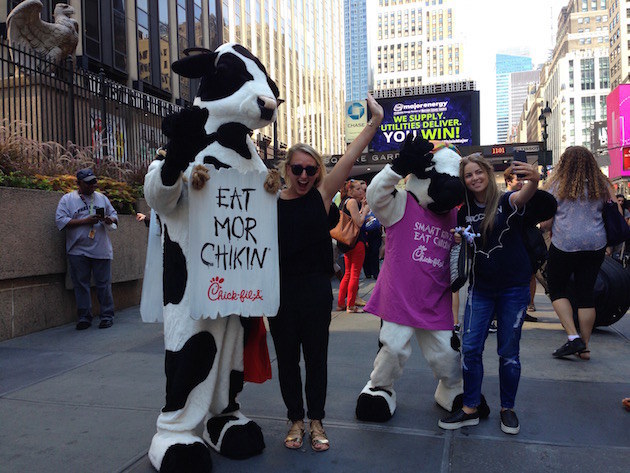 At the Manhattan store on Friday night, the campers were eventually spared the indignity of a rain-soaked sleep. With the weather set to remain ugly, Chick-fil-A invited them to spend the night inside the store, plying them with milk and cookies and handing out blankets and sleeping gear.
The indoor sleepover wasn't the standard for an opening, but given the weather, it seemed the right thing to do. Normally, a spokesperson explained, when people camp out in front of the company's stores on opening night there's a parking lot where they can pitch their tents.
While not always accompanied by the looming possibility of a natural disaster, the delirium surrounding a Chick-fil-A opening is above and beyond anything that the rest of the fast food industry experiences — and that goes for cities far less crowded and delirious than New York.
In April, when the chain first arrived in Bellevue, Washington (population 134,000), it caused three weeks of traffic jams as drivers waited 30 minutes at a time to get into the parking lot. The line backed up as far as the exit of a nearby interstate highway, and additional traffic control was called in. In two weeks, the city racked up about 300 officer overtime hours worth about $23,000, which Chick-fil-A agreed to pay.
All this commotion for a chicken sandwich.
Chick-fil-A is steadily growing its empire.
For those who haven't experienced one before, it's worth taking a moment to try to understand what Chick-fil-A is. It's a fast food chain founded in 1967 by Southern Baptists in Atlanta that serves chicken only — no beef — and it's not a wings joint. There are chicken nuggets and strips, but the chain is known best for its fried chicken sandwiches.
As a company, Chick-fil-A is deeply Christian, and at its annual operators seminar, attendees may be invited to go to an optional worship session featuring sermons from a pastor or see performances by worship artists
In years past, Chick-fil-A's current CEO and former chief operating officer Dan Cathy spoke against same-sex marriage. "I pray God's mercy on our generation that has such a prideful, arrogant attitude to think that we would have the audacity to try to redefine what marriage is all about," Cathy said on a radio show in 2012. Chick-fil-A has since pulled back donations to to groups that oppose same-sex marriage and Cathy has tried to distance his personal views from the business. "I think that's a political debate that's going to rage on and the wiser thing for us to do is to stay focused on customer service," he told the Atlanta Journal-Constitution last year.
While Chick-fil-A has drawn a lot of national attention as a Southern, Christian chicken restaurant, in just a few years, it has outgrown that identity in many ways.
Cathy's remarks haven't prevented sales from rising. It's now the biggest chicken chain in the country in terms of sales, and the eighth largest fast food chain overall — and that's despite those Sunday closures.
The chain counts 1,928 stores in 41 states and Washington, D.C., but the majority of its locations are still concentrated in a swath of America stretching from Texas to Virginia.
In 2014, the chain earned more than $5.7 billion in total sales, far more than KFC's $4.2 billion in the U.S., according to a ranking by QSR magazine. One Wall Street analyst considers Chick-fil-A's expansion to be a noteworthy threat to the future of McDonald's.
The New York location will likely make a lot more. The store is three stories high: a basement level where food is prepped, a ground level where food is cooked and cashiers take orders in line using tablets, and an upper level with seating. For getting all those sandwiches made it has eight fryers — twice as many as the average Chick-fil-A — and three grills. It's expecting to be very, very busy. More locations are being planned in Manhattan.
It's an understatement to say Chick-fil-A's regular customers love the brand. Some are obsessed. Consider its classic product, the original chicken sandwich, which is made of a chicken filet dipped in egg and milk, hand breaded, and pressure cooked in peanut oil. It's topped with dill pickle chips and served on a toasted, buttered bun. Legend has it the recipe took four years to develop. The sandwich, which will cost $4.15 in Manhattan, may not sound like a big deal, but to devotees, the pleasure of eating one is transcendent.
Then there's the service. Because the restaurants essentially have just six kinds of chicken to cook — fried filets, grilled filets, spicy filets, fried nuggets, grilled nuggets, and strips — rather than a large variety of meats and patty sizes, the kitchen moves fast, and the servers pay attention to details. In its restaurants, staff come to tables to offer free refills on drinks. "My pleasure," they are known to say. Drive-thru customers who find their orders are wrong when they get home will get the the right food delivered straight to their door. So while it's a fast food chain, it's not your average fast food chain.
Such attention to customer satisfaction has spawned an enthusiastic subculture. More fans than you'd expect have written Chick-fil-A tribute songs. Consider this performance by Christian comedian Tim Hawkins, which is closing in on 5 million views on YouTube. Set to the tune of the Beatles' "Yesterday," he sings:
Chick-fil-A, I could eat there seven times a day,
Where people laugh and children play,
Oh, I'm in love with Chick-fil-A.
And this one by the Texting Yoga Pants, "a group of millennial MOMS that do life together," set to Meghan Trainor's "All About That Bass."
I wanna go to Chick-fil-A, Chick-fil-A, call the ladies.
Let's go to Chick-fil-A, Chick-fil-A, grab your babies.
We're gonna to Chick-fil-A, Chick-fil-A no maybies.
Hello Chick-fil-A, Chick-fil-A.
Existing Chick-fil-A locations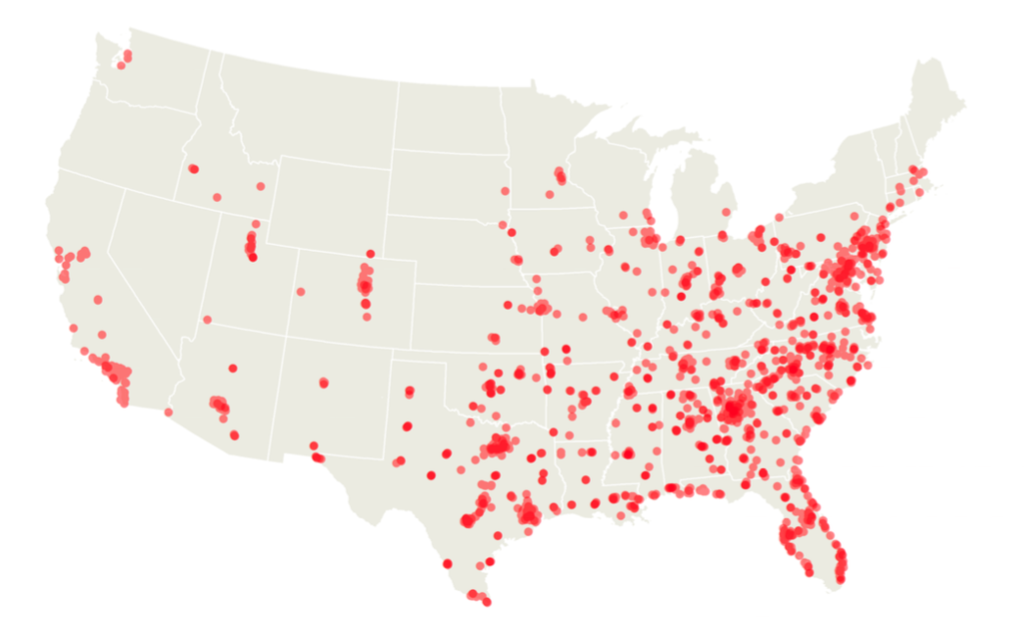 With a firm base in the South, Chick-fil-A is now expanding north and west in a meaningful way. It expects to reach nearly 2,000 total locations by the end of 2017, with about 15% of its store openings planned in new markets, including urban areas it has not traditionally been in like Manhattan.
Chick-fil-A claims the secret to its ongoing success is its restaurant operators, and the company has been hosting events around the country to attract restauranteurs as it looks to develop a presence in parts of New England, Portland (Oregon), Seattle, Nevada, Milwaukee, Detroit, and Grand Rapids (Michigan).
But the chain is notoriously selective: fewer than 1% of people who express interest actually get a restaurant. And it is not looking for investors: if you get a restaurant, the company expects you to spend your working hours there, describing the job as a "hands-on" opportunity. Unlike other chains, the likelihood that you'll get multiple stores is slim — less than 10% of operators run more than one.
Such restrictions mean there are limits to how large Chick-fil-A's kingdom can grow. The chain may challenge the burger establishment, including McDonald's and Burger King, but "It's not really designed to saturate markets with as many restaurants as possible like the other companies because it is so dependent on strong operations and a strong management team," said Sam Oches, editor of QSR magazine.
Getting into the Chick-fil-A business is harder than you'd imagine.
The business model at Chick-fil-A is unlike many other franchise restaurants. Since the company pays to build the restaurant, buy equipment, and get it started, all an operator needs to contribute is $10,000 (until recently, the fee had been just $5,000), a low barrier to entry and far less than what other chains require of their franchisees. Opening a Subway, for example, involves an investment of about $116,000 to $263,000 in the U.S. The low cost involved makes operating a Chick-fil-A a rare opportunity, especially when you stand to take home a six-figure income.
"Those are a lot of dollar signs for a 20 year old kid," said Jeremiah Cillpam, a Chick-fil-A operator in Hollywood who "grew up below the poverty line in an inner city environment." When he heard about the low investment. "My ears perked up." He thought, "I could go into business for real?"
A combination of a low investment requirement, high revenues, and a unique company culture lured more than 27,000 people to inquire about opening a location in 2014 — of them only 88 were selected. They went on to become "operators" who, unlike franchisees at other chains, do not own the restaurant but lease it from the company.
"It's not about whether you're qualified," a representative told a room of roughly 70 interested entrepreneurs during an information session in New York's Times Square in June. "It's whether you're competitive."
Applicants should be patient too: the process, from selection to store opening, can take about two years. Chick-fil-A chooses the site and builds it. Essentially, it's looking for a partner to run the restaurant.
Yet most of the attendees at the Times Square meeting did not claim to have experience running a franchise — a few of them had never even eaten at Chick-fil-A before. But that was besides the point.
The benefit of running any franchise restaurant, theoretically, is that the company has already developed a menu and system proven to be successful. So rather than emphasizing things like restaurant experience, recruiters at chains like Chick-fil-A look for "character," as they describe it, which mainly means some record of leadership, and some indication that your personal life is in order.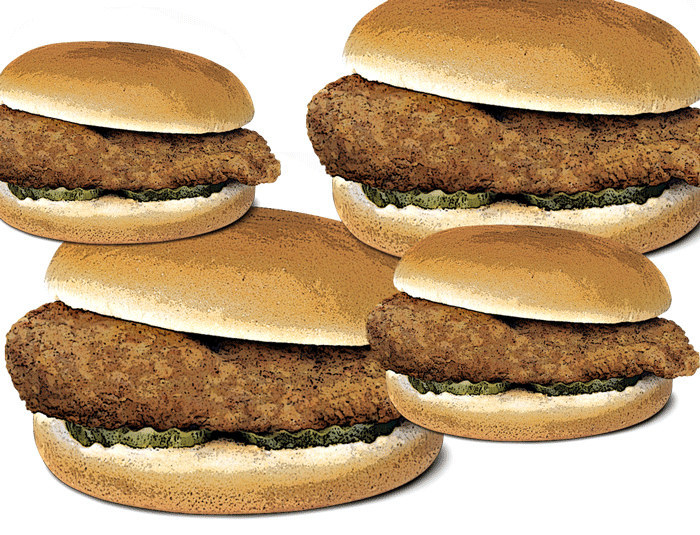 "We are looking for people who want to own their own business, who have the spirit of entrepreneurialism, and want to make a difference in their communities," the rep said. Recruiters will likely inquire about your family, and ask what you're proudest of in life.
Chick-fil-A spokeswoman Carrie Kurlander said it seeks people with a spirit of "generosity, a true delight in making someone else's day," "a true heart for service," and "humility." "They have a strong work ethic, a desire to engage their team and hire and develop people," she said.
As community involvement is also a central part of Chick-fil-A's marketing strategy (for example, giving out free food at events to promote the brand), the company asks operator applicants about their "hobbies, activities, special interests" and to "list and briefly describe your current membership and involvement in community, civic, social, church, and/or professional organizations."
"It's not a superficial, cosmetic component of the business," said Kurlander. "If you don't have an interest of getting out of the walls of Chick-fil-A...it may not be the best fit."
Operators in turn try to staff restaurants with people with a similarly upbeat view towards service. Each location has 50 to 100 employees. The new Manhattan store will be staffed with about 60 people during peak hours alone.
Presumably, operator applicants will be comfortable with the chain's biblical values, but there is no requirement for them to be Christian and "there aren't any mandatory behaviors or ways to be," Kurlander said. Culture fit, however, is critical. The chain heavily emphasizes positivity and servant-leadership.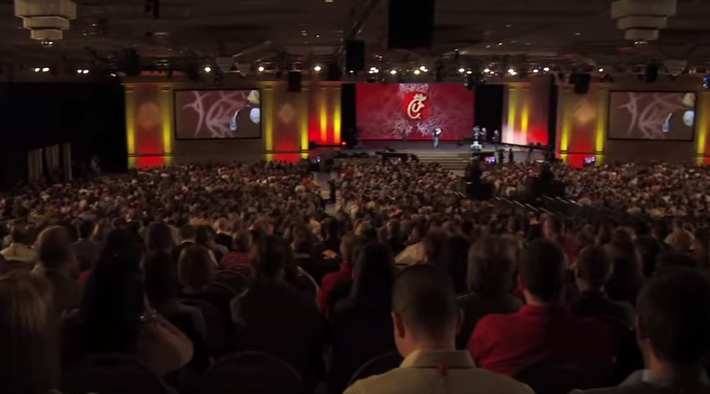 Candidates who make it to the interview stage (first by phone, and later at the Atlanta office) then answer some detailed personal questions to gage their leadership experience and personality.
"I remember specifically one thing they had me do was 'brag' about my family, tell them why I loved them so much, what made me happy about my life," one operator candidate wrote on Glassdoor. "They want to know about each and every decision point in your lifetime, what choices you had, what choice you made, why you made it, how it turned out, would you do it again, change anything, etc." They asked "what times in my life/career I had led organizations, established visions, set goals for an organization and worked towards them, etc. I have an MBA and not once throughout the entire interview process did they ever ask me specifics about any of my education."
It helps to speak "of servant leadership and how you apply these into your everyday position," another applicant wrote.
Unlike franchisees, Chick-fil-A operators do not build equity in the business and their contractual agreement is not transferable, so they cannot, for example, pass the business down to their children.
And while the upfront investment is low, Chick-fil-A operators pay more to the company later on. While other franchisees normally pay a royalty of roughly 4% to 8% of sales and an advertising fee, Chick-fil-A operators rent everything from the company for 15% of sales, and then split the profits 50-50, according to a Forbes article from 2007. The company declined to confirm this fee structure, saying it is proprietary.
As it expands, Chick-fil-A will try to uphold its values.
Chick-fil-A is no longer a small company, but its Baptist roots remain the backbone of its culture, which emphasizes charitable giving, community work, family, and "making a difference." In a pledge, the Cathys said they "covenant to carry on the purpose and the mission of Chick-fil-A."
It's why Chick-fil-A workers get Sundays off, an unheard of benefit in fast food because it's "an important day of the week," said Darren Tristano, an executive vice president at restaurant consultancy Technomic. He expects Chick-fil-A "would do equally well on Sunday" if it opened its doors.
With same-sex marriage legal nationwide since June, it remains to be seen whether Cathy's remarks — now a few years behind him — will haunt the business. The Denver City Council recently hesitated on approving one in the Denver Airport, although it ultimately decided to let Chick-fil-A do business there. As sales continue their ascent, efforts to stay out of the political debate do appear to be working.
And Christian teachings inform more than just the social values of the company's owners. Customers rave about what Chick-fil-A calls its "Second Mile Service" in restaurants, which ranges from spotless cleanliness to staff refilling drinks, chatting with customers, and opening doors. The term comes from the book of Matthew, in which Jesus instructs his followers: "If anyone forces you to go one mile, go with them two miles."