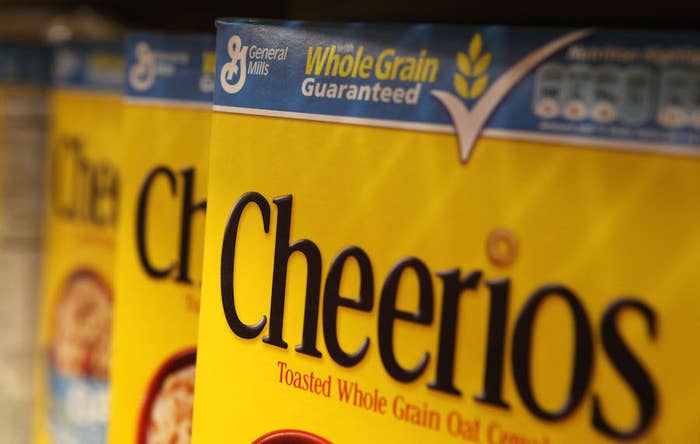 Cheerios sales have gone the way of most American cereals recently: down. So this year, manufacturer General Mills decided to make five varieties gluten-free to appeal to America's growing numbers of people avoiding the protein. Early signs now suggest the switch is having some success.
Sales of full-price, gluten-free varieties of Cheerios grew 3% to 4% last quarter, the company said, showing the fist signs of improvement after multiple quarters of declines (General Mills said it tracked sales of the full-priced product as a measure of consumer interest independent of any discounts).
"The launch of gluten-free Cheerios is an important component of our cereal growth plan and we're encouraged by the results thus far," CEO Ken Powell said on an earnings call Thursday.
Other brands didn't fare as well: overall, General Mills' U.S. cereal sales fell 5% last quarter. "Our top priority in U.S. retail this year is to drive growth in cereal," Powell said.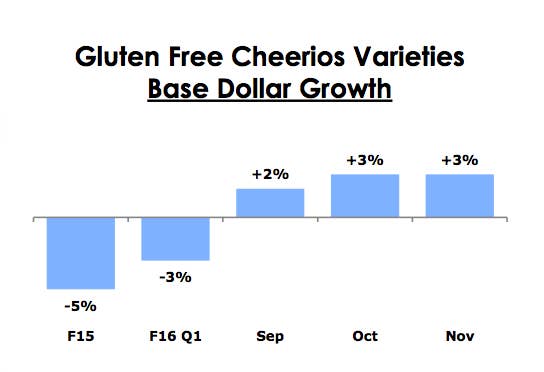 The news of a Cheerios sales lift follows an embarrassing recall of 1.8 million boxes of Cheerios and Honey Nut Cheerios in October, shortly after General Mills announced these varieties were going gluten-free.
After dozens of consumers reported getting ill from eating the cereal, General Mills discovered a factory in California had been using gluten-filled wheat flour for a few days due to "human error," the company said at the time. The effect of the recall now appears to have been short-lived.
"We saw minor slowdown the week of the recall and since then baselines have returned to growth," Powell told investors. "Obviously the recall was a stumble, but the fundamental consumer reaction is in line if not a little bit better than we anticipated at this point," he said.
General Mills plans to increase marketing for gluten-free Cheerios, and is also rolling out gluten-free Lucky Charms.