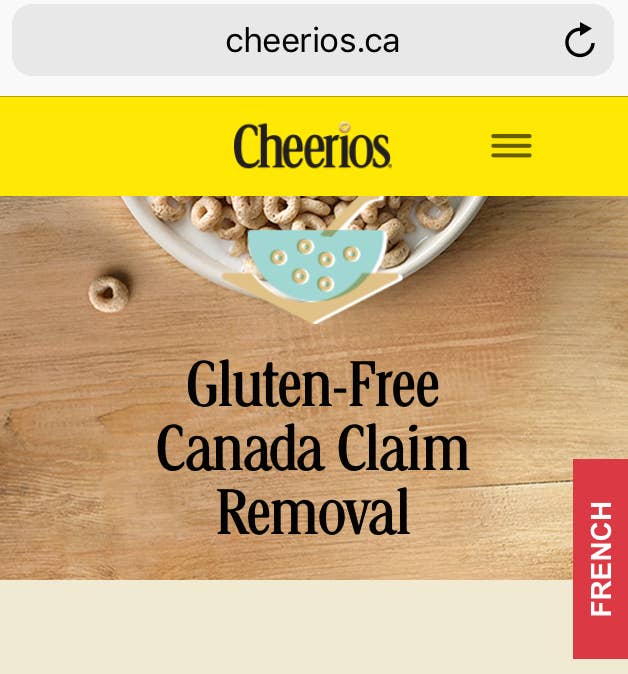 Cheerios is having a crisis of identity over whether it can officially claim gluten-free status.
While General Mills recently announced that Cheerios will no longer carry the gluten-free claim in Canada — where advocates for people with celiac disease discourage people from eating Cheerios — it will continue to market the cereal as gluten-free in the US.
"We are confident that each serving of Cheerios products fully comply with the gluten-free standard in the US and contain less than 20 ppm of gluten," a spokesperson said in an email to BuzzFeed News.
Yet the discrepancy between Canadian and US Cheerios labeling is creating doubt among consumers.
The claim is a matter of particular concern to people who have celiac disease (an autoimmune disorder) and become ill from consuming gluten, a protein found in wheat, rye, and barley.
Records obtained by BuzzFeed News earlier this year found that the US Food and Drug Administration has received more than 40 reports of people with celiac disease or sensitivity to gluten or wheat linking their illness to General Mills cereals, including Cheerios and Lucky Charms since the beginning of 2016. In 2015, General Mills recalled 1.8 million boxes of Cheerios and Honey Nut Cheerios that were contaminated with wheat flour due to "human error."

The FDA did not immediately respond to an inquiry about whether it has been in contact with General Mills over its gluten-free claims in in the US.
General Mills recently has put gluten-free products at the center of its marketing efforts. "We'll leverage our gluten-free news ... to drive further growth," said CEO Jeff Harmening in June.
The company's spokesperson said it is not withdrawing the gluten-free claim in Canada due to contamination, but because Health Canada and the Canadian Food Inspection Agency have yet to publish a consistent protocol to test for gluten in products containing oats, such as Cheerios.
"We look forward to labeling the Cheerios products as gluten-free once consensus is reached on a consistent testing protocol for products containing oats," he said. "There is not any health risk with the products currently on the shelf. At this time the product is not changing, just the label on the box."
Yet the Canadian Celiac Association, an advocacy group, last year recommended that people with celiac disease not consume the cereal due to concerns about General Mills' process for sorting out loose gluten-containing grains from the oats (which are naturally gluten-free) used in Cheerios.
"We are delighted to hear the claim will be removed voluntarily from the packages," said Melissa Secord, executive director of the Canadian Celiac Association, in a statement.