Buffalo Wild Wings Hit By Norovirus Investigation Before Super Bowl Binge
The details are still ambiguous, but the timing couldn't be worse.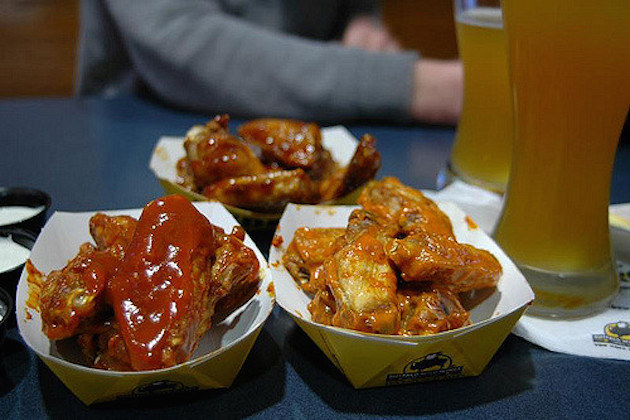 Buffalo Wild Wings is expected to sell more than 11 million chicken wings this Sunday during the Super Bowl. But on Friday afternoon as the chain geared up for America's biggest weekend of wing-eating, it had to deal with a nightmare scenario for a food business.
In an ambiguous press release issued on Friday, the Johnson County Department of Health and Environment in Kansas appeared to link the company's Overland Park location to an outbreak of food-borne illness. The department said it "has received confirmation of one positive case of norovirus associated with the investigation at Buffalo Wild Wings at the end of January."
"Additional results are pending lab confirmation," the statement continued. "There have been no further reports of illness."
The timing couldn't have been worse for a chicken wing chain: Getting linked to a food-borne illness outbreak on the Friday afternoon leading into Super Bowl weekend. What makes it worse: The company hasn't even been conclusively named as the source of the sick customer in question.
Barbara Mitchell, a spokesperson for the health department, told BuzzFeed News it has not yet been confirmed if the person became sick from eating at Buffalo Wild Wings or from eating somewhere else.
In an emailed statement, Buffalo Wild Wings said, "despite one positive norovirus test, there is still no confirmation that our Overland Park restaurant is the source. We understand that the Johnson County health department is investigating multiple potential sources of the virus, which has been widespread in the community for several weeks."

The department said earlier this week it started receiving reports of illness on Friday, Jan. 29 from people who became ill starting on Jan. 28. The Buffalo Wild Wings location was closed for a "deep cleaning," and reopened on Sunday. The company said it will monitor the situation and will continue to work closely with health department.
It's unclear what impact this will have on the chain's Super Bowl wings frenzy, but the headlines have been written and investors are concerned. Shares fell as much as 12% on Friday, closing down 8%, before rebounding somewhat in after-hours trading.

Separately, the New Theatre Restaurant in Overland Park was also investigated for a norovirus outbreak after more than 600 people became sick in January, reported the Kansas City Star.