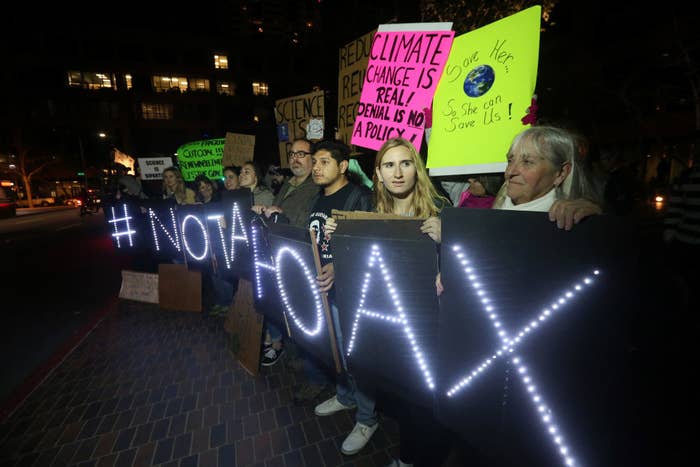 As President Trump rolls back Obama's environmental legacy, it isn't just green groups who say they'll resist America's reversal on clean electricity. Billion-dollar corporations told BuzzFeed News that because climate change is a significant concern for their business, they'll keep on battling carbon pollution regardless of what the government says.
Nestlé, one of the country's largest food companies with $26 billion in sales, said it will "actively contribute to industry efforts and dialogue on this important topic, while strengthening our public commitments along our value chain and driving industry efforts on climate change." "Our company's success ultimately depends on our ability to reliably source high-quality crops and other raw materials," said a spokesperson.
A spokesperson for General Mills, which sold $10 billion worth of cereals, snack bars, yogurt, and other foods in the US last year, said the company "has long been committed to being part of the solution on climate change and will continue to stand behind our commitments."
"We believe that investing in a low-carbon economy will not only help foster a healthier environment, it is also a key to unlocking new business growth potential for the US and around the world," said a spokesperson for apparel retailer Gap, which has its own goal to reduce greenhouse gas emissions from its facilities by 50% by 2020.

On Tuesday, Trump signed an executive order requiring the EPA to review the Obama administration's Clean Power Plan, which required states to meet standards for carbon dioxide emissions from power plants.
Obama's environmental policies had drawn plenty of criticism from the business community. The US Chamber of Commerce sued the EPA over rules regulating greenhouse gas emissions, and Trump promised to remove "burdensome regulations" hindering domestic energy production. Yet corporate America is divided on this issue.

As energy companies and other interests praise Trump's order — the US Chamber called it a "welcome departure from the previous administration's strategy of making energy more expensive through costly, job-killing regulations that choked our economy" — other big power businesses have said they'll keep cutting carbon emissions for economic reasons.
"Because of the competitive price of natural gas and the declining price of renewables, continuing to drive carbon out makes sense for us," Lynn Good, the CEO of electricity giant Duke Energy, told the Wall Street Journal. "Administrations will change during the life of our business and our assets, and we'll continue to move forward in a way that makes sense for our investors and our customers."
American Electric Power, one of the country's largest electricity producers, told BuzzFeed News it was "in the midst of an important transition to support a cleaner energy economy," but supports the effort to halt Obama's Clean Power Plan, which it said contains "fundamental legal flaws."
"We think it makes good sense for the EPA to revisit the rules and see if there are more effective ways to address greenhouse gas emissions," AEP said in a statement.
Two years ago, 365 companies and investors — including Nestlé, General Mills, Mars, Staples, Unilever, and Timberland and North Face maker VF Corp. — signed a petition to state governors urging them to implement the Clean Power Plan in what the environmental nonprofit Ceres described as "an unprecedented show of business support for tackling climate change."

"Our support is firmly grounded in economic reality," the petition stated. "Increasingly, businesses rely on renewable energy and energy efficiency solutions to cut costs and improve corporate performance." The increased frequency and intensity of storms, warmer temperatures, extreme precipitation, and changes in weather patterns "put trillions of dollars of institutional investors' assets at risk and require companies to be innovative at adapting to these changes."
Signatories to that statement doubled down their support for the plan on Tuesday.
Staples, which made $18.2 billion in sales in 2016, said, "We will continue to support the EPA's clean power plan and the reduction of carbon emissions associated with electrical power generation which has been linked to climate change, as we have for many years and believe it's smart business."

Anna Walker, senior director of global policy and advocacy at denim maker Levi Strauss & Co., told BuzzFeed it "remains committed to reducing greenhouse gas emissions in our operations and supply chain, and we will continue to be advocates for meeting the US climate obligations in the Paris Climate Agreement."

Ben & Jerry's will also continue fighting carbon emissions, for the good of its many ice cream flavors. "We buy vanilla, cocoa, bananas, cherries; we buy ingredients we put into our chunky and swirly ice creams, from places that are profoundly affected by climate change," said Chris Miller, a spokesperson for the Unilever-owned company. "So it's personal for us."