Matthew Bautista made his home two levels below ground in an apartment building in New York City's Washington Heights neighborhood.

The two-bedroom basement apartment, which he shares with his husband and their two cats and two dogs, has windows in every room and a direct exit to the sidewalk. He said they love living there — except during heavy rains. It wasn't unusual, Bautista said, to watch sediment and sludge gurgle up into the bathtub or for the water level to rise alarmingly in their toilet. Then Tropical Storm Elsa hit the city last July. Water started coming in from every direction into Bautista's home: the toilet, the sinks, the tub, the front door, the streetside door, the ceiling, and two utility closets.
"I'm running around, getting cats into carriers, putting the dogs on leashes, while trying to sop up the water that all of a sudden is coming in," Bautista said. He spent the rest of the night cleaning up the sewage all over the house. A thought later entered his mind: "Oh my god, is this one of those deathtraps?" Bautista determined that during future floods, his household would immediately seek shelter in the lobby.
Weeks after Elsa, Hurricane Henri made landfall in Rhode Island, saturating the ground across the region. Days later, Hurricane Ida — a Category 4 storm fueled by warm waters in the Gulf of Mexico and the worst hurricane to strike Louisiana since Katrina — made its way to the northeast. Ida killed more than 90 people across the US, including 11 people in New York City basement apartments.
As an increasing number of intense storms batters the country, more Americans face the risk of basement flooding as the housing affordability crisis pushes renters across the income spectrum below ground. As prices hit new highs, officials around the country are looking to convert more basements into housing. New York City estimates it already has 150,000 people living in at least 50,000 basement units. Last year, Chicago's Affordable Dwelling Units Ordinance went into effect, legalizing the creation of basement and attic apartments for the first time in 65 years. Boston has also included basement conversions as part of efforts to address affordability. So have lawmakers in Utah, Arlington, Virginia, and Denver. Bills have been introduced in Atlanta and Washington state.
But the consequences of extreme weather events are becoming dire for renters of basement apartments, including illegal units that aren't designed for people to escape hazards like flooding and fire. Year after year, floods displace basement tenants around the country — from Seattle to Minnesota, Missouri to Utah, West Virginia to Cleveland — and the risk is rising as heavy rain events become more common. FEMA estimates 13 million Americans live in a 100-year flood zone, while other estimates go as high as 41 million people.

Over the last three decades, an average of 85 people have died in floods each year, making it the second-most deadly weather hazard after heat. In 2021, 145 people died in floods — around half had been driving, and one-quarter were at home. Survivors receive little help from landlords or government recovery programs, and those in illegal units sometimes can't access public relief funds because their landlords refuse to apply in order to avoid calling attention to the violation.
"We're going to see more of these heavy rain events, and we're not prepared for them," said Bernadette Woods Placky, chief meteorologist at the group Climate Central.
Eight months after the storm, Bautista's apartment still has warped floors and stained ceilings. "There is no body of information that says if you live in a basement apartment, and have suffered flooding, and you want to get out of your apartment, here's what you do," Bautista said. He recalled contacting the city's 311 Tenant Hotline, which "had nothing about flooded apartments" and little guidance for people whose apartments aren't rent stabilized or part of a housing program, so his questions remain unanswered: "What are my rights? Can I break my lease? Does my landlord have to move me into a comparable apartment?"
Sateesh Nori, an attorney at the Legal Aid Society in New York City, told BuzzFeed News that basement tenants can bring a case to get their flooded apartment repaired, argue that they're not obligated to pay rent because they can't use the apartment, or break the lease and argue they didn't get the fair use. Aside from going to court, however, tenants have no easy options if their landlords are unresponsive.
Bautista and his husband plan to move, he said, and won't be considering basement units. But alternatives are limited: After rents rebounded to a record high, two-bedroom units in the city are now being leased for a median of $3,400, up 30% year over year and $700 higher than their current basement apartment, according to real estate listing company Zumper.
It is difficult to quantify how many basement units already exist across America. Government entities like the Census Bureau and Freddie Mac don't track them; neither do real estate companies like Zillow and Apartment List, nor does the National Association of Realtors.
The universe of basement apartments is varied: There are legal units and ones that are off the books; ones that have windows, and others that are fully underground with no sunlight; some are leased to boarders with low incomes, while others are priced for middle-income households; there are basements that have ways to get out in an emergency, and basements that don't.
In 2015, Roger Quan moved into a spacious but illegal basement apartment in Queens. It had flooded several times in the past, but never like when Hurricane Ida hit. Quan, who is Chinese American and grew up in a basement in New York City, was home with his fiancé and toddler when water gushed through the toilet, the utility room, and the backyard door. After his fiancé and child found shelter upstairs, Quan rushed back down to save their cat and the animals he uses in performances as a magician — the rabbits, doves, fish, and rats. Only some of them survived. The apartment filled with more than 3 feet of water. Almost nothing was salvageable, including the furniture, clothing, electronics, and baby pictures. "It's all gone," he said. "Everything."
The landlord gave the family money for one night at a hotel. They were on their own for the rest. Quan got about $2,000 in relief aid from FEMA and the Red Cross and raised $15,000 more on GoFundMe, which he said helped the family stay at hotels for a month and "barely" covered the expenses to start over in a new place, including nearly $6,000 for the deposit, first month's rent, and agent fees. Their new apartment is $1,800 per month, $300 more than they were paying for the basement unit. The family decided not to live below ground again. "It's dangerous, especially if you have kids," Quan said.
While flooding impacts people across the wealth spectrum, people who are economically disadvantaged have a limited ability to get themselves into safer housing, said Victoria Sanders, research analyst at NYC Environmental Justice Alliance. The thousands of dollars needed to move into a new apartment can be prohibitive. "A lot of them don't want to move; they want to live in their community."
In an effort to make basement apartments safe, New York City in 2019 approved a pilot program to offer low-interest or forgivable city loans of up to $120,000 to 40 homeowners in Brooklyn's East New York neighborhood to renovate their basements to bring them up to code — for example, having a minimum ceiling height of 7.5 feet, having a window in every room, and exits to get outside of the apartment.
"Illegal basement apartments exist because of failure both of public policy to produce enough low-income housing, as well as the private market to do the same," said Ryan Chavez, program director of the Basement Apartment Conversion Pilot Program at the Cypress Hills Local Development Corporation.
When the pandemic led New York to pull funding from the basement pilot program, only nine East New York homeowners had gotten far enough along in the process to get to the predevelopment stage, in which plans were being drawn and sent to the city for approval. Then, a resident in the neighborhood, Roberto Bravo, died in his basement apartment during Hurricane Ida.
The storm brought record rainfall to the area: 10 inches of rain poured over parts of New Jersey, along with tornadoes. In New York, cell phone alerts went out about life threatening flash flooding, but in English and Spanish only. FEMA warned people to "avoid enclosed areas, such as an attic, where you may become trapped by storm surge or flooding," yet the advisory said nothing about getting out of the basement.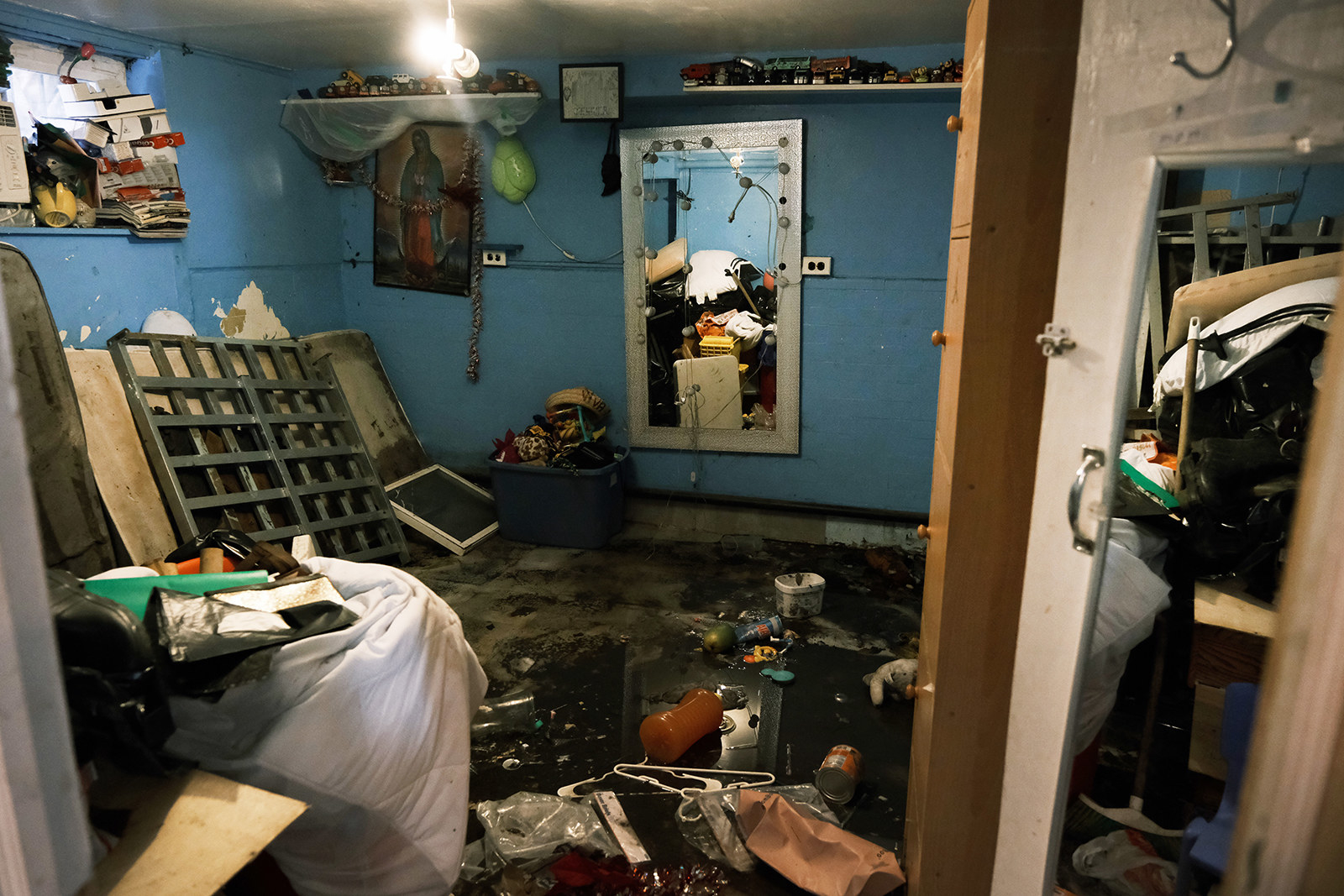 News of Bravo's death "was really heartbreaking," Chavez said. It "highlighted just how important the work that we're doing is." The program is still working with eight homeowners to move through a "very challenging" process; no construction has started yet.
The changing climate is causing multiple, related weather disasters, compounding the damage nationally. Land burned and scarred by the Cameron Peak Fire in 2020 — the largest recorded wildfire in Colorado history — was no longer able to absorb water, turning the area into the site of deadly flash flooding in 2021. In Bensalem, Pennsylvania, Laura Hawkins' basement home filled with water during the devastating storm in mid-July; scientists called it a 100-year flood, meaning there's a 1 in 100 chance of a flood of that magnitude happening in any year. Just two weeks later, her family was forced to take shelter down there when 10 tornadoes struck the region. "We were hiding in our basement for hours," said Hawkins, who expects more disasters this summer.
Recent events have led emergency services to reevaluate how to respond. New York's Attorney General asked the National Weather Service to make warnings available in more languages. Fire and police departments are also making changes, as the response mainly falls on them during weather emergencies in New York City. FDNY has personnel trained for water rescue, highwater vehicles that can travel in up to 4 feet of water, swiftwater teams that use inflatable boats with motors to save people in cars carried away by moving water, and about 150 scuba divers primarily trained for rescues in rivers and lakes but now tasked with pulling people out of homes, according to John Esposito, chief of special operations at FDNY.
The level of urban flooding that suddenly filled basements with water during Ida last summer "was very unexpected," Esposito said. "I would say it was unprecedented that these buildings flooded as quickly as they did." In response to the basement casualties, the FDNY has increased training on what it sees as a growing threat, retooling a prop it uses for trench rescue exercises by filling it with water to recreate a flooded building environment.
Speed is critical. Drowning happens in a flash. After water is inhaled, a person's airway closes up to prevent more water from coming in. Within two minutes, they lose consciousness. The window to resuscitate them is only a few minutes more before the lungs and heart and brain can't be brought back. From start to finish, an adult dies in about 10 minutes — and it's a much shorter timeframe for children.
Elected officials, developers, and homeowners are rolling out solutions as flood risk rises around the country, disproportionately in places with high concentrations of people who have lower incomes. Essentially, the built environment needs to be able to absorb more rainwater, and the water that can't be absorbed needs to have more places to go. "It's going to be expensive and it's going to require maintenance," said Christopher Konrad, a research hydrologist with the US Geological Survey. "Drainage has always been an issue for cities. If you go back to ancient Rome, one of the real triumphs is that they figured out how to drain the street."
Today, planners are looking at natural solutions, or at least restoring some of nature's functions: A project in the New York Harbor aims to create a reef with 1 billion oysters to protect the city against storm damage and reduce flooding from storm surges like the city experienced during Hurricane Sandy in 2012. Green roofs, trees, and streetside rain gardens are being planted to absorb rainwater. Greater Houston added more than 100,000 acres of protected greenspace after Hurricane Harvey in 2017. New Orleans now requires new sidewalks and parking lanes to be made of permeable pavement, which allows rain to be absorbed into the ground underneath.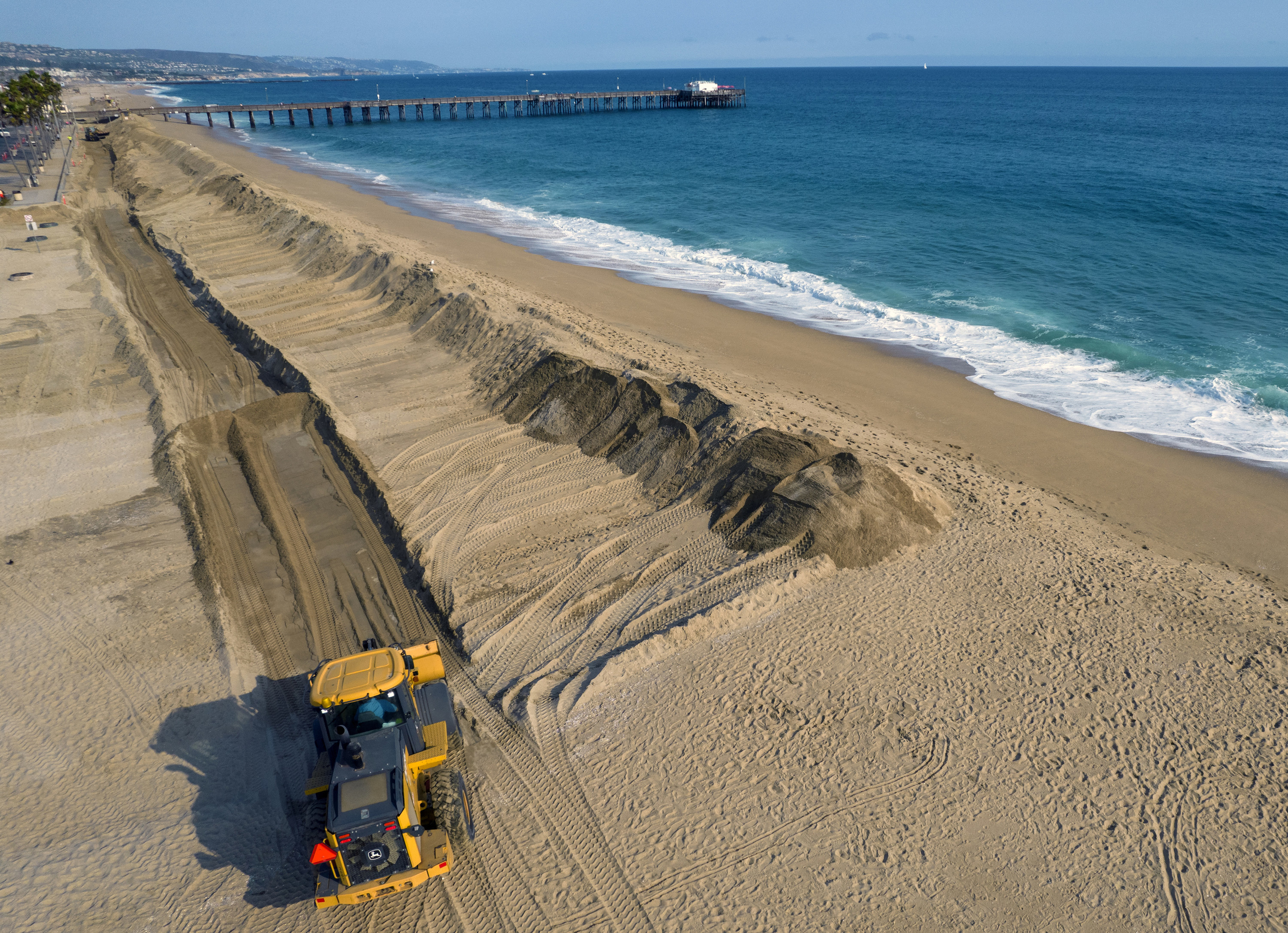 Other approaches involve big, pricey engineering projects like reservoirs, human-made channels, and levees. More projects are in the works, although they will take time: the Biden administration's infrastructure law includes $50 billion for climate resilience, including disaster recovery and programs that reduce flood risk and damage. Even more will need to be done to safeguard cities, said Paul Gallay, director of the Resilient Coastal Communities Project at Columbia University. "The challenge is getting bigger, so the response has got to get bigger."
Meanwhile, vulnerable residents can't help but wonder if the noble oysters and the trees will be enough to keep them safe next time.
The impacts of flood damage last even after the water recedes. Houston residents are still waiting for repairs nearly five years after the storm. There's an emotional toll as well.
Eight years ago, stormwater pouring in over her bed from the window well above woke Cynthia Barnes in the middle of the night. Her two-bedroom basement apartment in Boulder, Colorado, was flooding quickly. She tucked her two cats into a pillowcase and started to make her way up the stairs with them, out of the water. Barnes alerted her landlord, who lived in the single-family home above her. The two women then ran to check on the house next door, as the neighbor was out of town. The nearby creek — normally just a trickle — had burst its bank, and they watched as a torrent of water shattered the glass on the neighbor's patio doors. "That entire basement filled up in the blink of an eye," Barnes said.
They rushed to the front door and left it open to let the water out. Barnes then ran to the storm drain down the road and began clearing out debris to try to give all the water someplace to go. It wasn't until weeks later that she saw the opening in the drain, large enough to trap her had she lost her footing — people have died clearing catch basins during storms.
More than 17 inches of rain — nearly as much as the area typically gets over a year — fell over eight days that September 2013. Another 100-year flood, a kind of weather event that has been happening often enough that scientists have considered changing the term to reflect the possibility of back-to-back flooding. When it was safe, Barnes returned to what remained of her home and salvaged what she could. She lived with her landlord for a few weeks before moving out. Eight people died in the storm, swept away in floodwaters and buried alive in rocks and mud. Across Colorado, it damaged or destroyed 26,000 homes and 382 miles of road.
"I had nightmares for months and months about waves, and boats, and drowning," Barnes said. "In hindsight, I should have seen a therapist."
Barnes still hasn't regained her sense of security. Her rent in the basement had been about $650 a month, about half of the going rate in the area at the time. A freelance journalist, Barnes now spends "nearly 100%" of her income on rent for a one-bedroom apartment on the 15th floor of a building in Denver — from her view, she could see the flames from the Marshall Fire that broke out in Boulder County in December 2021, a reminder of the "vulnerability that we all have," she said. Despite the cost burden, she said, "I'll never live in a basement again, or a garden apartment, and I'm happy not to live on the first floor. Never, never, never again."
When the 2013 storm hit Boulder, Kate Kennedy was a college sophomore with two roommates renting the basement of a single-family home for $1,300 per month. "It was literally all I could afford," even while working 30 to 40 hours per week for $10 an hour, Kennedy said.
Classes were canceled, and students tubed down flooded streets. Kennedy took an afternoon nap and woke to about 4 inches of water by her bed. A stranger nearby took her and her roommates into their home for the next few days. As the rain continued to fall and students around her partied, phones lit up with alerts to seek higher ground. Days later, Kennedy learned her coworker's father died in the flood.
When she returned home, she found their landlord trying to dry out the new carpet that had just been installed with fans. The saturated wall paneling was never replaced; nothing was repainted. Kennedy became congested; then, she started coughing. Mold. She left a few months later and moved into an attic apartment with a leaky roof for $700 a month. "I'm not living in any more basements," she recalled thinking. Yet rising housing costs made it hard to keep that promise. Kennedy wound up renting another basement in Denver for $1,400 per month. ●
Tannistha Sinha contributed reporting to this story.