Yes, there's the avocado ice cream. And the fact that on Sunday he may have "put up the best passing performance ever of a 40-year-old" in a game against the New Orleans Saints — something that people who are considering buying his book may take as evidence of his regimen's anti-aging properties. And his wife is a supermodel (of course) so there's a lot to envy. But still: Do you want to eat and live like Tom Brady?
On Tuesday, Brady's much-anticipated "wellness" book, The TB12 Method, will drop in bookstores and online, where it is already the #1 pre-order on Amazon.com. Sure, most of us would like to emulate the heartthrob quarterback for the New England Patriots — who purports to hold the secrets to staying young, fit, and attractive to people like his wife, Gisele Bündchen.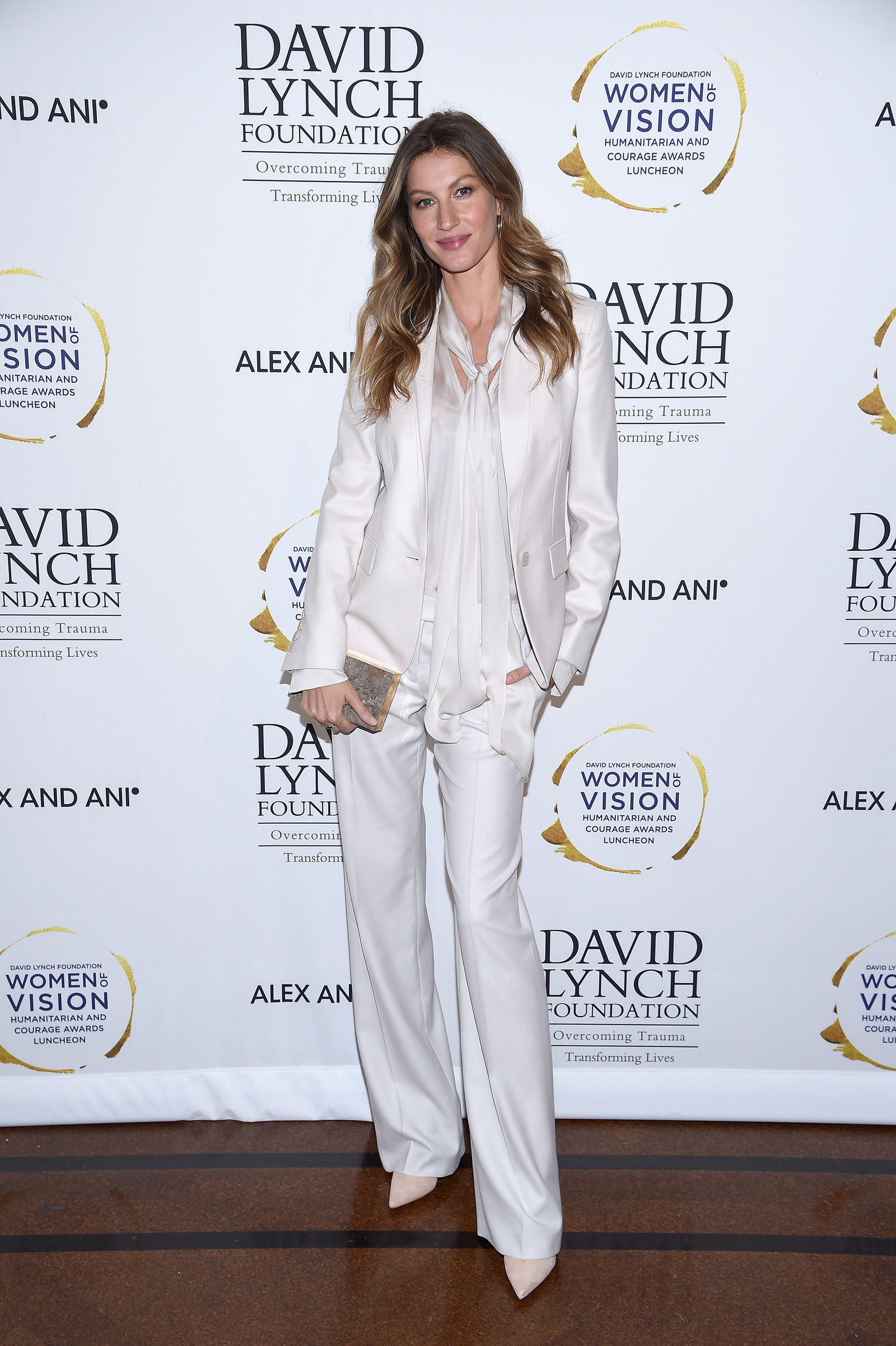 Here we go, though — this is what Brady advises:

• He wants you to eat "meat and poultry that are organic, grass-fed, free-range, hormone-free, and antibiotic free," quinoa pasta, and acai powder.
Not that you don't know this — though admittedly some of us had to look it up — but acai is pronounced ah-sigh-YEE, and, reassuringly, the Mayo Clinic says that is "safe to consume, as long as you're not allergic to the fruit. But, use caution when consuming products made with acai that may have other ingredients, such as caffeine."
He also recommends that you take nutritional supplements and drink electrolytes.

• Brady suggests that you work above all on "pliability" ("the daily lengthening and softening of the muscles"). He also favors doing brain exercises to "improve your reflexes or your brain agility and power."
If you want to know more about brain agility, here is a link on Amazon, which will bring you to adult coloring books, yoga, and books to buy about mental training, which has shown some efficacy.
Scientists aside, here is the quarterback's take on it all: "To my mind, people in their thirties, forties, fifties, and beyond can feel as vital as they did in their twenties, with the same potential for peak performance and optimal health," Brady writes.
Furthermore, he suggests: "Experience the difference the 'TB12 Method' will make in the quality of your life."
Who wouldn't want that? One fan wrote on Facebook "Got my order coming from Barnes and Noble already, this is going to change my life in a good way. Looking forward to use this for helping me to lose weight, mentally and physically. Looking forward to read this book is going to be a great inspiration. Thanks, Mr. Brady!"
Well, what will Being Like Brady entail? For starters, forget about the french fries and that tomato slice on your burger (OK, forget about your burger, too, as Brady's is a plant-based diet.) Some pointers from The Diet According to Brady:
• Drink SO much water. Eat SO many veggies. But no potatoes, tomatoes, or eggplants (these "nightshades" can cause inflammation, he claims). Eat essential fatty acids like omega-3 and omega-6 fats (real world translation: Eat fish). Stick with foods high in fiber. But if you still need added protein or electrolytes, he's got TB12-brand supplements for those.
Want to live like Tom? While it's true that Brady is one of the first quarterbacks to remain at the top of his game after his 40th birthday — it was Aug. 3 — and that this book and his other TB12 wellness ventures have positioned him to become the next celebrity lifestyle guru a la Gwyneth (substitute "TB12" for "Goop"), health experts say it may be time for a reality check on what the pro athlete is selling to everyday people.
The TB12 way is, at first glance, very sensible. It includes many tips that are Brady's versions of ones you've heard before. Drink a lot of water — half your body weight in ounces, to be exact. Eat mostly vegetables. Avoid refined carbs and unhealthy fats, and limit dairy, salt, caffeine, and alcohol. The new book includes recipes like veggie lasagna, potato and broccoli frittata, salmon burgers, green juice, and his well-known avocado ice cream: a dairy-free blend of avocado, cashews, coconut, dates, and cacao powder. The New England Patriots even doled out a version of the weird dessert to reporters on the quarterback's 40th birthday (no doubt to Brady's colleagues' delight).
Such recommendations themselves aren't harmful. But the problem with any celebrity diet plan, registered dietician Ashley Koff told BuzzFeed News, is "it's more info or recommendations without personalized assessment tools." Most people don't need to live like an elite athlete, and "Too many people are jumping on an electrolyte replacement or choosing higher protein when the issue or needs are something different."
Then there's the gap between aspirational advice like eating real, organic, and local and how most Americans actually live. As Mayo Clinic dietitian Kate Zeratsky told BuzzFeed News: "There's nothing wrong with such recommendations, depending on where you live and the practicality of some of those things. But when most Americans are eating only two to 2.5 servings of fruits and veg a day, and you say, 'Eat local, organic,' and you put on more parameters, it's like gosh, I just need you eat some more fruits and veg."
Much of Brady's nutritional advice directly feeds the TB12 business, which now includes an online store launched in 2016 for TB12-brand protein powder ($54 per pound), TB12 electrolytes (a $15 squirt bottle), alongside "raw, vegan, organic, gluten-free, and dairy-free" snacks ($50 for a set of 12 bags).
Brady's brand is strong enough that the pricey powder and bars — $40 per dozen — and grain-free granola — $40 for a bag of eight — are currently sold out, according to the site. He also sells a $200 TB12 nutritional manual with 89 recipes.
Earlier this year, TB12 started a partnership with the meal kit startup Purple Carrot to sell a plant-based meal subscription at $78 per week.

"While I'm not vegetarian by any means, I do subscribe to a commonsensical, mostly plant-based/plant-heavy and seasonal nutritional regimen," he writes.
It's true that supplements can round out nutritional deficiencies, but the plant-based diet Brady is promoting is the very source of some of the deficiencies his supplements make up for. It puts Brady in a lucrative business — the US supplements industry is worth about $30 billion.
"If you choose to eat a vegetarian or vegan diet, the elimination of animal sources of foods may put you in need to supplement with B12 or another vitamin — as a precaution more than anything so you don't become deficient," Zeratsky said.
Then there are the more unusual recommendations in Brady's book. Be sure to drink water with electrolytes to help improve hydration (the TB12 product is a blend of sodium, potassium, magnesium, and chloride) — an unnecessary move for people who aren't exercising and sweating a lot. Limit consumption of nightshades such as mushrooms, eggplants, potatoes, strawberries, and bell peppers, which he says can cause inflammation. Eat mostly "alkaline-forming foods" — in essence, another way of saying vegetables (except for those pesky nightshades), which he said reduce inflammation — and eat less "acid-causing" food.
Whether this is good advice for the common person is unclear. "It's too early to say everyone should be eating this way," said Jeff Ford, fitness director at Skyterra Wellness, a health and fitness retreat in North Carolina. "Personalized nutrition is where everything is going. Some of his points are valid, but for nonprofessional athletes, it's not entirely necessary."
Supplements are a flashpoint in Brady's book: Some nutritionists roll their eyes, and yet there are entire companies predicated on their value and market appeal. (Hello, GNC and The Vitamin Shoppe.)
Brady says in his book that supplements can't take the place of proper nutrition, but they're still included as one of the "12 principles of TB12." "Along with electrolytes and trace mineral drops, every day I take a multivitamin, vitamin D, vitamin B complex, an antioxidant, essential fish oils, protein powder and a probiotic," he wrote.
Yet Zeratsky said, "The first question should be: Is there any way I can change what I eat that I don't need a supplement? Maybe you don't need a protein powder or a protein bar."
There's also a distinction for professional athletes, whose jobs are to stay healthy and train, said Skyterra's Ford said, "So I would take some of these recommendations with caution, and encourage people to find what's realistic for their lifestyle."
As for "keeping your mind pliable," Brady launched his TB12 BrainHQ exercises earlier this month with Posit Science, one of the leading companies in this space. They're split into six categories: "attention, brain speed, memory, people skills, navigation, and intelligence" and focus on skills that are useful in sports. "TB12 BrainHQ targets brain speed and accuracy, so quicker and better split-second decisions become instinctual," the site said.

Users can subscribe for a month for $14 or for a year for $96. Whether these sorts of "brain training" games actually lead to real-world benefits, however, is hotly debated among scientists.
Altogether, Brady's TB12 empire — which includes a sports therapy center in Foxboro, Massachusetts; his line of supplements, snacks, apparel, and fitness gear; his meal kits and brain games — appears to be the next star turn to his career as an athlete.
Brady said he developed the TB12 method over years with his body coach Alex Guerrero, who is well-known as the target of an Federal Trade Commission complaint years ago for promoting supplements to "prevent, treat, and cure cancer, heart disease, and various degenerative and autoimmune diseases" and for misrepresenting himself as a doctor. Brady defended Guerrero in a 2015 radio interview: "I have tremendous belief in Alex and what he's accomplished with me. In the 10 or 11 years we've been working together, he's never been wrong."
Representatives for Brady did not respond to questions sent via email.
Still, any skepticism about Brady's partner hasn't dissuaded fans' eagerness to heed what No. 12 says: According to E-Poll Market Research, which scores celebrity and brand appeal, his popularity still falls somewhere above Tiger Woods but below Michael Phelps.
Is Brady going to be the next Gwyneth? There could be worse fates. Tonic, the health news site of Vice Media, said in a recent article, "Tom Brady Is Gwyneth Paltrow" and compared TB12 to Goop, "the preeminent destination for pseudoscientific wellness advice."
Yet there are counterpoints: A Sports Illustrated writer said he lost 16 pounds and —after triumphantly completing a race — wrote, "I'm convinced I would not have finished if I had not lost the weight, followed the program or gone to TB12. Consider me a well-hydrated convert."
Lest we grow teary-eyed at Brady's goals of making us a healthier, fitter, and slimmer group of wannabe quarterbacks, there are some easy reality checks.
At the end of The TB12 Method, an FAQs section answers such questions as "Can I visit, or get an appointment, at the TB12 Sports Therapy Center?" (Appointments are limited. No tours.) "What happens during a typical session at the TB12 Sports Therapy Center?" (Rehab, concussion treatment, alongside nutrition, performance, and wellness advice, according to the site.) "Why do you suggest a vibrating foam roller or sphere? Where can I buy one (and other TB12 products)?" (From Tom!)
Clearly, the cash register has been a friend. And, as Brady puts it in his book, his TB12 regimen has "allowed me to achieve so many of my dreams."