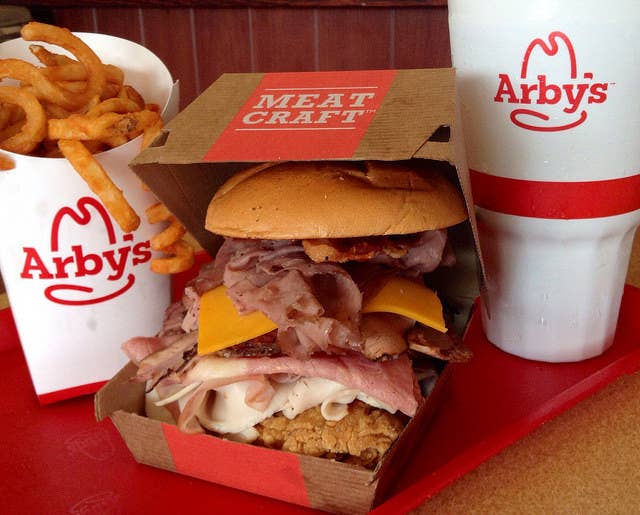 Americans have a conflicted relationship with Arby's, the Georgia-based chain of 3,300 sandwich restaurants. The company, known best for its meaty sandwiches (especially roast beef), has been closing U.S. stores since 2008, and is the occasional target of gross-food jokes, like when Jon Stewart called its product "the only food classified as a war crime."
And yet there's nothing else quite like Arby's, which may be one of its great advantages. Only here can you get a spongy pile of paper-thin, warm roast beef on the kind of soft sesame seed roll normally reserved for a hamburger. Unlike sandwich chains like Subway that tout a huge variety of fresh veggies to add on, Arby's classic roast beef sandwich comes unadorned. Just meat and bread, with the option of Arby's sauce or zesty "Horsey" (horseradish) sauce only if you want it — and you can even order it in a drive-thru. The chain is clearly not concerned with vegetables; one of its mottos is "We have the meats."
The lack of abundant fresh veggies doesn't seem to be a problem: Despite struggles in many corners of the fast food business, Arby's has grown same store sales for 21 consecutive quarters — more than five straight years.
In 2015, comparable sales grew by 8.1%, and the average store now makes just over $1 million dollars per year, "the highest in the history of the brand," Arby's CEO Paul Brown told BuzzFeed News.
Behold, Arby's classic roast beef sandwich.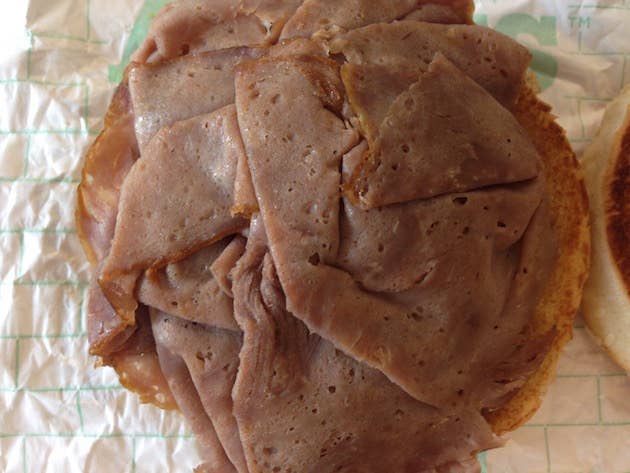 In fact, despite closing more than 400 stores since 2008 (mostly in the U.S.), chain-wide sales still increased to $3.5 billion in 2015 from $3.38 billion seven years prior, as surviving stores rang up higher sales thanks to increased traffic and price increases, according to figures from the company.
Which means Arby's did really well in the face of jokes like this.
"You have to have a sense of humor," said Brown. "I really miss the show, to be honest."
Arby's recent struggles began during the recession, after its parent company Triarc merged with Wendy's. Arby's didn't have enough low-price offerings when customers were trying to save money, and it suffered from "an unfocused and expensive menu, poor marketing, and inconsistent store performance," reported QSR magazine.
By 2010, the average check for Arby's was about $7.50, compared to $5 for fast food overall. Arby's operating losses were a drag on the company. In 2011, Wendy's sold Arby's to Atlanta-based private equity firm Roark Capital Group.
Brown, who has been CEO since 2013, said one of his priorities has been to address what he describes as a "perception reality gap" in terms of product quality and menu variety. He rallied the chain around the vision of "deli inspired delicious" food. Sales began outperforming fast food competitors in late 2013.
A major turning point came when Arby's launched brisket in late 2014, Brown said.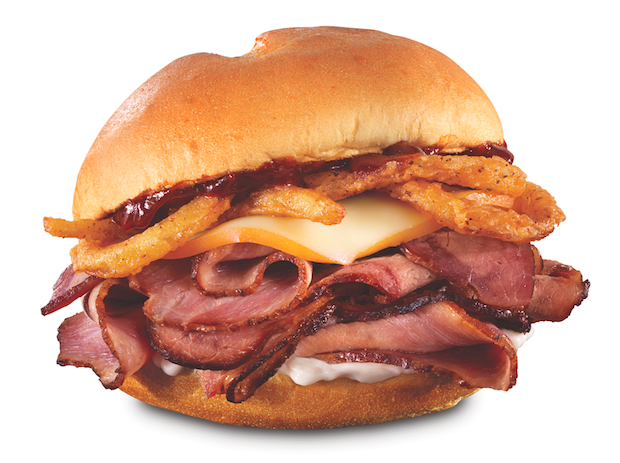 Arby's declared brisket its most successful product ever. The sandwich featured "sliced smoked beef brisket, topped with smoked Gouda cheese, crispy onions and smoky BBQ sauce and mayo, served on a toasted, bakery-style bun."
What magic made the brisket sandwich soar? "It is a protein in a sandwich you can't get anywhere else in a fast food environment, and it was priced at a very effective price of $5.49 in most places," Brown explained.
In 2014, the chain started adding some new menu items that ended up being popular with customers and kicked off a large advertising campaign. It's comparable sales growth last year exceeded Wendy's.
Even so, you'll still run into comments like this about Arby's.
The jokes may continue, but "We're very proud to be Arby's," said Brown. "We have a lot of fun and we're not afraid to make fun of ourselves where it makes sense and we know other people will as well. But the numbers speak for themselves."