Shares of Apple, the world's most valuable company, fell Friday after the company told investors on Thursday it would no longer report unit sales of iPhones, iPads, and Macs.
By market close on Friday, shares were down about 6.6%, and Apple's market capitalization briefly dipped below $1 trillion, a record it hit back in August.
Major indexes, the Dow Jones Industrial Average, S&P 500, and Nasdaq Composite, also were down for the day.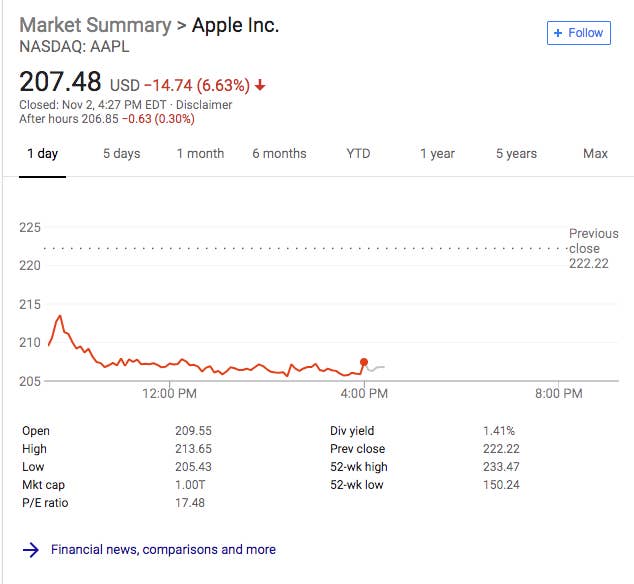 "As demonstrated by our financial performance in recent years, the number of units sold in any 90-day period is not necessarily representative of the underlying strength of our business," said Apple Chief Financial Officer Luca Maestri on Thursday's earnings call. "Furthermore, our unit of sale is less relevant for us today than it was in the past given the breadth of our portfolio and the wider sales price dispersion within any given product line."

In the three months ending in September, Apple sold 46.9 million iPhones, about the same as a year ago, while sales of iPads and Macs fell 6% to 9.7 million iPads and 2% to 5.3 million Macs.
On the call, Citi analyst Jim Suva said of Apple's decision not to disclose unit sales data, "Some people may fear that this now means that the iPhone units are going to start going negative year-over-year because it's easy to talk about great things and not show the details of things that aren't so great."

Apple's rationale: "Our product ranges for all the major product categories have become wider over time, and therefore, a unit of sale is less relevant for us at this point compared to the past because we got this much wider sales price dispersion. So unit of sale per se becomes less relevant," said Maestri.
The company recently revealed updates to the iPad Pro, Mac Mini, and MacBook Air at an event in Brooklyn. It is also rolling out its new line of iPhones, which come with big price tags: iPhone Xs and Xs Max start at $999 and $1099, and the iPhone Xr costs $749.