Florida farmers have been given a green light by environmental regulators to treat their orange trees with three antibiotics commonly used by humans, as the state struggles to deal with a bacterial disease that has devastated its orange crop over the last decade.
The disease, called citrus greening, is transmitted by insects and causes orange trees to produce small, misshapen fruit that taste salty and bitter. Florida, America's orange juice capital, has been particularly hard hit since the disease was confirmed there in 2005.

The Environmental Protection Agency has now approved the use of three antibiotics to treat the disease — two brands of oxytetracycline and a streptomycin. Groups concerned about antibiotic resistance, such Keep Antibiotics Working, have said overuse of these medicines in agriculture will weaken their efficacy in human medicine
The World Health Organization classifies oxytetracycline as a "highly important" antibiotic for humans, and streptomycin as "critically important."
In March, Florida gave initial permission to use the antiobiotics, making a crisis exemption to the usual permissions process. The EPA's decision means growers can continue using the drugs.
"Millions of trees have been lost in both commercial and residential citrus, and the long-term viability of Florida's citrus production is threatened if the disease cannot be effectively managed," the Florida Department of Agriculture and Consumer Services said in its appeal to the EPA, filed in late 2015.
The department told BuzzFeed News, the disease "is decimating Florida's citrus industry and threatens the more than 60,000 jobs it supports. Because of greening, last year's orange crop was the smallest in more than 50 years."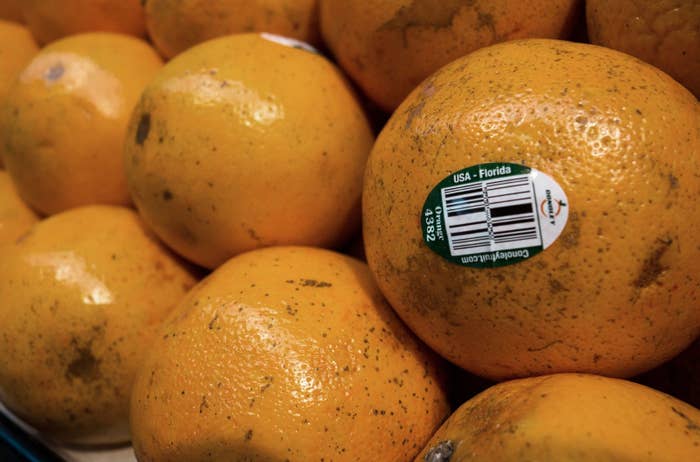 This antibiotics can treat the disease but they're not a cure; in trials, the chemicals prevented infection and reduced symptoms, but did not cure diseased trees, reported TheLedger.com. Farmers also had been using insecticides, which added cost and provided little relief.
This use of drugs on oranges has drawn critics. Oxytetracycline and streptomycin have already been used in the country's apple and pear farms, but the quantity that will need to be used when dealing with the much larger Florida orange crop will be far higher, Stephen Roach, a spokesperson for Keep Antibiotics Working, told BuzzFeed News.
"While we recognize the hardship that the spread of this disease is creating for citrus producers, we believe that the industry-wide routine use of antibiotics
that is anticipated by this exemption request runs counter to the most basic principles of antimicrobial stewardship," the group told the EPA in February.
Meanwhile, other efforts to control citrus greening face their own challenges. Researchers have spent years investigating the use of a spinach gene to make trees immune to the disease, or at least help it better tolerate infection — but they worry about blowback from anti-GMO activists if their work is ever tested commercially.
In the meantime, Florida's orange crop is collapsing.
According to the state's agriculture commissioner, the amount of land in Florida planted with citrus fell by nearly one-third between 2004 and 2014.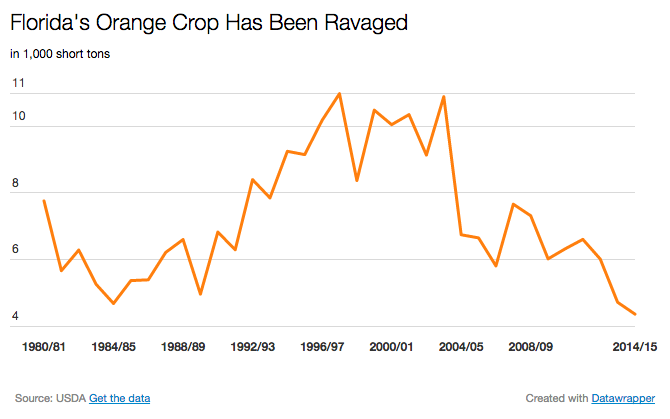 This collapse has caused the average price for orange juice in the U.S. to spike. "Steady orange juice imports have not offset reduced U.S. production," according to the US Department of Agriculture.