Yum Brands — the company that owns KFC, Pizza Hut, and Taco Bell — has been trying to improve the fortunes of its struggling fried chicken and pizza chains in the U.S.
To some extent, Yum's efforts are starting to show some results. In 2015, domestic comparable sales at KFC rose by 4% and at Pizza Hut they grew by 1%.
Yet just as competitor McDonald's ended 2015 with 91 fewer stores, the numbers show that Yum also shuttering stores last year. With other chicken and pizza chains growing, Yum faces intense competition.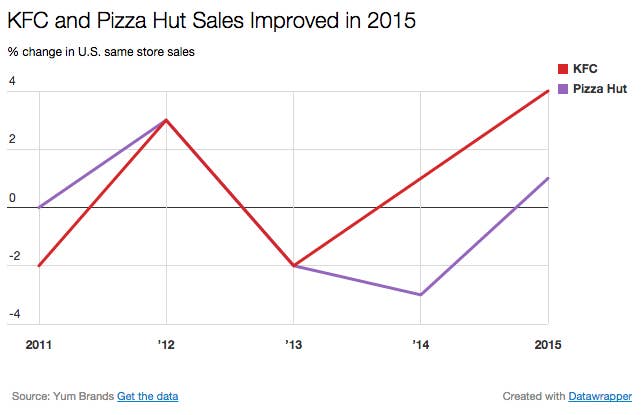 KFC's U.S. store count dropped by 100 last year.
KFC closed a total of 119 U.S. restaurants, but also opened 10 new ones and included 9 more from Hawaii, which was previously considered a non-U.S. market. By the end of 2015, KFC's net domestic restaurant count declined by 100 to 4,270. KFC has been shedding stores in the U.S. for more than a decade, reaching it peak store count of 5,525 in 2004.
Pizza Hut, meanwhile, lost 41 net locations.
While the pizza chain closed a whopping 258 restaurants last year, it also opened 148 stores and added 69 Pizza Huts from other markets (for example military locations, and Pizza Huts in Hawaii and Saipan). Pizza Hut's net domestic restaurant count had declined by 41 to 7,822 by the end of the year.
Among Yum's chains, only Taco Bell grew its U.S. footprint in 2015.
Taco Bell opened 235 locations last year and gained 40 restaurants that used to be in the international store count. It also closed 75 stores, ending 2015 with 6,121 domestic restaurants, a gain of 200. A Taco Bell spokesman said the chain plans to open another 200 U.S. locations in 2016.
"We are 100% dedicated to building and strengthening KFC, Pizza Hut and Taco Bell all around the world," said Yum CEO Greg Creed during a recent earnings call.
Taco Bell's strength was enough to make investment banker Cowen and Company optimistic about Yum overall, and "particularly bullish on Taco Bell's prospects in 2016," according to a recent research report. The taco chain "features the best
five year track record for same store sales and unit growth among the brand's closest competitors" and its customers should have more money to spend this year thanks to a number of planned minimum wage increases, the report said.