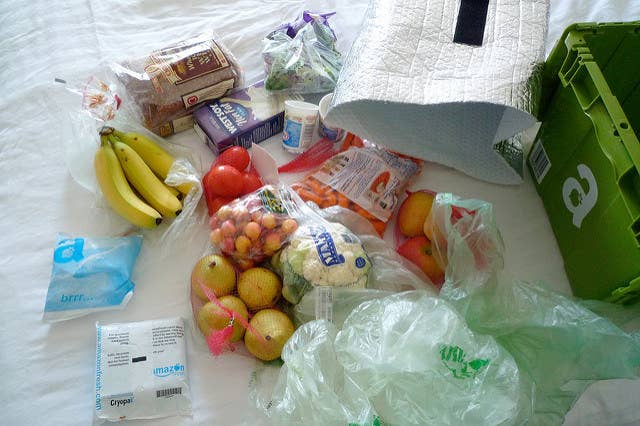 Damaged produce. Missed delivery windows. Excessive packaging. Automatic tipping.
Complaints about AmazonFresh, the internet retailer's grocery delivery and pickup service, have been flowing freely, proving to those who fear Amazon that the company doesn't do everything perfectly. While AmazonFresh aspires to be the the future of grocery shopping — if online ordering proves convenient enough to replace weekend supermarket trips — it doesn't seem to be quite there yet.
From "Good until recently" to "A failed experiment," many reviews of the 10-year-old grocery service have not been stellar.
"We continue listening to all feedback in order to bring customers the best possible experience when shopping AmazonFresh," an Amazon spokesperson said in an email.
AmazonFresh scored an average 3.3 stars out of 5, landing between "It's okay" and "I like it" in Amazon's review system.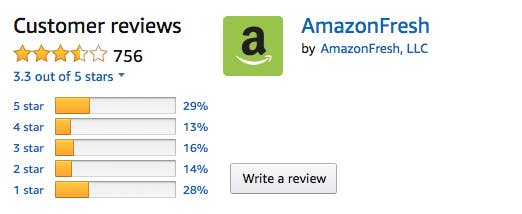 The largest category of reviewers (29%) give it five stars, but the second-largest (28%) gave it one star. One fan wrote, "No fighting crowds / Just fresh food delivered while I slept! Now I can enjoy my Saturday doing the things I enjoy!" Another praised the site design compared with other online grocery services: "Being able to search my past orders with ease is a plus. Whoever created the website design knows what's up and should receive an award because they made online ordering really easy, user friendly and even fun."
With its $13.7 billion acquisition of Whole Foods this year, Amazon has shown it is serious about groceries. Yet, despite its fans, AmazonFresh itself still looks like an imperfect experiment in e-commerce, and the jury is still out on whether online grocery shopping will ever become more than a niche activity.
In a Gallup poll this year, 84% of people said they never ordered groceries online, and among those who did, it was most common to only do so once or twice a month. "Most shoppers whose families purchase groceries online once or twice a month or more say they still visit a store to buy groceries at least once a week," Gallup wrote.
Barclays analysts said in a report earlier this year: "The 10-year history of testing and iterating with groceries at Amazon without meaningful progress suggests that 1) is a much tougher category to crack than other categories ... or 2) the consumer in certain markets just isn't ready to purchase groceries online."
The analysts said they anticipated that Amazon's use of automation could eventually cut prices and make Fresh more appealing.
To use AmazonFresh, you have to be a Prime member and live in the cities where the service is offered; then you can sign up for $15 a month. Orders under $50 incur a $10 delivery fee.
The Fresh business is not yet profitable for Amazon, which recently ended AmazonFresh service in certain areas around the country — including parts of big states like New York, New Jersey, and California. The company emailed customers in those areas to say it would no longer serve them, but did not give a reason, simply citing "changes in our service area."
Let us just consider some of the reviews left for AmazonFresh in the last two months. This one-star review said the service was "not ready for prime time" as everything he ordered except for some bagels was unavailable by delivery time. After factoring in all the fees, the customer said he ended up paying about $20 for Amazon to deliver a dozen bagels.

This reviewer, who left one star, said his or her household was willing to deal with "groceries arriving damaged, poor packing, [and] late orders," but had enough when recent price increases meant paying at least twice as much for basic items compared with the grocery store — plus the fact that Amazon added an automatic tip on top of it all. "It's just not worth it anymore," the reviewer wrote.

"Here is what we received," said a two-star review. "Numerous broken eggs, poor produce, ruined moldy strawberries and ground beef that is one day from expiring."

This person, who left three stars, was upset about the automatic $5 tip added to the bill, writing: "I pay Amazon for prime membership, I pay them monthly for the privilege of being able to order groceries [from] them and I don't appreciate them automatically trying to sneak the tip in. If I want to tip, I will give it to the driver myself, and if I don't want to, I won't."
This user's BBQ party was ruined after AmazonFresh didn't arrive in time with a same-day order. The driver then came late with only a portion of the order because "part of your order is lost or damaged and didn't make it." "Will never use again," the review said.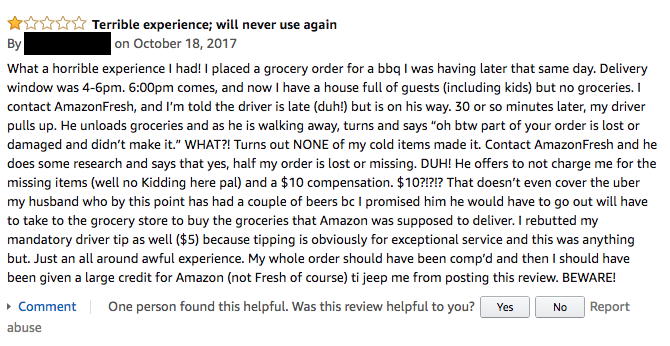 Despite milk having spilled all over the groceries and ruined the tea bags, and cucumbers snapped in half, this customer gave the service three stars.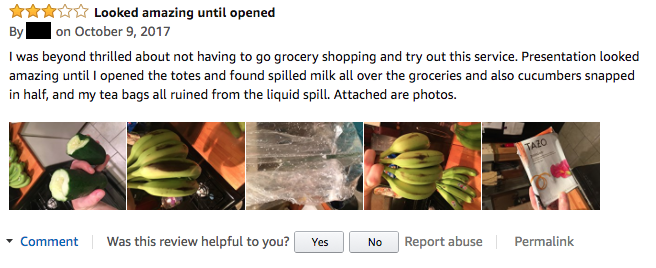 "I was desperate for an easier way," said one customer, who later found, "I had to go to the store anyway to get the stuff they didn't have."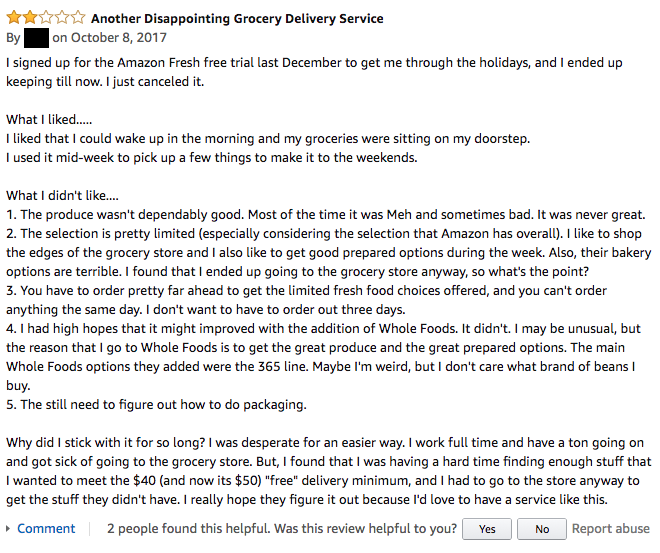 AmazonFresh can also be a packaging nightmare. Temperature-sensitive deliveries arrive in cooler bags full of ice packs, but some customers say they receive multiple bags that each have only a few things in them. You can request to have the reusable totes picked up, but this user said a collection of 25 totes just sat outside the house. "The tote situation has gotten out of hand," they wrote.

In addition to missed delivery times, "I've gotten stinky, slimy potatoes, heads of lettuce that were only the size of my fist, greens that were completely wilted through. Not always but often enough," one reviewer complained.